Are you wondering which are the best homemade baby food recipe ideas or want to know how to make baby food at home in a quick and easy way? Today is your lucky day. This page contains vegetable and fruit recipe ideas that are not only healthy and rich in nutrients for your baby but you can make them at home in just a few minutes.
For a long time, thanks to my upbringing, I thought homemade baby foods were the only option. It was never a question of whether we will be doing homemade foods for our babies, it was more of when. Although now I know that store-bought baby food is actually a thing, I still very much prefer to make my own baby food at home.
Now, I am not a big fan of the kitchen so I try to spend as little time in there as possible. The key thing I am looking for when I pick out recipes, baby food or not, is that they should be really easy to make with simple ingredients and need very little time. And if I can use my instant pot to make it even faster, it's a plus.
Before we go into the easy homemade baby food recipes, let me give you some tips and things you should know about feeding your baby and the necessary items you will need (you don't need much, by the way).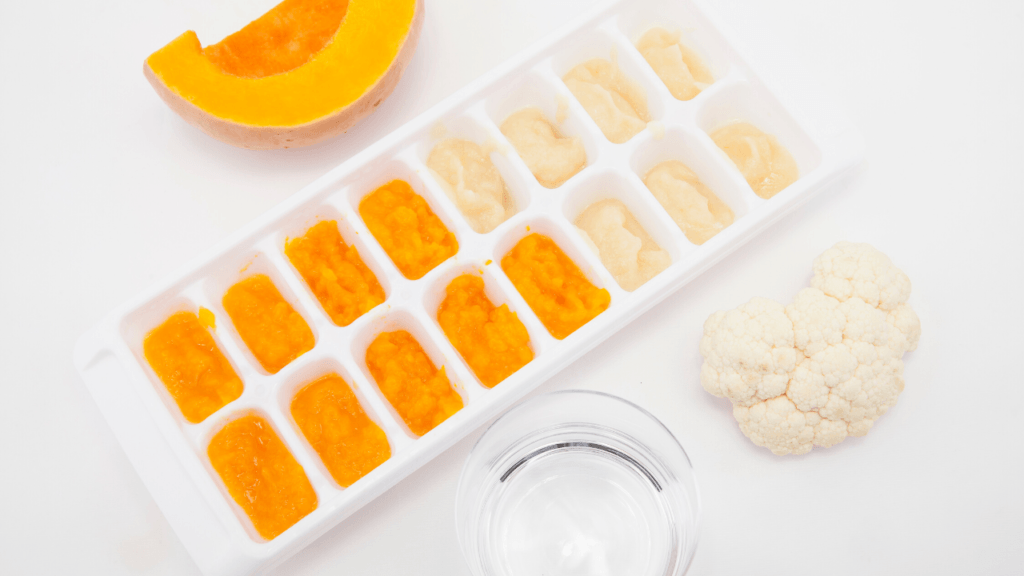 Tips on offering baby food to your infant:
Here are some baby feeding tips that are important to know:
Wait to start solids until 4 to 6 months old.
Breast milk or formula is still the main source of nutrition for the baby until they are 1 year old.
Introduce solids when the baby is in a good mood. You could do 30 minutes to 1 hour after breastfeeding or give solids first and then top up with breast milk or formula
Start with one meal per day and then work up to more meals as the baby grows. If your baby is ready for more meals by 6 months, go ahead. Follow your baby's lead.
There is no perfect time to start baby off on solids. Whether to start with breakfast, lunch or dinner is really up to you and what time works best for you. (I started with breakfast with my first, I'm doing dinner with my second. Both are doing just fine)
Take it slow, increase the baby's food palette slowly and if she rejects a certain food, try again another day.
Watch out for allergies – at the beginning consider introducing one food at a time and wait for about 3 days before introducing new foods.
Delay offering whole cow's milk until around 1 year as early introduction may lead to iron deficiency anemia and increase the risk of developing allergies to milk proteins (see reference)
Hold off on juice until 1 year according to AAP recommendations or keep it below 4 ounces a day for baby's first year.
Get the right baby gear for feeding the baby.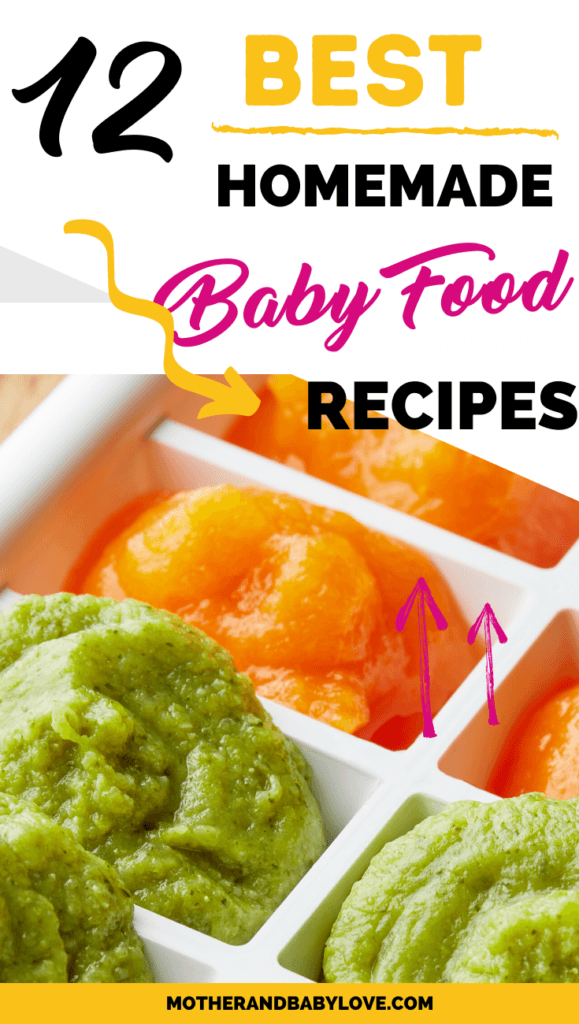 Essentials products that will make preparing baby food at home quick, easy and painless
For most baby foods, you will just need to steam, boil or bake and then blend it into a puree. Of course, you will then feed it to the baby, and no, you will not be using your silver spoon as that can hurt their gums. Silicone spoons are the best and if you can get ones that detect the food temperature like the ones in the set below, the better.
Here are the products that I would recommend you invest in to make this journey easier for you:
Another option is to get a baby food maker that will steam and blend in one step. Sometimes you have to trade money for time in which case this is an excellent choice.
Best homemade baby food ideas to start with
I like to start with really easy baby food recipes when I first introduce my babies to solids. Avocado is my favorite first solid because I don't need to cook or even blend it but sweet potatoes are a hit with most babies. Scoop the avocado into a bowl and then use a fork to mash it until there are no lumps and then feed it to the baby. Easy-peasy!
You can add water to get a smoother consistency at first. You can also use breast milk if you prefer, just try either and see what your baby likes best.
Here are some of the baby foods you can start with when making baby food at home:
Avocado mash
Carrot puree/ strips (baby-led-weaning style)
Butternut squash puree
Sweet potato puree
Green peas puree
Banana mash
Avocado and banana
Peas and carrots
Spinach (I usually just blend it to together with one of the other foods)
How To Make Homemade Baby Foods
When making baby foods, you want to give the baby a variety of healthy foods with different tastes and textures. It is really good when you are able to give the baby healthy foods with vitamins and other nutrients that are really good for them.
It is also advised to offer more vegetables at first and fruit later. At 6 months, which is when we really got started on solids, my daughter's favorite baby foods were sweet potato and butternut squash puree. At first, she hated carrots and peas but as I have offered them more she seems to like them now.
Hack: Whenever you are making baby food, create more than you need. Store a few servings in baby food jars in the fridge and freeze the rest in ice cube trays. You can then pop out the frozen cubes and store them in freezer bags in the freezer and you will have a supply for several days.
If you batch make a variety of foods, it gives you an option to pair different flavors and make it adventurous for baby as they are exposed to various tastes and textures. Use the instant pot + ramekins hack I share later in the post to batch make foods quickly.
Baby food can be good in the freezer for up to 3 months and in the fridge for 3 days.
Ready To Start Trying My Homemade Baby Foods Recipe Ideas?
Her are some quick homemade baby food recipe ideas with the purees I make for my baby at home: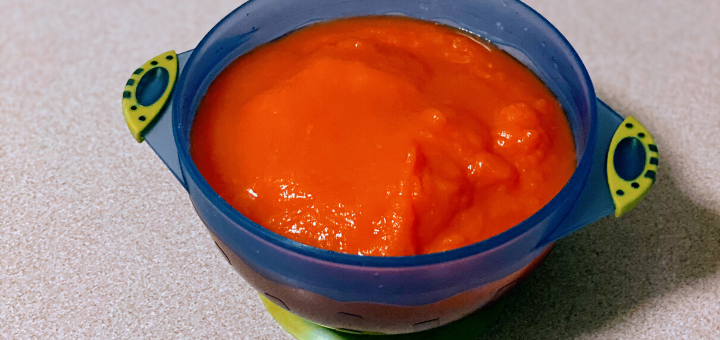 Peel off the skin and chop the carrots into smaller sizes, if you are using baby carrots you don't need to chop them. I use an instant pot but you can also just boil them on a stovetop until they are soft.
In the instant pot set it to pressure cook and set the timer for 2 minutes. Let it naturally release pressure for 10 minutes. In total it takes about 15 minutes to have the carrots ready.
Next, drain the water (preserve it for the blending part) and let the carrots cool down for a bit. Put them in the blender and blend adding water or breast milk until you get the desired consistency.
Sweet Potato: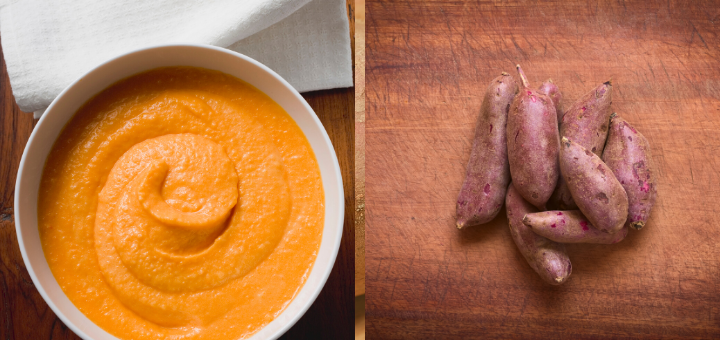 Pierce the sweet potatoes with a fork to make tiny holes on them. Place them directly on the oven rack, yes you don't even need a pan. Bake at 400 F / 205 C for about 50 mins to an hour. Peel off the skin and get blending. Add water or breast milk to achieve the desired consistency.
When the sweet potatoes are well cooked, you can even mash them with a fork and it will be good to go. (it's what I do when I don't want to wash blender parts :D)
Butternut Squash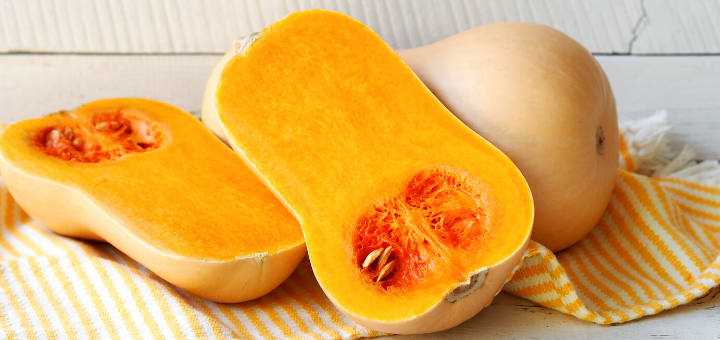 Cut into half, lengthwise, and scoop out the seeds. Fill a baking sheet/ bowl or oven-safe dish with about an inch of water and place the butternut face-down. Bake at 400 F ( 205 C) for about 45 minutes. You will then scoop out the flesh and blend to your desired consistency.
Peas Puree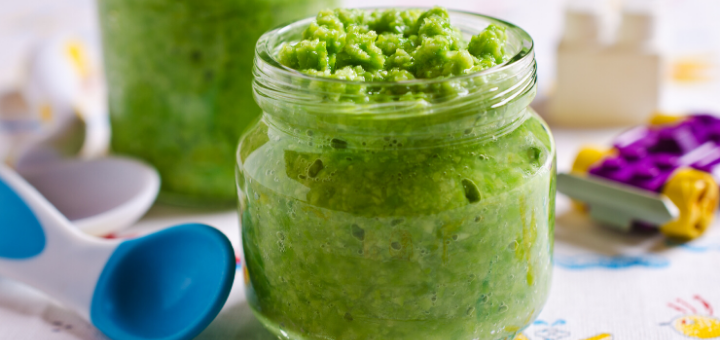 Personally I buy frozen peas and microwave them in the bag according to the instructions. Blend them adding water or breast milk until you get the desired consistency. You can also boil fresh peas until they are cooked and blend.
Bananas and Avocado Mash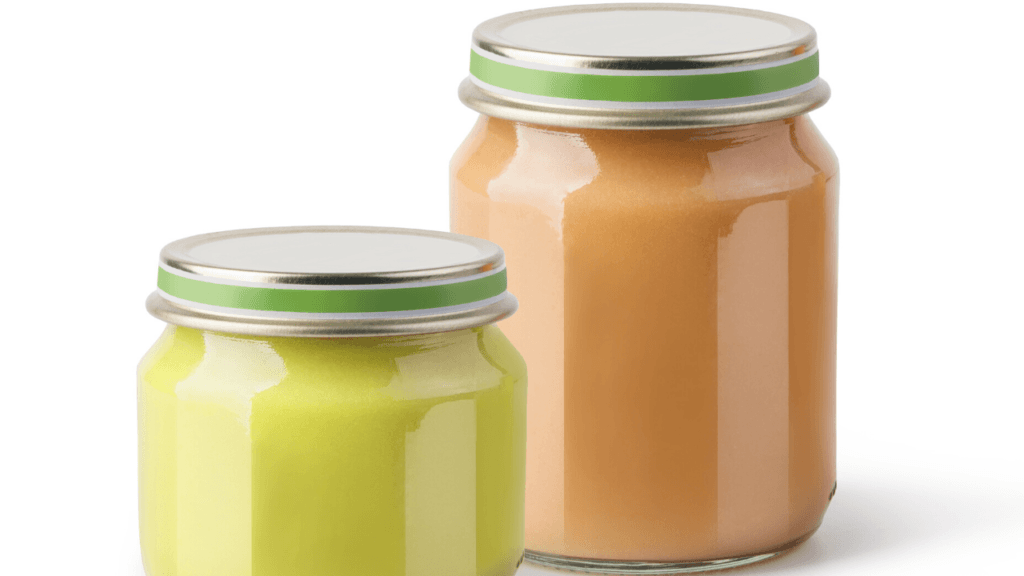 Take ripe bananas and/ avocados and blend until smooth in the blender
Alternatively,
Place them in a bowl and mash until you get the desired consistency.
Note: When bananas are too ripe they might be too sugary for the baby. They made my daughter puke so now we keep them to a minimum and only give her when they are not too ripe.
Related: Parenting tips for the mom who stresses too much
More Baby Foods Recipe Ideas
This book contains a ton of easy homemade baby food recipe ideas that are healthy and rich in nutrients.
I also found more recipes for you from other mamas on the internet who were kind enough to share their best easy homemade baby foods:
How to Make Baby Applesauce
Cassie from cassclaycooking has a really easy applesauce recipe that's awesome for babies. I cannot promise that you won't try to make it for yourself too.
Easy homemade slow cooker applesauce recipe
For my slow cooker loving mamas, Rebecca from Strength and Sunshine has an easy homemade slow cooker apple-sauce recipe. It is the perfect gluten-free, vegan, and paleo-friendly sweet snack.
No-Cook 5 Minute Blueberry Banana Pear
Don't want to cook? This 5 minute blueberry banana pear recipe from Stacy of Protecting Your Pennies will fill your heart with joy.
Sweet Potato Fries- Baby Led Weaning Style
And once your baby is ready for finger foods, or if you would rather try baby-led weaning, this sweet potato fries recipe from Kami of The Momma Diaries is definitely one that you will want to try. We love sweet potatoes already so homemade sweet potato fries for baby food; yes, please!
Homemade Baby Food: Snacks and Smoothies
For snacks and smoothies, here are some recipes to try:
Make gingerbread cookies as a snack for your baby. They are sugar free and flour-free: Soft gingerbread cookies for babies
Once your baby is started on fruits, you can give them this smoothie by Recipe This: Mango avocado smoothie
Need more baby food ideas to make at home?
Marni from Simple Gray Tshirt has a ton of simple homemade baby food ideas and recipes that you can use. See them here.
I especially love her chickpeas puree (hummus for babies) recipe because I love chickpeas so much.
Instant Pot Baby Food Hack For Quick And Easy Meals
So, while I was researching this post, I learned a really cool instant pot hack from Meeta of Piping Pot Curry for making baby foods and I honestly can't wait to try it. I'm so glad I found this.
Using the instant pot, you can make several different baby foods at the same time by using Ramekins. This $15.50 (as at the time of writing this post) are potential lifesavers and yes, I have literally just ordered mine on Amazon. I have been reading up on them and they can basically handle it all, from the freezer to the oven. They also have amazing reviews on Amazon (4.8/5)with over 2,000 ratings. There weren't many bad reviews so I went ahead and made my order. This reviewer was complaining about the color being grey not white and a few others arrived broken.
Enough excitement about ramekins. Click here to see how Meeta makes baby food using her instant pot really easy and you may just find the tips you need.
Did you find an easy homemade baby food recipe idea for your baby?
I hope you found these baby food recipe ideas useful. Feel free to bookmark this post so that you can refer to it at any time in future.
Let me know which baby food recipe is your favorite in the comments below.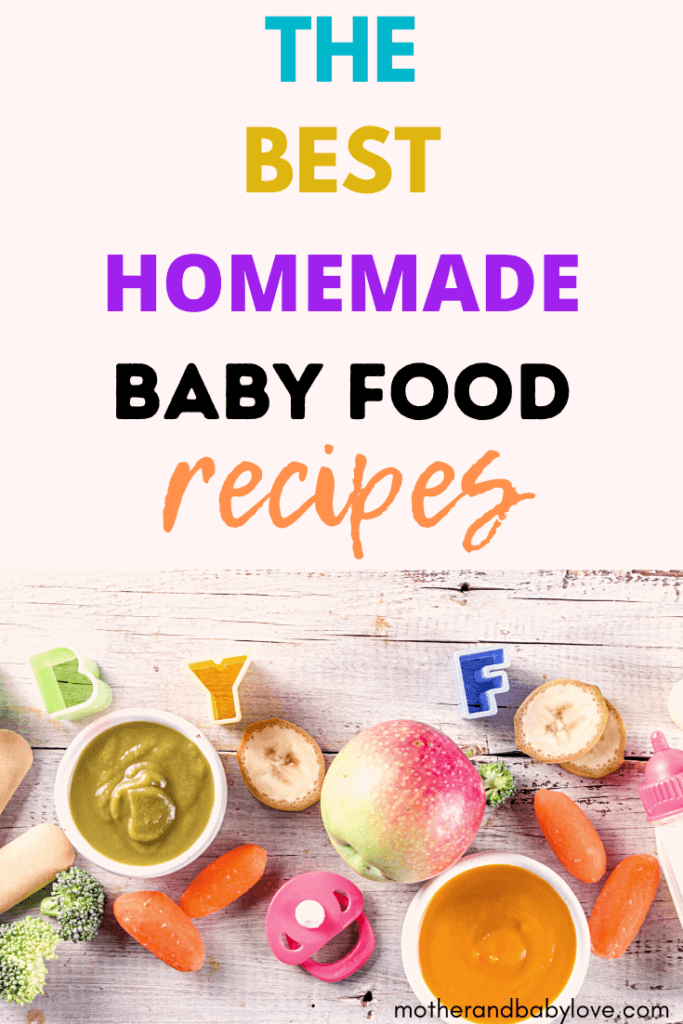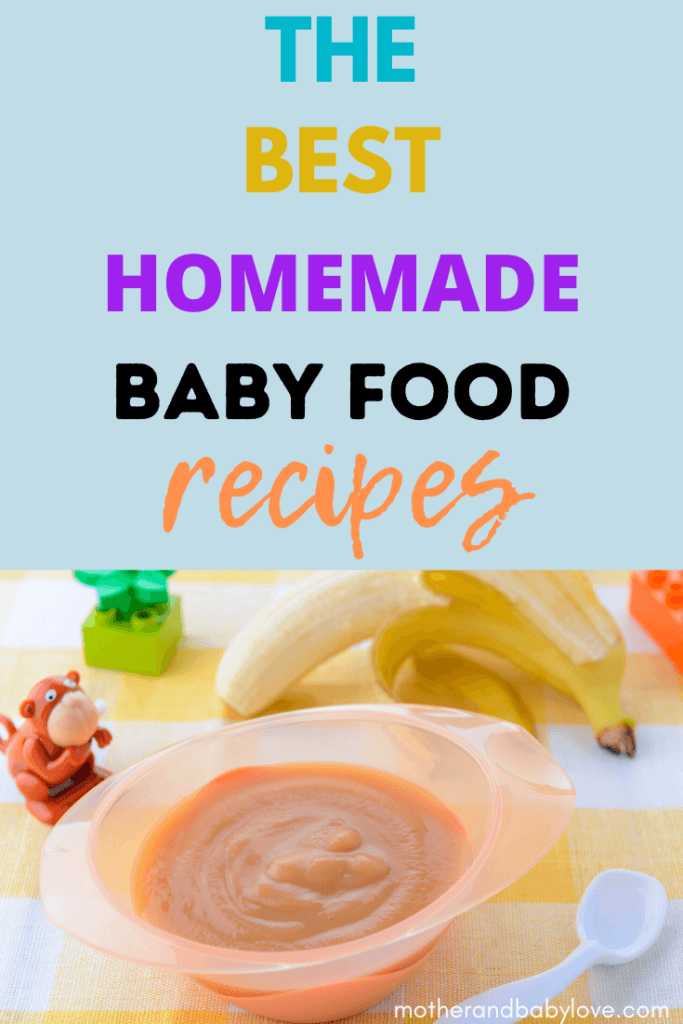 Read Next: