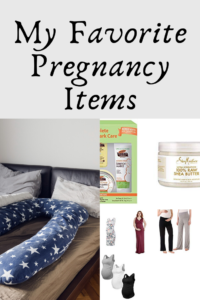 This is a curated page with products from my must-have pregnancy items list that you will love. Most of these are products that I have used and love and a few of them are those that have been highly recommended by my mommy friends.
I also have a complete hospital bag checklist here that will get you ready for your delivery. If you would like to know what products are absolutely necessary for your newborn's first week, you can find that here. For what to pack in your diaper bag, that will be here and you can see the exact items in my baby's diaper bag here.
Disclaimer: Some links on this page are affiliate links and as an Amazon Associate, I earn from qualifying purchases
All the images below are clickable, click on the image to purchase or to see the details and reviews
Pregnancy Pillow
Read my review: The Pharmedoc Pregnancy Pillow review
Other popular pregnancy pillows:
If you are looking for a different type of pillow, I compiled a list of the top 8 pregnancy pillows with the highest ratings on Amazon for each of their categories. You will also find all the pros and cons of each top pillow in its category. Whether you are a stomach sleeper, back or side sleeper, there is a pillow that's perfect for your style.
–>>Get the FREE Hospital Bag checklist For Delivery<<–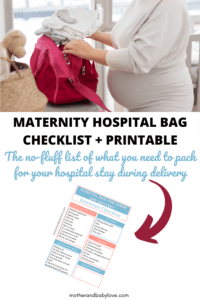 You are subscribing to the Mother and Baby Love email list. Unsubscribe any time
Top-rated Pregnancy pillows To Get Your Comfortable Sleep Back
Stretch Mark and Pregnancy Skin Care
To take care of stretchmarks, I use this kit from Palmers. Raw shea butter has also worked for me really well in the past.
Have you registered your baby yet? I recommend registering on Amazon and Target. Her is a guide on how to pick a baby registry website
Related: How to create your amazon baby registry step by step
Belly Support Band
I absolutely loved this Naturemade vitamins, especially since they have DHA which is good for the baby's brain development. I am now taking the postnatal vitamins to help with breastfeeding and prevent hair loss.
Comfortable Maternity Clothing
These two were my favorite maternity dresses. You can actually see me wearing them in the images in this post. Click on the images to see the dress details.
This dress is still my favorite post-pregnancy and I am getting it in a few more colors 🙂
I wore this to my baby shower and absolutely loved it.
My favorite comfortable pants/ leggings:
Maternity tank tops and tops:
Maternity Bras
Kindred Bravely French Terry Racerback
Kindred Bravely Simply Sublime:
Simply Sublime Nursing Tank + FREE Simone Nursing Wrap
Labor and Delivery Prep Items
Hospital bag:
See: The complete maternity hospital bag checklist for labor and delivery
Labor and delivery Hospital Gown/ Maternity Dress
I loved this dress so much, I still wear it randomly at home.
And of course, socks!
–>>Get the FREE Hospital Bag checklist For Delivery<<–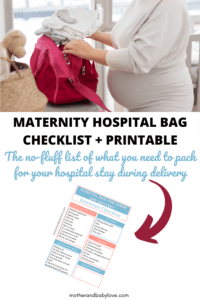 You're also subscribing to the Mother and Baby Love email list. Unsubscribe any time.
Postpartum care kit
And last but not least, all your postpartum essentials. I would not have survived without these. Make sure to carry home whatever they give you at the hospital. The Dermoplast I got from the hospital served me really well.
Please use the icons below to share this page. Sharing is caring 🙂