As a mom you have to deal with poop way too much and with that comes poop stains and the dilemma of how to remove poop stains from baby's clothes. That was too much poop in one sentence.
I am on my umpteenth diaper change today maybe that's why I'm saying poop so many times. I think my daughter is a poop machine but, I digress.
Disclaimer: Some links on this page are affiliate links and as an Amazon Associate, I earn from qualifying purchases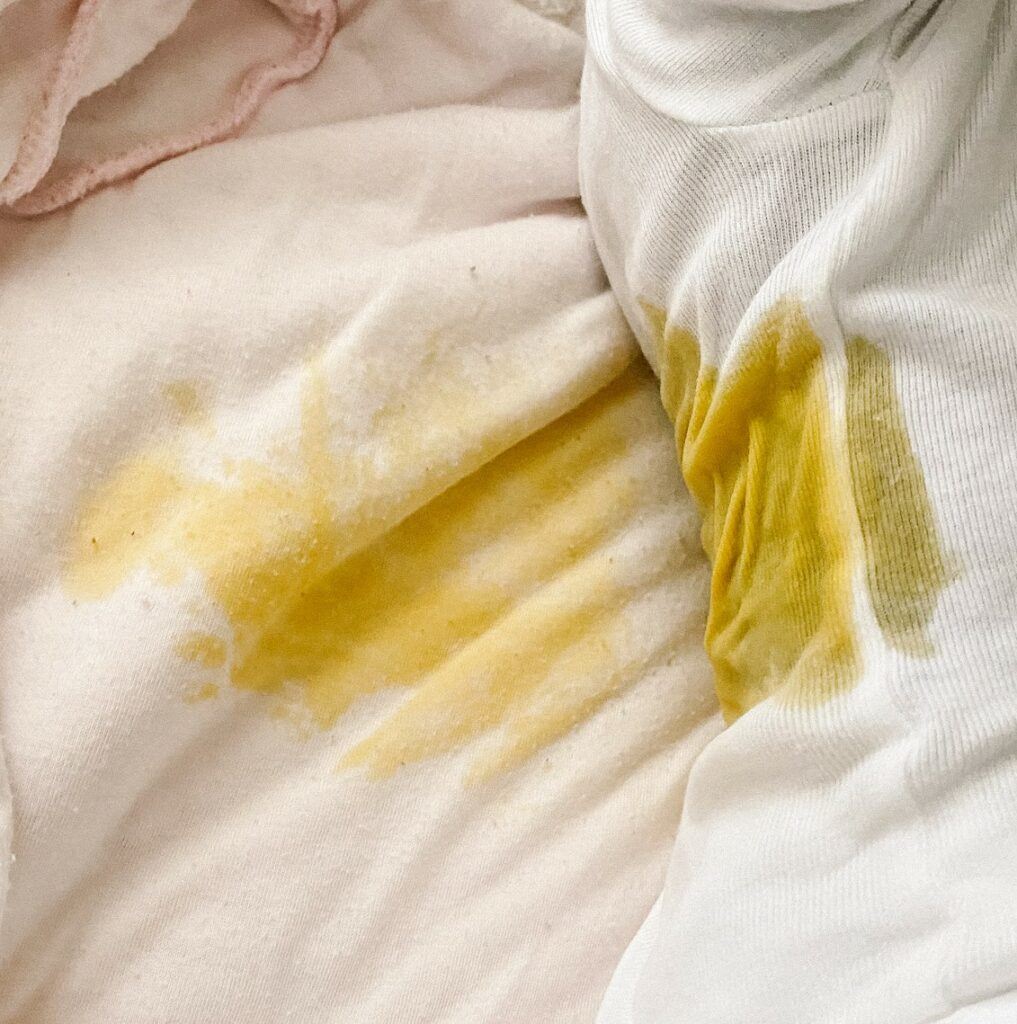 If you are anything like me, then you are no stranger to the infamous diaper blow-outs. Sometimes it has to do with the fact that some diapers are just not that good at holding it in.
I had to try a couple of diaper brands before I finally found ones that could at least until handle the 'poopsplosions'. I talked about the diapers I am currently using in this post. They are about 99 % effective and that's awesome in my book.
Even with the best of diapers, once in a while, you are bound to have accidents and end up with poop stains on baby's clothes.
The best thing is many mamas have been here before and dealt with poop stains and found what works and what doesn't. If you are a first-time mom and dealing with this for the first time, hang in there mama, you are not alone.
Getting Rid of Baby Poop stains
I reached out to my mama friends on Facebook for the solutions they swear by to remove poop stains from their babies' clothes and boy did they come through!
As a general guideline, it is easier to get rid of a stain if you handle it sooner than later as this will prevent the stain from setting.
Remove as much poop as you can immediately by scraping it off or washing it lightly in cold water. You can then soak it in detergent or use any of the tips below to get rid of stains.
But I know as a mom you are busy and you may not be able to deal with the stain as soon as it occurs so most of the tips below will work even if the stain has been there for a while.
13 Ways To Remove Poop Stains (Number 13 Is My Favorite!)
Some of these suggestions are so ridiculously easy it's crazy that you may have never heard of them before. I'm saving the best for last so be sure to read the post to the end. You will be blown away.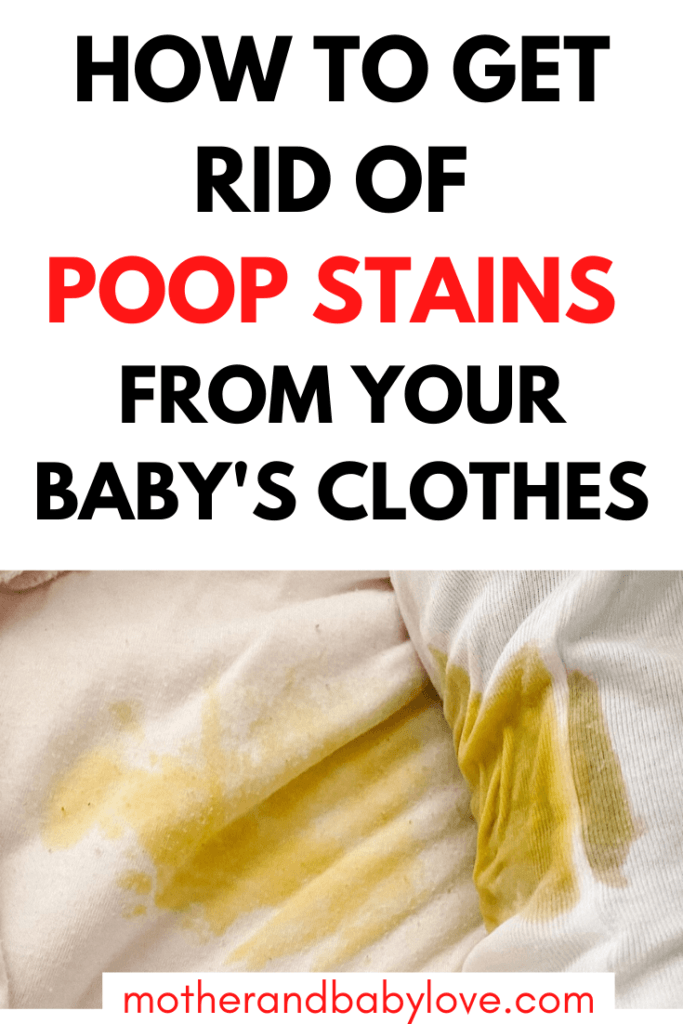 1. Mix up a bottle with dish soap, baking soda, and hydrogen peroxide.
The key here is to have more peroxide and equal parts dish soap, and baking soda. (Blue Dawn came highly recommended by a number of moms)
Use a restaurant condiment bottle and mix 4 oz of baking soda, 4 oz of Dawn dish soap and 8 oz of peroxide.
You can also use equal parts hydrogen peroxide, dish soap, and baking soda. It works on EVERYTHING.
2. Dawn dish soap
You can get rid of poop stains by soaking the clothes using Dawn dish soap.
Dish soap is generally very good at getting tough stains. I personally use it even for cleaning my floors sometimes 🙂
3. Norwex stain remover.
Use Norwex detergent and stain remover and let it soak for a couple of hours before washing.
If you are big on natural, dye and fragrance-free, this is definitely worth a try. Several moms suggested and said it does a really good job. In fact, one of them said, "it gets it every time!"
4. Shout stain remover
This was highly recommended and it is also what I use for all kinds of stains in our home including to remove poop stains and it gets the job done.
Spray on the fabric, leave it for about 30 minutes or more and then wash. I guess I can say, I am a shouter :D.
This is another one that has no dyes or artificial fragrances. And it is plant-based.
6. Fels Naptha Bar Soap And Stain remover
Turns out this is a popular way to get rid of poop stains and save outfits. I had never heard of this soap before but it seems to get the job done.
How to:
Wet the soap, rub it on the stained area of the fabric, front and back.
Soak the clothing with the soap still on it overnight.
The stain will be gone by morning.
7. White Vinegar
8. Dreft stain remover
9. Dapple baby soap
If you are using dapple to clean your bottles, it's time to try it on poop stains. It is said to work wonders on poop stains.
You could use the bottle and dish soap but I noticed they also have a stain remover too.
10. Puracy stain spray
Puracy is pure and clear, made from natural ingredients. It is Hypoallergenic, Gluten-Free, Non-Toxic, Non-Bleaching, Biodegradable, Vegan, Certified Cruelty-Free, and all those good stuff.
It not only gets the poop stains out, but it also gets rid of the smell completely. That's definitely what we all want right?
Win for nature, win for mom.
11. Hemp Baby Castile soap and Hydrogen Peroxide
Castile soap is good or almost any cleaning task. Mixed with hydrogen peroxide, it takes even dried blood out. Make sure to always dilute castile soap before using it.
To remove poop stains, let it sit for 15 minutes and wash.
12. Pet Oxy Stain Remover(Home Depot)
So this is what the mama who recommended this stain remover said, "This works great! I know it says pet but only because it removes stains from pet urine, vomit, etc."
If you have it in the house already for your pets, I think it is worth a shot with your baby's poop stain.
And….. Last but not Least
13. The sun!!
Lay the stained clothes out in the sunshine after you wash them. It works best if the item is wet, although it can work on dry items too. The stains disappear within 1 -3 hours.
I honestly thought this was genius. I would never have guessed it. To my surprise, this was actually the most recommended solution on the Facebook thread as a solution for dealing with poop stains on baby's clothes
So many mamas swore that it works every time.
Here are some more tips on using this sun magic🙂:
For really stubborn stains, add lemon juice before putting in the sun.
You can also do baking soda and lemon juice paste + sun
Even if it's been stained for a few days, let it lay wet in the sun for the afternoon.
Actually, you can just use daylight. The sun is best, but if it's not too sunny, daylight will do. It's a really cool trick for cloth nappies/diapers
Another testimony: " I thought everyone was crazy when they said the sun. BUT, I had an outfit with a poop stain that was three weeks old. I wet it with water alone and set it in the sun. It was gone completely in less than 3 hours! "
If you have tried this, please tell me in the comments. I'm really curious to know how many people knew about this already because I didn't.
Getting Rid Of Those Stains
As you have seen, from purely organic stain removers, dish soaps, to homemade mixes with hydrogen peroxide you can pick whichever solution that is easiest for you and save that cute onesie. No more worries about how to remove poop stains from your baby's clothes.
I was blown away by the sun but I haven't had a chance to try it yet since we have had so few diaper accidents since the sun started coming out(and since I found out about the trick).
Other than the stain removers, I wonder how many of you know about all these DIY methods. What is your favorite way to get rid of poop stains? Let me know in the comments section below.
Remember to pin…