What makes a registry the best gift registry? It is a combination of several factors the biggest of which is your personal needs and preferences. At the same time, it's important that there is no one-size-fits-all when it comes to gift registries.
The best registry for me may not be the best for you.
In general, a large item selection, accessibility for your baby shower guests and a decent return policy are some of the things you should consider.
A generous return policy is particularly important because most gifts in your baby registry will be bought during the baby shower which most of the time will happen much earlier before the baby is born.
A longer return period will give you room to identify the things you really need and what you might not need, sometimes this determination can only happen after you have had the baby for some time. For the registries considered here, most of them have a 1-year return period.
I covered at length the 6 key features that you should be looking for when selecting a baby registry website in this post. Based on those factors I have picked the best registries according to these factors.
These registries are popular and for good reason since they have some really good perks which we will see below. Some of them are purely online while others have physical stores as well as online stores. In such cases, you have the option of setting up your baby registry either in-store or online.
Related: The ultimate guide to selecting a baby registry
What are the most popular baby registries?
Here are the top 5 baby registries and the perks they are well known for:
Amazon baby registry – convenience, awesome perks, a large selection
Target baby registry – ease of use, nice completion discount, great return policy
Walmart baby registry – low prices, a large selection of items.
Buy Buy Baby baby registry – awesome discounts, great customer service.
Babylist baby registry – universal registry, lots of freebies, allows you to register services not sold at stores. 
1. Most Popular Baby Registry – Amazon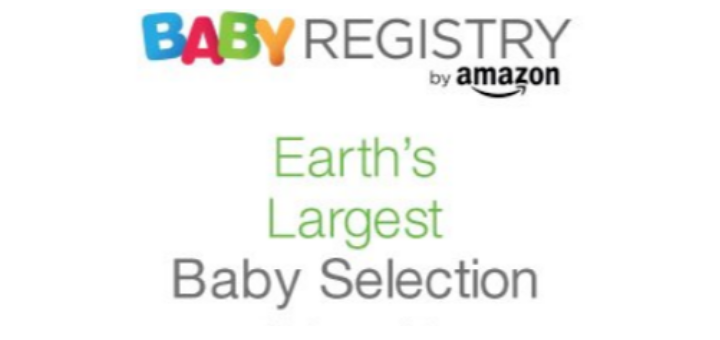 The Amazon baby registry is entirely online since Amazon is not a physical store. Depending on your needs, this may be very convenient due to the ease that comes with online shopping or an inconvenience if you would prefer in-store assistance.
The Perks of Having an Amazon Baby Gift Registry
This registry is popular for a reason though and here are some of the perks that you would enjoy should you have your baby shower gift registry with them:
Free welcome box with items worth up to $35
10% Completion Discount (15% for Amazon Prime members) on items left on your registry 60 days to the due date and up to 60 days after your due date.
Product selection – Amazon has millions of items so you are likely to find everything you need.
Universal registry – you can add a button on your browser that allows you to add items from any site to your registry.
Group gifting – Allows for multiple gifters to contribute towards one large item on your registry. This is very helpful if you plan to have some pricey items on your registry.
Return period – 365 day return period for gifts. Items purchased by the registry owner have a 90-day return period.
Diaper Discount – If purchases of $500 or more are made from your registry (by gifters or yourself) you can get 20% off eligible diaper purchases. Find out how to utilize and maximize your discount here.
Free shipping on orders over $25, and free 2-day shipping for Amazon Prime members.
2. Target Baby Gift Registry – Best Return Policy

Benefits of registering your baby at the Target registry
The Target baby registry offers:
Free welcome gift with over $80 dollars worth of coupons
15% discount on items left in your registry 8 weeks before the due date
Universal registry
Gift tracking – you are able to tell who gave you a gift and who you have thanked.
Return period of up to 1 year for items on your registry. You don't need a receipt.
Group Gifting – allows several people to contribute to expensive items.
In-store assistance – you can set up a target baby registry online or in-store. The availability of physical stores allows for easy returns and in-store assistance.
3. Walmart Baby Registry – Most Affordable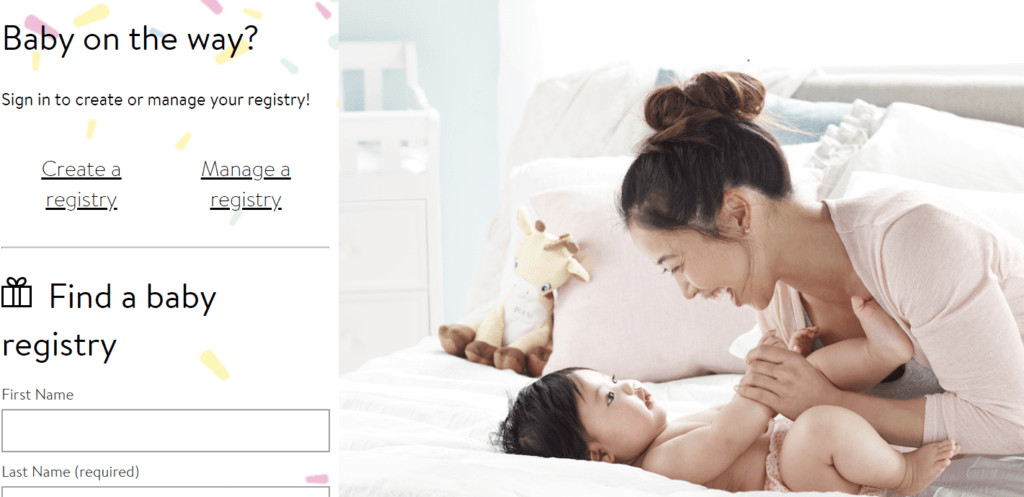 Walmart is popular for its everyday low-price promise, providing a large selection of low-priced items.
The Perks of a Walmart Baby Gift Registry
Here is what you may expect from the Walmart Baby Registry:
Free welcome box with baby-related samples and goodies worth $40
Convenience/ Easy access – there are a ton of Walmart stores all over the US meaning your loved ones who don't like shopping online probably have a Walmart close-by.
Super affordable
Free next-day delivery on registry orders over $35
Free returns for up to 1 year on eligible registry items.
On the downside, Walmart has no completion discount on items left in your registry.
4. Buy Buy Baby – Best In-Store Assistance
Buy Buy Baby has taken their registry services a notch higher, allowing you to book an appointment to meet an in-store registry consultant to help you out.
The Benefits of a Buy Buy Baby Gift Registry
Some of the benefits you will get from having a Buy Buy Baby baby registry are:
Free welcome bag with samples and a Buy Buy Baby coupons.
A wide selection of baby-related items
In-store assistance – you can book a registry consultant to assist you. They will answer all your questions and help you find everything you need for your baby.
15% completion discount on items left in your registry.
Return policy period of up to 90 days.
5. Babylist Baby – Best Universal Registry

The Babylist baby registry is a universal registry which means it allows you to add items from any store.
The Perks of Having Your Baby Gift Registry at Babylist
Some of the benefits of the Babylist Baby Registry are:
Free "Hello Baby Box" full of samples and goodies for your baby worth up to $125
Universal registry – add items from any store.
You can add services that cannot be bought in a store to your registry. Your guests can gift you services such as home-cooked meals, dog walking services, cash contributions, etc.
15% completion discount on the Babylist store.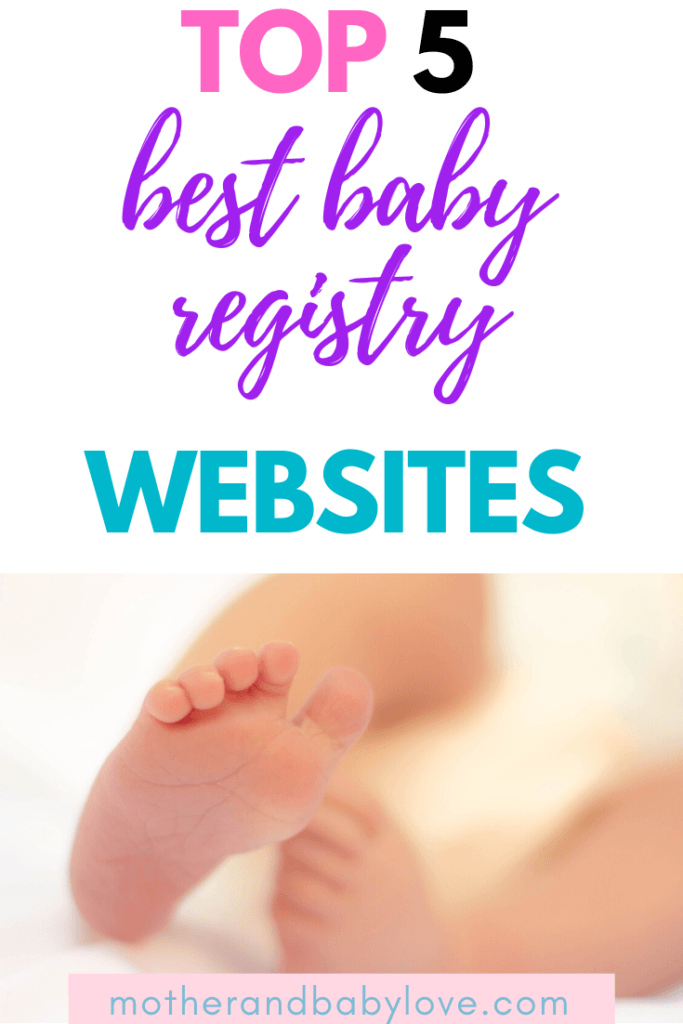 Can you have multiple registries?
Yes. If it is not too much trouble for you, I recommend having more than one registry to meet your various needs. That said, setting up a registry can be very time consuming, so you may want to choose the best 2 and focus on those. My personal favorites are Target and Amazon.
What baby registries give free gifts?
Target, Amazon, Buy Buy Baby, Walmart, and Babylist Baby registries all give free goodies. Babylist seems to give the highest value of goodies ($125) while Amazon is the least at $35.
However, considering that items at Amazon are relatively low-priced than other stores, the extra value, in the end, may not be so much.
Which gift registry has the best return policy?
Target, Walmart, and Amazon have a 1 year return period. Target does not require you to have a receipt and is probably the one with the easiest return process.
==>Step by step guide to creating your registry on Amazon
The Best Baby Gift Registry Sites
Of these 5 which is the best baby registry site? That is going to depend on your need. Figure out what are the most important factors on picking a baby registry site for you then select the one that fits you best. My personal favorites were Amazon and Target which I used to register for my baby shower gifts.
Given the current situation where you are more likely to have a virtual baby shower than a physical one, a purely online registry maybe preferable for you.
Which of these popular baby gift registry sites do you like the most? Do you have other baby registries that you love that are not included here?
Let me know in the comments below and I will be happy to include them.