In this registry review, I'm sharing the Amazon baby registry benefits I liked and the tips on utilizing these perks (like the completion discount, and diaper discount) properly. Why should you choose Amazon? How does the registry completion discount work? I'm answering all your questions and also sharing what I disliked about the Amazon registry. (Spoiler: not so much)
---
Disclaimer: Some links on this page are affiliate links and as an Amazon Associate, I earn from qualifying purchases
When it came to setting up my baby gift registry, the Amazon baby registry was the first one that I considered because I am kinda really like all things Amazon. It is not only one of the most popular baby registry websites available online, but it has millions of items to choose from.
Related: 21 Funny, Creative and Cute Pregnancy Announcement Ideas To Surprise Your husband
You can literally find anything you need to add to your registry and using the universal registry feature, you can even add items that are not on amazon to your registry. Like something in a different store? Yep, you can still add it to your registry. Isn't that awesome?
If you are considering setting up your baby shower registry, Amazon is definitely one that I recommend. If you are having a baby shower, keep in mind your baby shower date. Have your registry ready a few weeks before to allow your guests enough time for shopping.
If you are not hosting or having a baby shower, no pressure. You should still create your baby registry to have all the items in your wish list in one place so that you can check off everything as you go and keep track. Of course, there are also many other benefits of having a baby registry, as we will see below. In this case, you can create it as early or as late as you want. You can even create it after the baby is born!
However, the best time to create it is early in your third trimester (between 27 and 30 weeks). This will allow you time to get everything you need before the baby is born and plan for what to get after the baby arrives.
Download this newborn essentials checklist to help you identify the items you will need to add to your registry.
Do I Need an Amazon Prime Membership to set up a registry on Amazon?
Being an Amazon Prime member is not required to create your registry on Amazon. However, Prime members do get extra benefits that non-prime members don't. For example, Prime members receive a 15% completion discount while non-members receive 10%. I will outline a few other differences in benefits that may apply in the detailed review below.
Get your 30-day Amazon Prime free trial
I have been an Amazon Prime member for a couple of years, even before I started creating my baby registry, and totally love it and recommend it. Now that I have an infant and we are utilizing the diaper discount and the free shipping, I appreciate it even more.
Keep reading to learn how the diaper discount and registry completion discount work.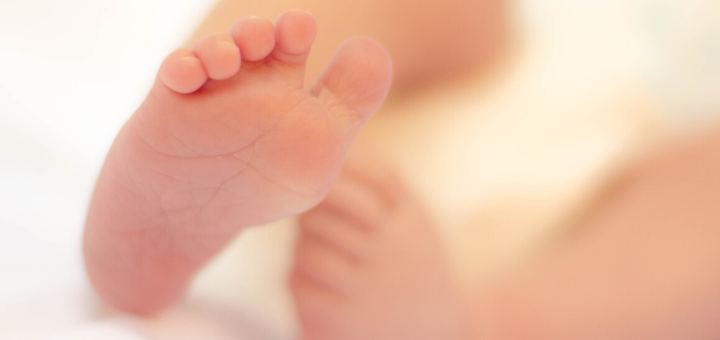 ---
If you have no idea what to look for in a baby registry website to know if it's the best one for you, this guide will help you know what to look for. And if you are just undecided on which one is the best, this comparison of the most popular registry websites may just be what you need to make that decision.
I do have a step by step tutorial on how to set up your Amazon baby registry and how to find someone else's baby registry on amazon by searching the parent name. 
---
7 Amazon Baby Registry Benefits – What I loved about the Amazon Baby Registry
1. Free Welcome Box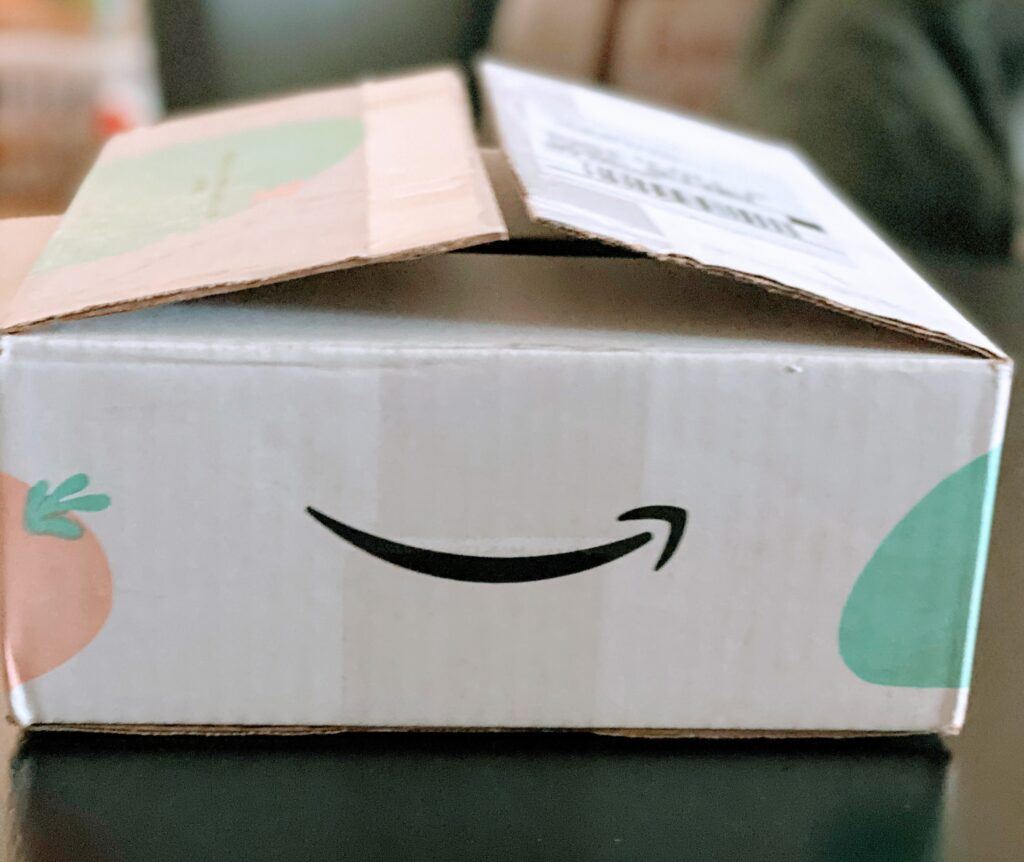 I received a free welcome box with items worth $35. These included a bunch of diaper and baby wipe samples, a nice baby blanket, and other freebies.
My favorite item in the welcome box was the Dr. Brown's feeding bottle which we really put to use after the baby was born. I honestly found most of the items to be useful so I really appreciated the gift.
2. The convenience of online shopping experience 
For the second half of my pregnancy with our second baby, I was on complete bed rest. Because my movement was so restricted, online shopping was a necessity rather than a choice. The convenience that came with an Amazon baby gift registry was the best thing that could have happened to me in this period.
I was able to add all the baby items I wanted to the baby registry and have it all delivered to our doorstep. All these without ever having to leave my bed! Needless to say, setting up my baby registry on Amazon was a very welcome distraction while I was on bed rest. 
3. Huge selection and Universal Registry
Amazon has a huge selection of items which made it easy to find whatever baby items I wanted. Whatever my preferences were, I did not struggle to find the items that I wanted.
Feel free to add your pregnancy and postpartum essentials as well as your breastfeeding essentials to your registry. Even if nobody else buys them for you, you can apply the discount when buying them.
Universal Registry
I did not find the need to use it but you can also utilize the universal registry feature to add items from anywhere. If you have a specific small business you would like to get something from, you can add it to your registry.
When someone decides to buy an item that is in your universal registry and not on Amazon, they can mark the item as reserved so that other people can see that the item has already been bought. The person is then redirected to make the purchase in the other store.
These items will not be eligible for completion discount since they aren't from Amazon, but I think that makes sense.
The beauty of a universal registry is that you can be able to manage all the items you wish for from one list.
4. Easy to Set up + Mobile app
It was also quite easy to set up and to add items to the registry. You can also access your registry through the mobile app. This makes it easy to manage your registry, add items, and even process returns on your mobile phone.
The registry contains a comprehensive checklist that you can go through making sure that you don't forget anything. You can also download this and use it as a baby registry essentials checklist.
There is also a "Add to Baby Registry" button (below the Add to Cart and Buy Now buttons) whenever you select an item when shopping on the Amazon website.
5. Registry Completion Discount
Amazon offers a 10% completion discount (15% for Prime members) on all items left on your registry, 60 days to the due date. This discount can be used up to 60 days after the due date, making it available for a total of 120 days. (Read the guidelines here)
How To Utilize the Amazon Baby Registry Completion Discount
When you become eligible for the completion discount (60 days to your indicated due date), a message will appear at the top of your baby registry letting you know how much discount you are eligible for (10-15%).
A link to redeem the discount will also be displayed in the registry. These apply unless your registry was created less than 14 days ago, in which case you will not be eligible for a discount yet. So be sure to create your registry early. I'd suggest you do it in the second trimester of your pregnancy.
The discount can be used on up to 2 orders of a maximum of $ 2,000 USD.
To Redeem Your Amazon Baby Registry Completion Discount:

Click on the message displayed on your baby registry when you become eligible to access your Completion Discount View. This will show all the eligible items and your discount amount.
Add the eligible items to your shopping cart
The Completion Discount will be applied at checkout to all eligible items.
A few things you need to know about the completion discount:
The completion discount does not apply to all items, it only applies to items that are sold and shipped by Amazon or fulfilled by Amazon (as you can see in the image below). Make sure you check the Completion Discount View in your registry for item eligibility.

For the discount to apply, you have to add items to the shopping cart from your registry and not from the general shopping area.
To get the 15% discount applicable to Prime members, you have to be an Amazon Prime member at the time of redeeming the discount. You can join Amazon Prime after creating your registry and be eligible for the 15% discount. Just as long as you haven't redeemed your discount already and you are within your eligibility window (60 days before and after due date).
You can use this link to get a 30-day free trial of Amazon Prime.
6. Registry Diaper Discount
This gets you 20% off eligible diaper purchases if you reach $500+ in products purchased from your Baby Registry. You can use this benefit for one year after your due date or until you get $300 in diaper discounts, which is the maximum allowed.
How the Amazon Registry Diaper Discount Works:
Setup your Amazon Baby registry and add items to it.
Reach $500 in items bought from your Registry. It does not matter whether these were purchased as gifts by family and friends or by yourself.
On your due date, which is the baby's arrival date you entered in your baby registry settings, Amazon automatically applies a 20% promo code on all eligible diaper purchases (shipped and sold by Amazon). The discount is applied at checkout.
To access this discount you need to shop for the diapers through the Diaper Discount page which you access from the top of your baby registry.
To maximize your savings and get up to 40% off on diapers, you can combine this benefit with the "subscribe and save" benefit.
7. 365-Day Return Period For Gifts
Gifts purchased from your Amazon baby registry have a 365-day return period. However, items that you buy for yourself from your registry have a 90-day return period.
How to return an gift purchased from your registry:
Go to your Baby registry
Click on "Thank You List & Returns"
Select the item you would like to return
Click on "Return Item"
Follow the prompts to complete the return.
Other Benefits Of The Amazon Baby Gift Registry
Mobile registry
Universal registry
Competitive pricing
90-day return period on items purchased by the registry owner
Fast, free shipping (on orders over $25 for non-Prime members)
Wonderful customer service
Related: How to Create an Amazon Baby Registry- Step by Step Guide
Amazon Baby Registry Search
After creating my baby registry, I found two things that I or my family and friends struggled with. The first thing was how to find my registry after logging in to my account. Searching for my own baby registry was surprisingly challenging at first before I figured it out.
Secondly, it was how my family and friends could search for and find my baby registry. This was actually more straightforward to some but it can be challenging to others so I'd like to address it too.
How to find Your baby gift registry on amazon in 2 easy ways
1. Type "baby registry" into the Amazon search box and press enter or click on the search icon. This will automatically take you to your baby registry page. Make sure you don't type "baby registry search" as this won't give you the same result.

2. Click on the Accounts & Lists option on the top right-hand side of the Amazon homepage. A drop-down menu opens as in the image below. Select "baby registry" to open your baby registry page.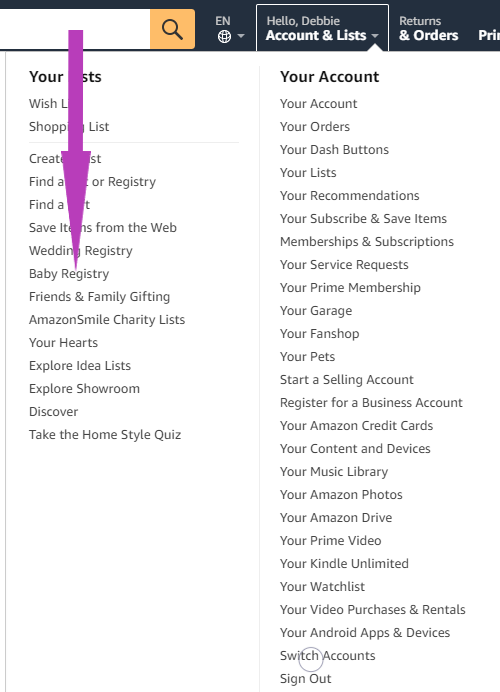 How do I find someone's baby gift registry on Amazon? – Using Parent's Names
To find a baby gift registry on Amazon, you need to know the registrant's (typically the parent) name or email.
Go to baby registry search. You can also find this by typing "Amazon baby registry search" on Google and it will be the top result. It has the title Amazon: Baby Registry Search Results. Click on the link.
Enter the registrant/parent's name in the appropriate box. You can enter the first name, last name or email address. Use the baby's arrival month and year if you know them.
Click Find.
Select the registrant's name that you are looking for from the list that comes up.
If you can't find a registry using these steps, the owner may have set it to private or shared.
If it is set to 'shared', they have to send you a link to the registry for you to see it so you probably need to contact them.
Only the registries set to "Public" can be accessed using the instructions above.
If you still can't find someone's registry using their name and the instructions above, reach out to them and ask for a link to their registry. Most people will be more than happy to share.
What I did not like about the Amazon Baby Registry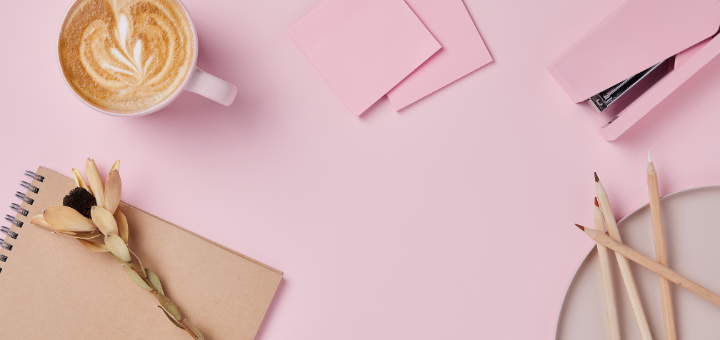 As with all good things, the Amazon baby registry has a few weaknesses or things I did not like, so to say.
Here are a few things I did not like about it:
The 365 day return period advertised is only applicable to items given as gifts, the 90-day return period for items bought by the registry owner isn't long. Especially when you compare it to other registries. Target, for example, has a 1-year return period for items bought on your registry.
There are certain baby items, like blankets, that I would prefer to touch and feel before buying and obviously this is not possible as Amazon is an online shop.
Lack of in-store assistance   
Despite the challenges, the things I did not like about the amazon baby registry were not deal breakers for me. I enjoyed utilizing all the benefits of Amazon. However, to cater to my friends who would prefer a physical store to get me baby shower gifts, I set up a second baby registry at Target.
If I had to do it again, I would still have 2 registries, one on Amazon and another at Target for the different benefits that they offer.
Do you want to start creating your Amazon baby registry? This post here will guide you all the way.
Did you find this amazon Baby Registry review useful? Let me know your thoughts in the comments below.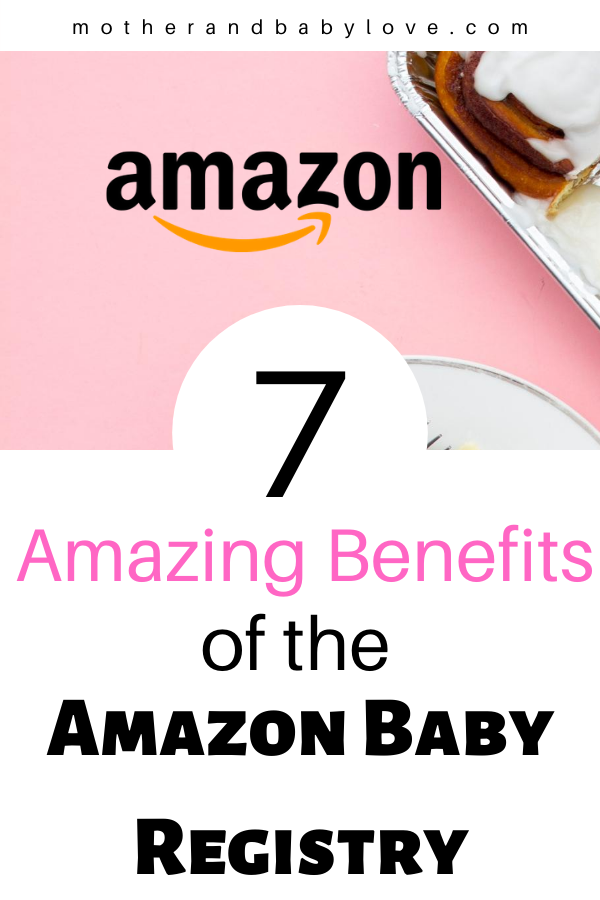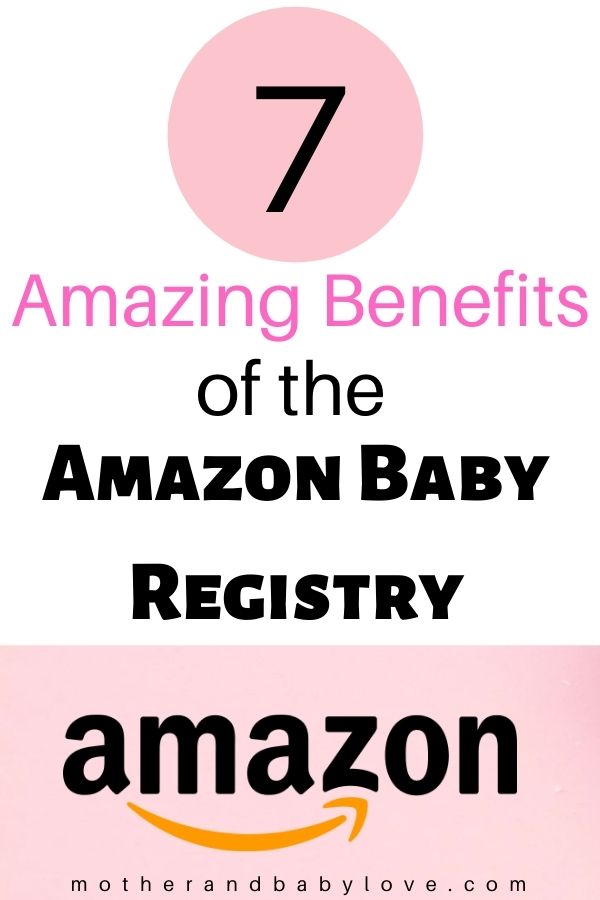 Read Next: