After writing the post about what to pack in a diaper bag last week, I thought it would be fun to share with you exactly what is in my diaper bag. Nothing really fancy in my diaper bag, just normal momma stuff.
It may help you to know that I consider myself a minimalist, well, kinda.
I am curious to know what other moms pack in their bags so feel free to leave a comment at the end and let me know what you pack in yours. Especially if you go through the post and feel like I am missing something important, I'd love to hear about it.
"This post contains affiliate links, which means I receive a small commission, at no extra cost to you, if you make a purchase using these link."
Multi-functional Diaper Bag – Ruvalino Backpack Diaper Bag
I have this backpack diaper bag which I absolutely love for its multifunctional capabilities. Going by how strong it feels, we will still be using it long after our baby girl no longer needs it.
Here are a few things I like about it:
it is very spacious which allows me to pack a ton of baby stuff as well as

everything I need for myself

.
It is easy to carry and looks good both on myself and my husband. Since we travel a lot, this is very convenient.
It has a ton of pockets, including insulated ones for our bottles. It even has a laptop compartment for my laptop when I need it but want to carry one bag only.
Comes with a nice portable changing pad
This diaper bag is spacious enough, we actually used it to pack all baby's stuff when we were packing our hospital bag for delivery.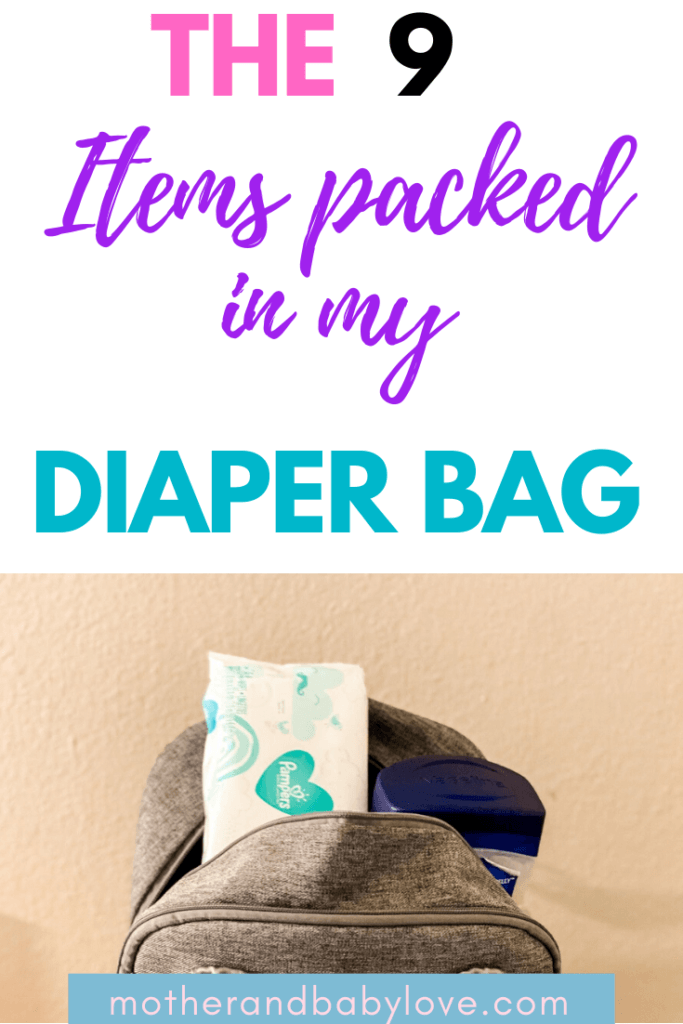 A Portable Changing Pad
Most of the time, I use the changing pad that came with my diaper bag. However, it is relatively small so I got this bigger one which folds really small and makes it easy to travel with.
If you would prefer disposable changing pads, you may want to look into these ones.
6 Diapers – Huggies Swaddlers
I keep about 6 diapers in the diaper bag at all times. Some people recommend 2 diapers for every hour that you are out. I don't go out with the baby for too long but when I do, I adjust the number of diapers in the bag accordingly.
My first choice of diapers is Huggies Little Snugglers. In the last 4 months, I have tried a number of different brands of diapers as well as other Huggies models and so far the little snugglers have worked best. I think the pocketed back waistband is what sets them apart. It is able to contain the messes and prevents blowouts on the baby's back.
Sometimes I use Pampers at night because my baby girl does not poop when she is asleep and it does not look bulky in the morning. However, I have not had any luck with it when it comes to blowouts so I stay away from them during the day.
With my oldest, we changed to Luvs when he turned two years old and they served us well. We might consider doing the same thing as time goes by to save on costs.
Check out how I save on diapers using diaper discount here
1 Pack of Baby Wipes – Pampers Sensitive
Usually, I keep 1 pack of baby wipes in the diaper bag and it lasts me quite a while before I have to replace it. I use Pampers sensitive wipes because they are hypoallergenic and perfume-free. They are also fairly thick which means that I don't have to use too many to get the baby cleaned up.
I have to say though, that I haven't tried a ton of baby wipes from other brands. I just received these ones as baby shower gifts and loved them so much, I stuck with them.
1 Jar of Vaseline Petroleum Jelly – Skin Protectant
It is very important to apply a skin protectant/ diaper rash ointment after every diaper change. This protects the baby's skin from getting a rash or irritation from coming into contact with urine or poop. There is always 1 jar of Vaseline in my diaper bag ready to go. It could be sheer luck or the power of Vaseline but our baby has never had a diaper rash since she was born. It's worth a try.
2 Baby Blankets
I usually have at least 2 blankets in my diaper bag. 1 light, plush one for warmth like this one and one of these muslin ones which are really cute and versatile enough to use for anything.
The plush one will typically be for covering the baby when she is riding in her stroller, the muslin ones are for literally everything. From swaddling her, catching spit-up and drool to covering her.
2 or 3 Burp Cloths
Burp cloths are an absolute essential in my bag. They help to keep baby looking fairly clean and protect my clothes from being messy. Well, it's not always successful 🙂 #motherhood
2 Bibs
My daughter drools and spits up like crazy. I usually pack about 2 extra bibs in the diaper bag in case it needs changing.
1 Pair of socks
At this stage, I dress my baby mostly in footed rompers/onesies unless we are going for an event. That's why I only keep 1 pair of socks in the diaper bag. If the outfit of the day needs socks, I pack at least 2 pairs. As she is growing we are likely going to need more pairs of socks packed in the diaper bag.
At least 2 changes of clothes
I keep 2 complete sets of clothes in my diaper bag. These typically consist of a bodysuit, a footed romper or another baby outfit befitting the occasion.
This list just contains my staples. Depending on the kind of day I expect to have, I add items or adjust quantities as necessary.
You can find my full list of what you should pack in your diaper bag here.
Other items that I would also pack are:
Plastic bags to dispose of soiled diapers
Travel-sized hand sanitizer
Water bottle
I do not carry baby bottles mostly because I am exclusively breastfeeding. As the baby grows and starts on solids and other liquids, I will be packing bottles and baby food in the diaper bag.
Tips on packing your diaper bag
I'm pretty sure I am not the only one who hates to pack the diaper bag every time we are going out. So one thing I have found to be important is to keep the diaper bag packed always. Have separate supplies for the diaper bag aside from what you use on a day to day basis. That way, you don't start changing your baby out there and realize you forgot vaseline or wipes or something else.
Have the default items always packed and when you realize something is almost running out, replace it as soon as you get home so that you don't have to think about it next time you are going out.
I hope you found this helpful. Leave your questions or comments below.