Pregnancy is challenging, but so is the postpartum recovery period. I asked 29 mom bloggers who are also experienced moms to share their best postpartum recovery tips that will make healing easier. These are mothers who have been there, they have done it and made it to the other side to tell their stories.
After giving birth, postpartum challenges can range from breastfeeding issues, healing your body, caring for a newborn which can be exhausting. Dealing with sleep issues, and even taking care of your mental health can be really hard.
The cool thing is, these mamas did not hold back. They gave some solid postpartum recovery tips and I can't wait for you to read them. You will not only learn what to do but also what not to do if you want your postpartum healing to go smoothly.
Definitely take notes!
Some links on this page are affiliate links and as an Amazon Associate, I earn from qualifying purchases.
The question each of these moms answered was: What is that one tip you would share with a new mom that would make their postpartum healing easier?
These are their responses:
Best Postpartum Recovery Tips From Moms Who Have Been There
"Don't forget to take care of yourself. Healthy mom= Happy baby" – Kim Tang-Gonzalez from Mom With Babies
"It's okay to think about yourself before your baby! If you aren't well and happy, there's no way that the baby will be! Please take time out for yourself and leave the baby for a few hours with your partner or a loved one. It's perfectly okay and actually good for both you and the baby!" – Farwah Shah from Raising Boys With Love
"Try and get a little time to yourself each day, even if it's just a shower or a step outside. Being a new mom can be all-consuming and those minutes just being 'you' can really make a difference in how you feel." – Hayley from Mama in Progress
"Self-care is super important! Baths, naps, eating healthy foods, and personal devotions will equip you with energy and patience to give life to your newborn." – Suzanne from the Shepherd's Sheep
Healing Tips For a Speedy Recovery
Whether you are recovering from a vaginal delivery or a c-section, here are tips that can help.
Randi from Simply Mcneeley said, "Honestly, just Tylenol, ice packs, witch hazel and as much rest as possible. Rest is key!"
Postpartum recovery tips from a vaginal birth
"Make padsicles to help with vaginal birth recoveries. The cooling sensation as well as the ingredients that speed up recovery make it worth the effort. ( I actually have an entire post on this topic I included the link below in case you wanted more tips)."- Dr. Kimberlie Harris from PhraseD
27 Postpartum essentials you need to guarantee happy survival
"Using crushed ice inside newborn diapers to help with pain and swelling. Use the ice diapers inside your underwear for 20 minutes out of each hour you are awake for the first couple days you are home." – Rebecca from Sprinkle of Country
My take:
Watch this video for an easy way to make padsicles. I have a few tips on using them below the video
Here is what you need to make padsicles:
Tips:
Let the padsicle thaw for 5 to 10 minutes after you take it out of the freezer before wearing it. this will prevent it from sticking on your skin which can be uncomfortable.
Wear a waterproof adult/mesh underwear when wearing a padsicle or sit on a towel to absorb any water leakage.
Postpartum Recovery Tips For A C-Section Delivery
"For c-sections, always always have stool softeners on hand, and don't be afraid of pain medicine. Get sleep when you can! Use a period pad (clean of course) and place the cotton side on your c-section wound to prevent your pants or underwear from rubbing and irritation." -Brit Hutchings from brithutchings.com
"If you've had a c-section (I just had my third yesterday on 5/15/20), you need to take it easy but not TOO easy. You will heal more slowly if you don't get up and walk around a bit almost as soon as the catheter comes out. It's very tempting to just stay in bed until the pain is gone, but moving around will help lessen the pain more quickly." – Tiffany Thomas from Saving Talents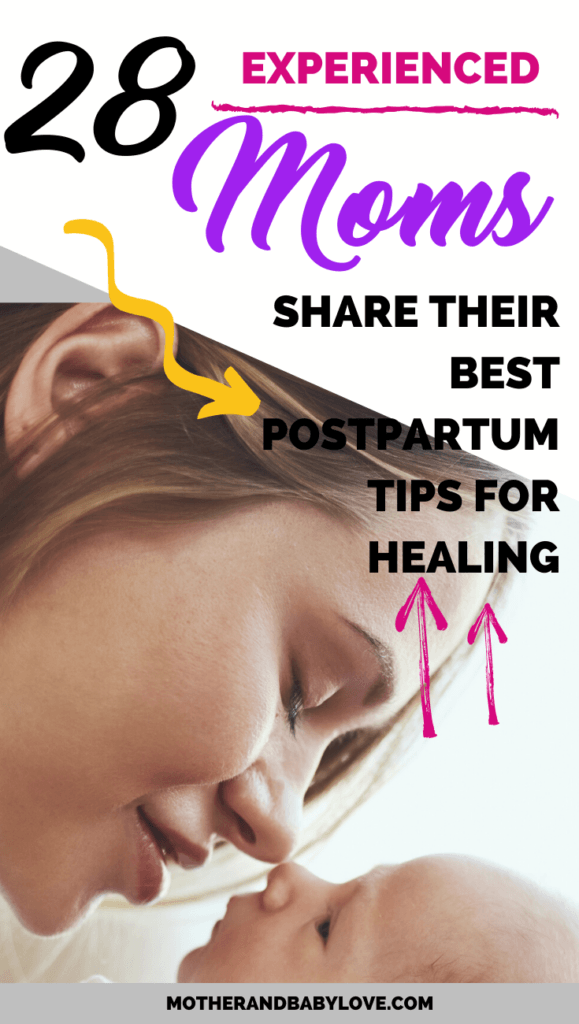 Part of Your Postpartum Healing Involves Your Emotional Health Too
"The more you protect your emotional health, the better off you are for your child after giving birth. Only surround yourself with people who truly support & love you. That includes the father of your child. Remove anyone who is bringing you down & causing problems for you emotionally." -Keara Douglas from Deluxds
"To talk to others about how you are feeling. The changes that you go through can be overwhelming whether it's your first or fourth child. Each time is different and the changes in emotions and mental health are rapid. Sometimes you don't even know what you are feeling. My advice us to be open and honest about what you are thinking and feeling so that others can help." – Shannon Staley from Shannon's Thoughts
"Get out every day and see someone. Even if it's just your favorite barista in the drive-thru. It's so important to not get into a routine of isolation." – Sabrina Yarsley from The Opposite of Perfect
"Speaking up about your experience, post-partum can be challenging and the hormones can be very hard to deal with. It's important to speak up about your experience, what you liked and disliked bout your pregnancy and birth. It can help prevent baby blues and postpartum depression to speak up. Also not staying on your own! You will be tired, you will feel many different emotions and even if staying on your own with your newborn can be tempting it's important to surround yourself with loved ones who will be able to help take some time for yourself. It's important to not forget about ourselves when we become mum! If we are happy and relaxed, our babies will be as well! They are sponges and feel everything we can feel !" – Morgane from Book Me Some Time
Be gentle With Yourself
" Walk as much as you can, but rest when needed. Don't be scared to let family know you are overwhelmed and need some space from visitors. Trying to entertain can take a toll on your mental health. Knowing you aren't alone in your feelings is the best reassurance. Give baby to dad and go lie in a warm bath." – Rosslyn from A Little Piece of Mi
"My greatest advice to other mothers is definitely to treat your mental health as you do your need to eat and sleep (that is, if you're getting sleep!). Filling your own cup is vital to being able to provide for your baby. Finding pockets of time in the day for yourself to do some belly breathing or some positive visualization can have a great effect on your mood." – Renee Shaw from This Anxious Mum
"Your mental and emotional well-being is essential to being the best mom you can. Be gentle with yourself and take things easy! You're healing in so many ways!" – Dani Marshall from danimarshall.com
Pro tips for postpartum healing when you are breastfeeding (or not)
"If you are breastfeeding, put a warm heating pad on your belly when you sit down to nurse. The warmth will help ease the pain of your uterus contracting while the baby sucks. I have four daughters and I wish someone had told me this with my firstborn. Note – the uterine contractions get worse with each subsequent child but totally worth it for babies' sake!" – Christen Grozelle from Best Money Mom
"Don't be afraid to offer formula if you're struggling with breastfeeding. I nearly killed myself feeding and pumping around the clock for 6 weeks trying to create a supply that my body just wasn't capable of producing. Removing the stress around feeding your baby and ensuring they get enough to eat is far more important than trying to achieve that "breastfeeding bond." " -Michelle Meredith from Bright color Mom
If you are struggling with breastfeeding, check out Mommy Did you Know's online breastfeeding classes, use code: "milkminutes10" to get 10% off. You can also take her free class here
Because postpartum shedding is real, y'all
"If breastfeeding Take your vitamins to prevent too much hair loss. And coconut hair masks help with hair loss and dry hair" – Monica from Styling Life Today
Give yourself a Break
"Let go of the baby! Yes the fourth trimester is real but so is the likelihood of maternal insanity. Your baby will be stuck to you for the majority of its early life whether you like it or not, so when you get a chance let someone else hold the baby. It'll give you a brief break, help your little feel comfortable with others (which is necessary for when you need to be away) and it'll give them a chance to bond with their father/granny/uncle/whoever." – Kirsten Noel from The Bird and The Beard
"You're going to be tired, so give yourself a break. That "sleep when the baby sleeps" advice is nuts! Babies sleep in sporadic, sometimes-only-thirty-minutes increments. So you're going to be tired, just give yourself a break. Babies don't keep and that laundry will eventually get done." – Courtney Langdon
Follow Courtney on Instagram here
My thoughts:
I was so fortunate to that my mother in law came to stay with us during my daughter's first 3 months. She had mild acid reflux and had a tough time sleeping except when she was propped up. she ended up sleeping in her bouncer most of the time and one of us had to watch her. Letting my mother-in-law watch her so that I could get the much needed sleep saved me from going insane.
If you have family and friends who can help, take all the help you can get. It is okay if mama takes a break too. If you want to have quick postpartum recovery and healing, rest, rest, rest.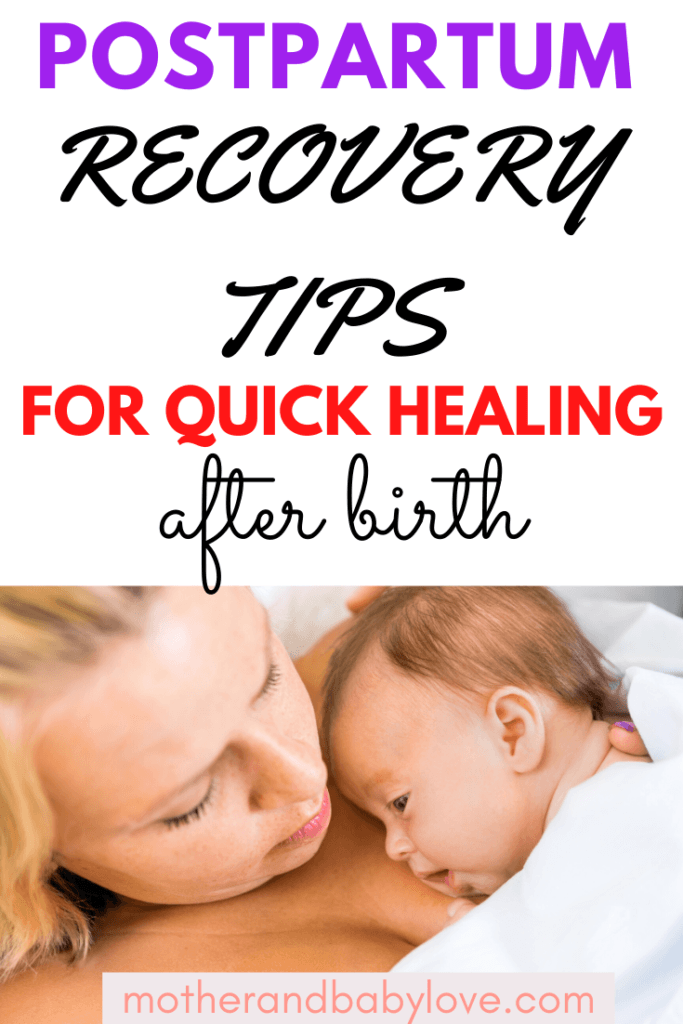 It's okay if your house isn't sparkling clean
"Don't think that your going to be able to have a clean house, everything perfect , because it's impossible! Just be ok with what's happening in the moment and savor it all!" – Emily from The Motherhooding Truth
"Let the house be a mess! I experienced a 2nd-degree tear during childbirth and I had to go to the hospital 3 times because my stitches came out. I was up doing laundry, washing dishes, bending over and walking around when I should have been resting. I could've healed so much faster if I would have let the house be a mess but instead it took me almost 2 months to fully recover." – Vanessa from Young Momma's Life
"Have meals prepped and in the freezer. The main focus is you and your new baby so you need to make sure you are looking after yourself and getting plenty of good food into you! Having a nutritious meal prepared that just has to be defrosted and warmed up is a HUGE life saver. This goes for meals for other kids you might have in the house too. Having enough meals for the family for at least the first week (2 weeks is even better) means you have more time to spend with your new baby, resting yourself or entertaining your other kids!" – Rachel Rankin from Rachel's Road
Rest to Heal
"Be sure to accept help. Give yourself the time you need to heal. Your body has been working hard these past 10 months to create life and you are not expected to 'bounce right back'. Soak up the baby snuggles while you rest and heal and let someone else do all the other stuff that needs to be done." – Heather from Embracing Chaos With Love
"Sleep when the baby sleeps and trust your gut, you will get a lot of unsolicited advice." – Alexandra from Homeschooling in NYC
My take:
I have to say I tried to sleep when the baby sleeps and it did not work for me. My husband would tell me to do it every day but I just couldn't. I take time to fall asleep and by the time I would be deep asleep baby would be waking up. It was frustrating.
However, if your baby can sleep for a few hours at a time, I would highly recommend sleeping when they sleep. Being well-rested will go a long way in helping you take care of the baby better and keeping you in a healthy mental space.
Another pro postpartum recovery tip…
"Keep a basket or little tote of all your necessities so you can move it from room to room easily. This might include chapstick, medication, water, baby items or pumping stuff." – Jennafer Tucker from Growing the Tuckers
Newborn Baby Tracker
"Get a baby app like Sprout to keep track of diaper changes, sleep, nursing, and pumping. When you're sleep-deprived and the doctor is asking you about all of these details, it helps to have it all in one place. It also helped me figure out my son's feeding and sleeping schedule." – Cherry Lacsina from Its all Cherry
Don't forget to enjoy the journey
"Take it one day at a time. Postpartum is filled with so many things – joy, exhaustion, pain, love, stress, and LOTS of baby snuggles. Be kind to yourself. Allow yourself to rest and heal (because you've done and are still doing the job of a superhero!), and above all else, soak it in. There will be hard days and long nights, but there will also be precious beautiful moments. Enjoy them. If you're having a bad day, let yourself feel whatever you're feeling (and know that you are NOT alone in feeling it.) Then continue on and try again tomorrow. If you need help, ask for it if it's available. This too shall pass. You're doing a great job, mama!" – Britney Harrison from Raising Full Moons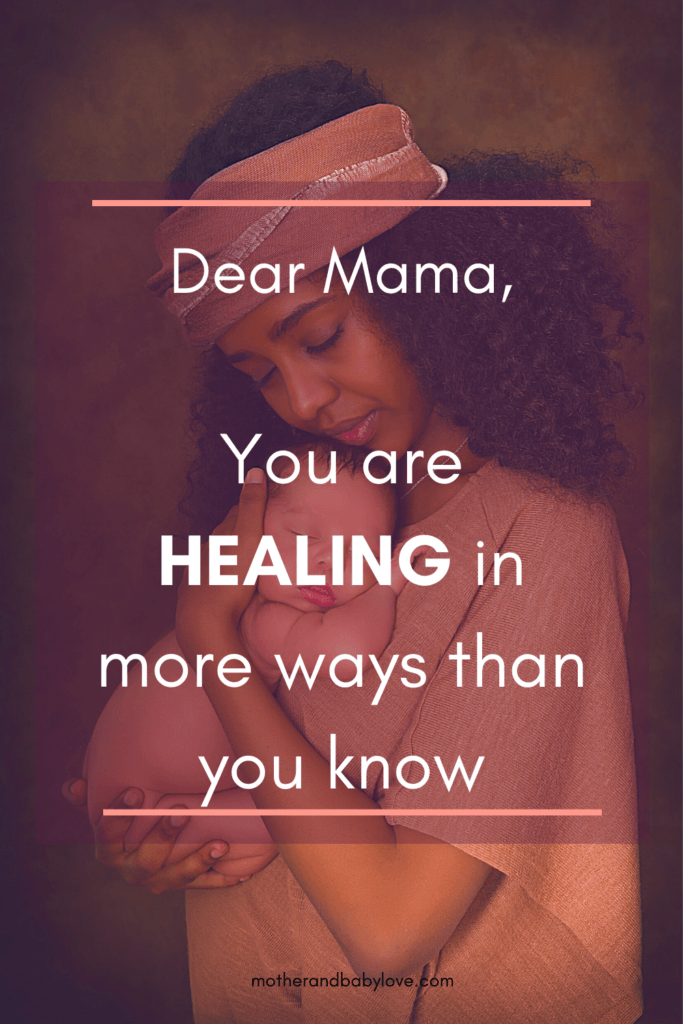 Quick Postpartum Healing And Recovery
You have heard it from the veteran moms. For a speedy postpartum recovery, you need to pay attention to your mental and emotional health. Take it easy on yourself and ask for help as much as possible. Learn to take a break, take a walk and utilize your pain medication as well as all the awesome healing tips all the wonderful ladies have suggested.
I hope you found these postpartum recovery tips helpful and I wish you a smooth postpartum recovery journey, mama.
Click on the Image to Download Your Affirmations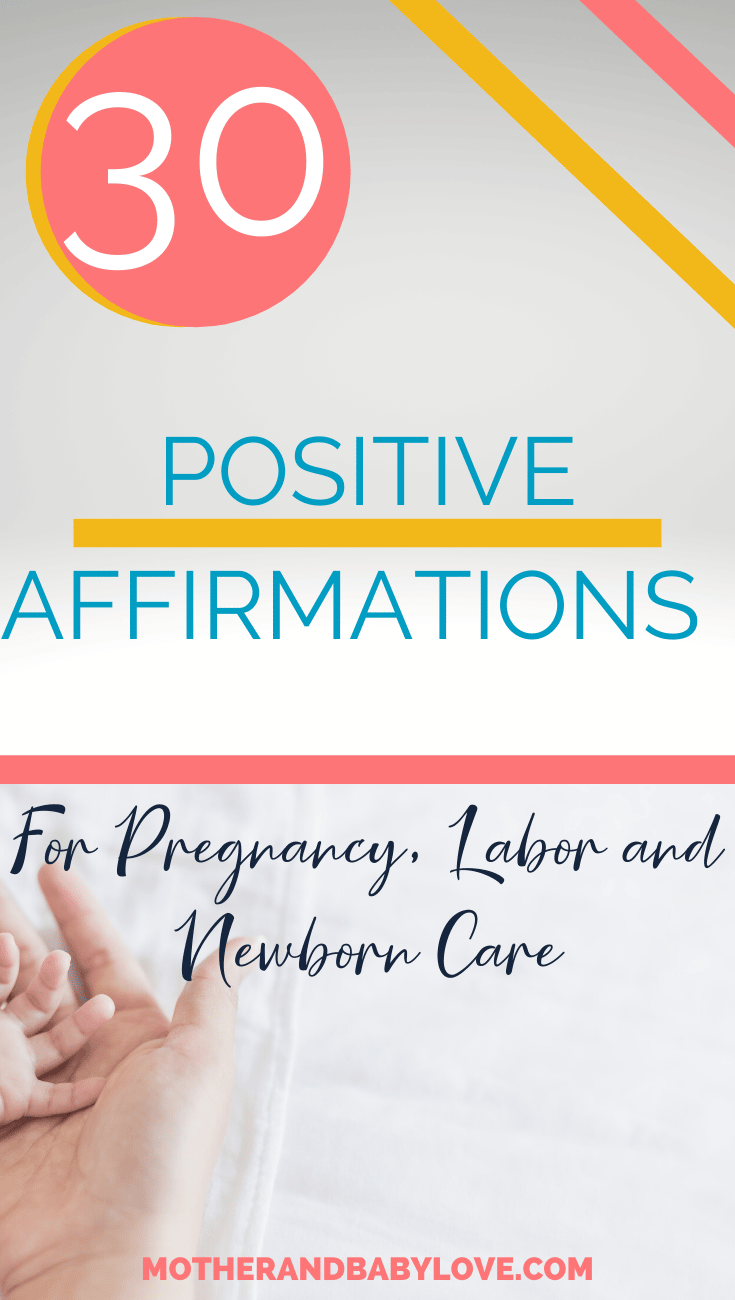 Related: