Once you get over the initial excitement or shock of finding out that you are pregnant, the next phase that comes is wondering what exactly you need to buy for baby. I started creating my newborn baby essentials checklist a few weeks into pregnancy.
It is the same list I used as a baby registry checklist when setting up my baby registry as well as a baby shopping list for all baby preparation stuff.
Although some people will advise you not to buy anything until after your baby shower, I generally do not follow that advice. First, it's because not everyone hosts a baby shower or gets a surprise one. Second, I like to get the baby must-haves myself a bit early just in case the baby decides to pop out when we are not expecting. Maybe it's because both my pregnancies came with complications that had me anticipating a possible early delivery.
That said, I would also not buy all the newborn baby items at once, start with the bare minimum and then add as you go. Start with the baby stuff you cannot do without like a car seat, or baby's coming home outfit. For the items that you would be happy to receive as gifts, save those for last.
It helps to have your baby registry set up early so that when friends reach out to find out what you might need, you can just send them a link. Some things you don't even need to buy before the baby is born so I would skip those until later.
Disclaimer: Some links on this page are affiliate links and as an Amazon Associate, I earn from qualifying purchases.
Free Newborn Baby Essentials Checklist Printable
This newborn essentials checklist will cover all the most important aspects of a newborn's care and includes the must-have items for baby, for mom and nursery essentials.
It's free to download. Feel free to use it as a newborn shopping list, as a baby registry checklist or just keep it close to make sure you have everything you need before your baby is born.
To see all the baby essentials that I personally used and loved, keep scrolling down.
Download the baby essentials checklist printable and get ready for sweet baby!
---
>>>Enter your Name and Email below to Download the newborn essentials checklist in PDF<<<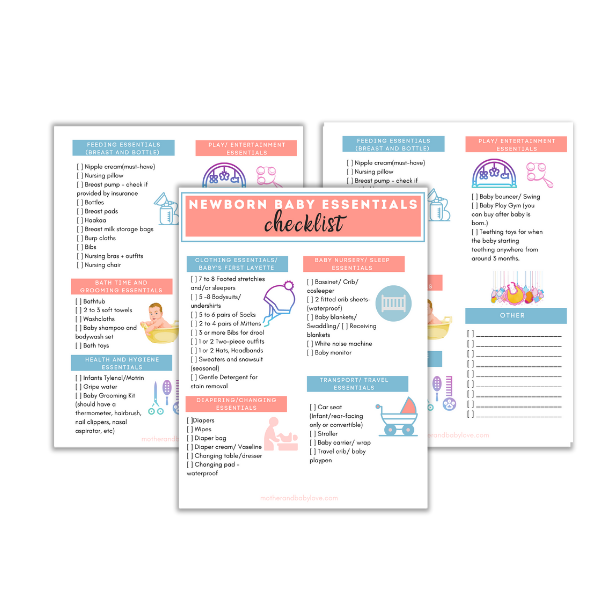 *You will be added to Mother and baby love's weekly newsletter. Unsubscribe anytime.
---
The Newborn Baby Essentials Checklist With Everything You Need To Buy For Baby
This table provides an overview of the items that should be in your newborn baby essentials checklist that you actually need.
Newborn Baby Essentials Checklist
1. Newborn Baby Clothing Essentials-Baby's First Layette

– 7 to 8 Footed stretchies and/or sleepers
– 5 -8 Bodysuits/ undershirts
– 5 to 6 pairs of Socks
– 2 to 4 pairs of Mittens
– 3 or more Bibs for drool
– 1 or 2 Two-piece outfits
– 1 or 2 Hats, Headbands
– Sweaters and snowsuit (seasonal)
– Gentle Detergent for stain removal
* Buy only a few in newborn size and more in 0-3 months size.
2. Baby Diapering/ Changing Essentials
– Diapers
– Baby wipes
– Diaper cream/ Vaseline
– Diaper bag
– Changing table/dresser
– Changing pad – waterproof
3. Baby Nursery/ Sleep Essentials

– Bassinet/ Crib/ cosleeper depending on your sleeping arrangements
– 2 fitted crib sheets-waterproof
– Baby blankets/ Swaddling/ Receiving blankets
– White noise machine
– Baby monitor
– 2 or 3 Sleepsacks or swaddles
4. Feeding (Breast and Bottle feeding) Essentials

– Nipple cream(must-have)
– Nursing pillow
– Breast pump – check with your insurance before buying, they most likely provide one for free.
– Bottles
– Breast pads
– Haakaa
– Breast milk storage bags
– Burp cloths
– Bibs
– Nursing bras + outfits
– Nursing chair (Recliner/glider for mom's comfort during breastfeeding) 
5. Transport/ Travel Essentials

– Infant/rear-facing only or convertible car seat
– Baby travel stroller, you can also get a jogging stroller if for walking or running if you are more active.
– Baby carrier/ wrap for babywearing
– Travel crib/ baby playpen
6. Bath Time and Grooming Essentials

– Baby bathtub
– 2 to 3 soft towels/ hooded baby towels
– Washcloths
– Baby shampoo and body wash set
– Bath toys
7. Health and Hygiene Essentials

– Infants Tylenol/Motrin
– Gripe water (Little remedies is the best)
– Grooming Kit (should have a thermometer, hairbrush, nail clippers, nasal aspirator, etc)
8. Play/ Entertainment


– Baby bouncer/ Swing
– Play Gym (you won't need it until a couple of weeks later. Got mine at around 3 to 4 months)
– Teething toys for when the baby starting teething anywhere from around 3 months.
The Newborn Baby Essentials That You Should Buy For Your Baby
Newborn Essentials Must- have: Car seat
A Car seat is at the top of the list because you won't be allowed to leave the hospital with the baby without one in most countries (in the US for sure). It is definitely a must-have newborn baby item.
Personally, I bought this infant car seat because I wanted to use it with this jogging stroller that I had from a few years ago.
However, you can choose to get either an infant car seat (rear-facing only) or a convertible car seat depending on your needs.
Infant car seats are usually more portable and can be moved around between the car and your stroller. They can be used rear-facing up to 30-35 pounds.
Convertible car seats grow with your baby. You can use them rear-facing for infants and forward-facing for toddlers.
If you are going for a convertible car seat, I would recommend you get this really good one. It will stay with you for a long time.
If you tend to travel a lot, getting a car seat that's on the lighter side is better. This one is very popular with families who travel with kids.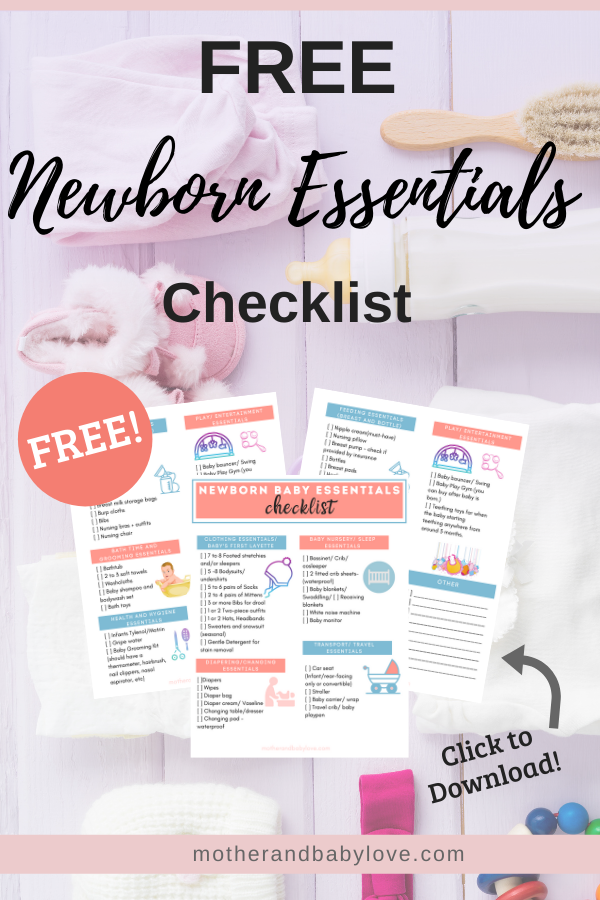 Baby Bouncer/ Swing
A baby bouncer may seem unnecessary at first but I can't tell you how helpful it was those first few weeks with a newborn. It is perhaps one of the most utilized items in our house.
If your baby ends up with acid reflux as mine did, the bouncer is a lifesaver. Placing her on it after a feeding helped her stay elevated which reduced spit ups. She actually took most of her naps in there.
The alternative would have been holding her upright for 30 minutes to an hour, sometimes more. That is insane when you just had a baby.
The bouncer also came in hand when I needed a few minutes to take a shower or fix something in the kitchen. You know, mama gotta eat.
I recommend getting this more affordable one, but if you are looking for the very best, go for this one, it will be worth your while.
A baby swing is another good alternative.
Babywearing Must-have: Baby carrier
I bought a small Evenflo baby carrier and used it for all our adventures when the baby was still tiny. It served me really well for the first 5 months before she got heavier. It only has two carry positions though so as she got heavier it became harder to use.
We have since upgraded to this Lillebaby one which we intend to use until she no longer needs to be worn. My only issue with it is that to use it for a baby below 6 months you need to buy an insert separately. Also, you can't front carry the baby facing forward with it. I have a love-hate relationship with it.
For that reason I would probably go with this one if I were to buy again since my mama friends who have it are constantly raving about it.
Newborn Must-Have: Receiving Blankets/ Swaddling Blankets
Receiving blankets are another baby essential not only for sleep but for a thousand more reasons. I love these muslin ones because they are larger than most. I used them to swaddle and still use them as a car seat cover sometimes.
This article covers 10 things you can do with receiving blankets. Just in case you have no idea what receiving blankets are used for. No shame.
Get the entire baby essentials checklist printable in PDF and get ready for your sweet baby!
---
>>>Enter your Name and Email below to Download the newborn essentials checklist in PDF<<<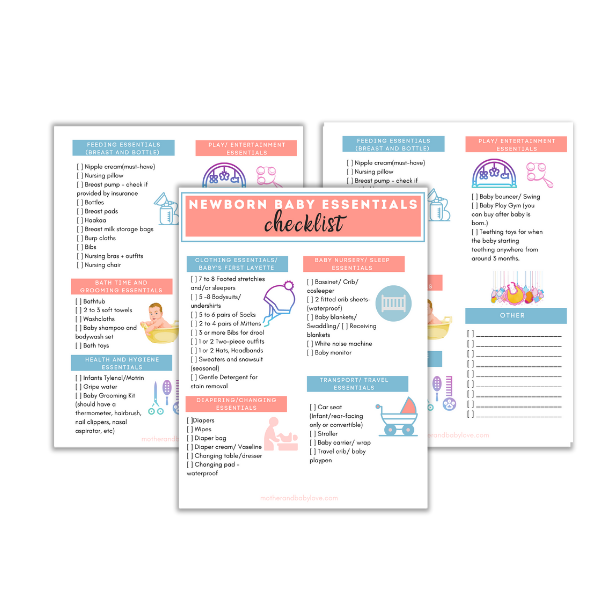 *You will be added to Mother and baby love's weekly newsletter. Unsubscribe anytime.
---
Bathtub
You could use the kitchen sink, or you could get a bathtub with more space and convenience to clean the baby. I would rather have the bath tub.
We got this one for baby girl and we love it.
Just remember to wait until the cord stump falls off before you submerge your baby in the water. Before then just do sponge baths. I didn't know this the first time and it took a really long time for it to drop off.
Grooming Kit
A grooming kit has all those small things you are likely to forget until the baby has snot and you have no idea how to get it out or you need to check baby's temperature and you realize you have no thermometer.
This kit has everything you need to groom your baby. From a thermometer to a hairbrush and more.
Diapers & Baby Wipes + Tips To Save on Baby Diapers
In the first month, your baby will average about 7-9 diapers per day, we went up to 12 on some days 🙂 .
We use these diapers and these sensitive baby wipes . I explained why we chose these particular ones in this post.
Over the first 3 months, you will go through hundreds of diapers. Here are some tips on how to save on diapers:
Utilize the diaper discount feature that comes with a baby registry on Amazon.
Ask friends to gift you diapers, or contribute to your diaper fund.
Try using store brand diapers if the baby has no allergic reaction to them and they serve you well. Target and Costco brand diapers are some relatively good ones.
Use the subscribe and save option when buying diapers on Amazon. Subscribe to Amazon Prime to get all the benefits. Best subscription I ever did.
Try cloth diapers
Utilize coupons. Let me share a little secret, you can find a whole lot of coupons on this page. No paper clipping!
>> Try Amazon Prime Free for 30 Days <<
Diaper bag
I love this backpack diaper bag that we use every time we are going out with the baby. I also used it to carry baby's items when I was packing my hospital bag for delivery
Related: Diaper bag Essentials: What to pack in a diaper bag
Baby Nursery Essentials: Bassinet/ Crib
The difference between a bassinet and a crib is that a crib is bigger than a bassinet. If you choose to buy a bassinet, most of the time the child will need to be transitioned to the crib later. A lot of people do it at around 6 months but you can do it later when the baby is around 30 lbs.
We bought this bedside cosleeper bassinet because I prefer to have baby next to me. We also used this portable one when we were not in the bedroom.
Breastfeeding/ Pumping Items
If you choose to breastfeed or pump breast milk for your baby, these are some of the items you will need:
Breast pads
Breast pump
Breast milk storage bags
Bottles
Read this: Breastfeeding essentials for nursing moms
Something to note if you are planning to breastfeed exclusively, hold off on buying too many bottles and breast milk storage bags. You might not need them as much.
My baby is now six months and I have been exclusively breastfeeding. We were gifted a pack of bottles and milk storage bags that I honestly haven't used much.
We used the bottles that came with the breast pump whenever I needed to step out of the house (which I rarely do)and someone was feeding the baby.
Because I know that breastfeeding can be challenging, I wrote the ultimate guide to breastfeeding for new moms to help you succeed.
Nursing Chair
Having a nursing chair that has great back support, arm support, and a way to rest your feet is important for your comfort.
If you already have a comfortable armchair or recliner seat that you can use, you don't have to buy a new one.
The rocking, gliding, and swiveling features of most nursing chairs are great especially when you are trying to put the baby to sleep.
I would recommend using your baby registry completion discount to buy yourself. You could also allow family and friends to do group gifting on your baby registry.
Haven't registered your baby yet?
You don't have to have a baby shower planned to create a baby registry. You can create one to utilize the benefits that come with it.
This is what you should consider when selecting a baby registry
See the baby registries that allow group gifting and have the best completion discounts and other perks.
Use this step by step guide to create your registry.
Use my tips to get the most value out of your Amazon baby registry
Newborn Baby Entertainment Essentials: Play Gym
I got this play gym for the baby to play with when I need to distract her for some time so that I can get some stuff done. We also let her do her tummy time on it. She loves all the lights, colors, and music.
Another play gym I would highly recommend is this one.
Baby Stroller
Babywearing is great but you can't do it for too long especially if you like taking walks or jogging. I would recommend you get a stroller to help you get around easily and comfortably. Because I am fairly active and go around with my babies a lot, I opted for a jogging stroller instead of a compact one. I have had the Graco fast action for some time now and I love it.The BOB jogging stroller is also a really good one if you are able to get one.
For a lightweight stroller, this is perfect.
Newborn Baby Essentials Checklist: Baby Clothes/ Your Baby's First Layette
When it comes to baby clothes, I tend to think that this is the easiest part of shopping for a new baby. There are so many cute little outfits out there you cannot run out of options.
It is very easy to buy more than you need so I suggest you buy just a few outfits to start with and then buy on-demand once the baby arrives.
Also, don't buy too many clothes in newborn size, do more of the 0-3 months size because babies tend to outgrow newborn size really fast.
You need one outfit which will be the baby's coming home outfit. People like to pay more attention to this one because that's when the baby will have some of their first photos taken.
Shop top trends for kids and babies.
I personally got a cute little dress from Carters. However, don't feel pressured to do what everyone else does, be as extra or as low-key as you wish.
Bodysuits
Stretchies
Footed onesies
Socks
Mittens
Hats/ Headbands
Burp cloths
Bibs
I shared some of my favorite outfits here.
Best places to shop for baby clothes:
My favorite places to shop for baby clothes:
Carters is my top choice for both my son and daughter.
I love Amazon for its 2-day shipping with my Prime membership
Primary for the most beautiful colorful outfits ever! I love them.
Target
The Children's Place- I found out about this one recently and haven't shopped there yet but I saw some great sales so I think it's worth checking out.
To save on baby clothes when I am shopping online, I use
Sometimes I also use Ibotta to get cashback. Use my referral code "wnoffdi" at registration to get a $10 bonus when you sign up.
When you have a baby, all those extra dollars add up pretty quick.
Related: How to remove poop stains from baby's clothes
Download the baby essentials checklist printable in PDF!
---
>>>Enter your Name and Email below to Download the newborn essentials checklist in PDF<<<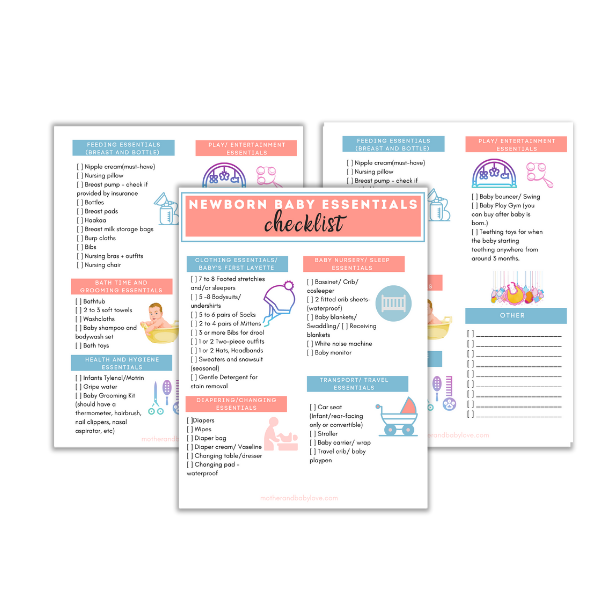 *You will be added to Mother and baby love's weekly newsletter. Unsubscribe anytime.
---
Shopping For Newborn Baby Essentials
Shopping for a newborn can be tough but you do not have to break the bank. The items on this baby essentials list are more than enough to welcome your newborn home comfortably.
Download the newborn essentials checklist printable, use it as your baby shopping list, or as a packing list for your diaper bag and enjoy this season of your life as you prepare for a newborn.
You are gonna make a great parent, mama.
Don't forget to pin this.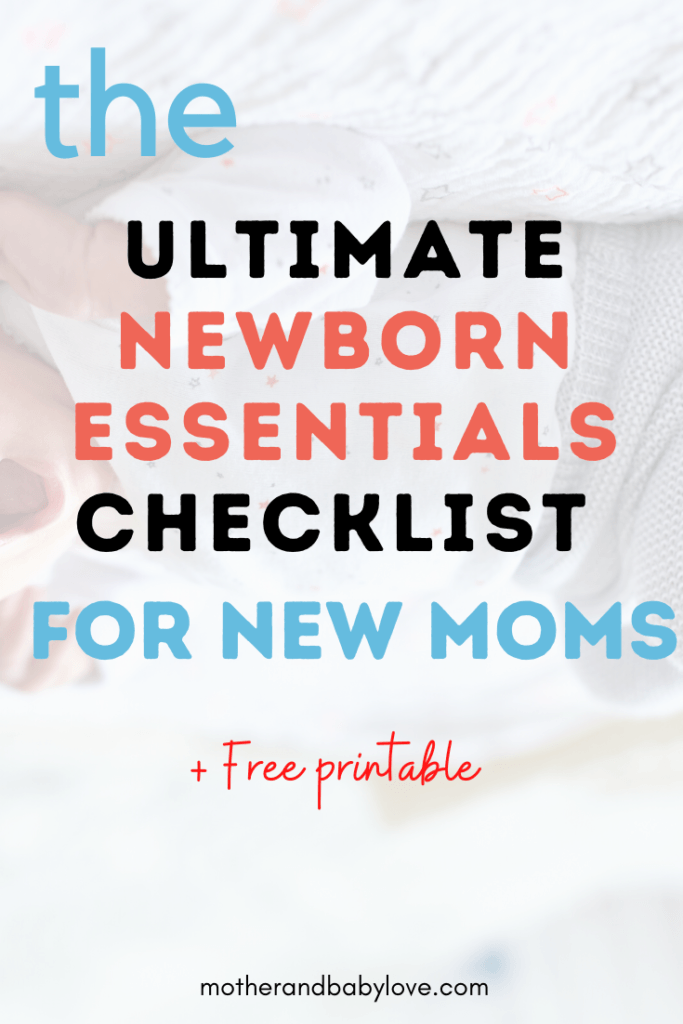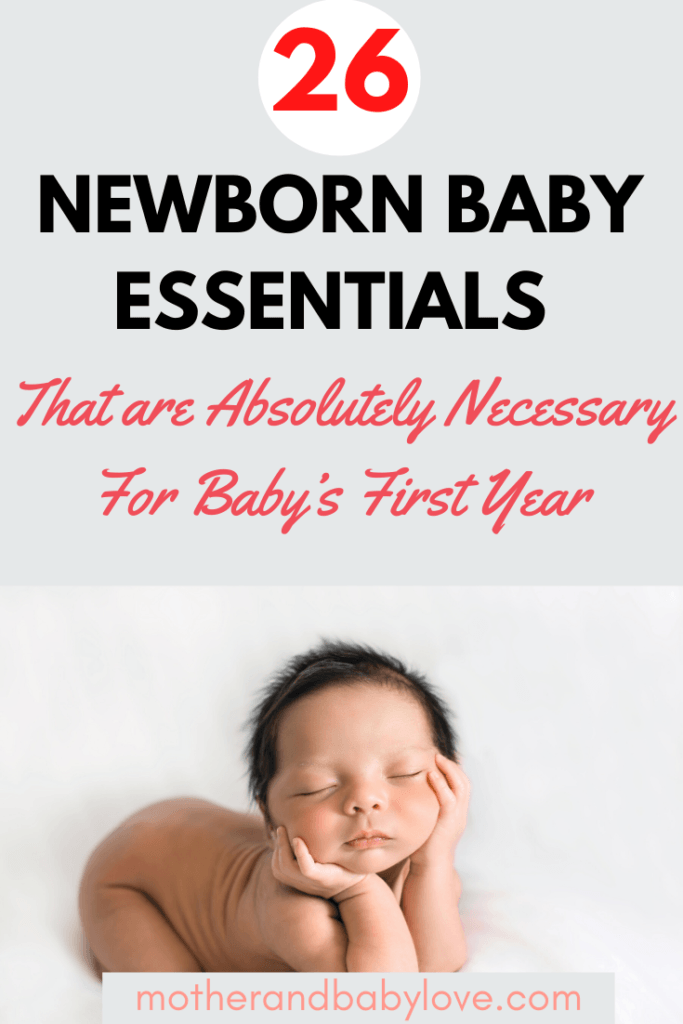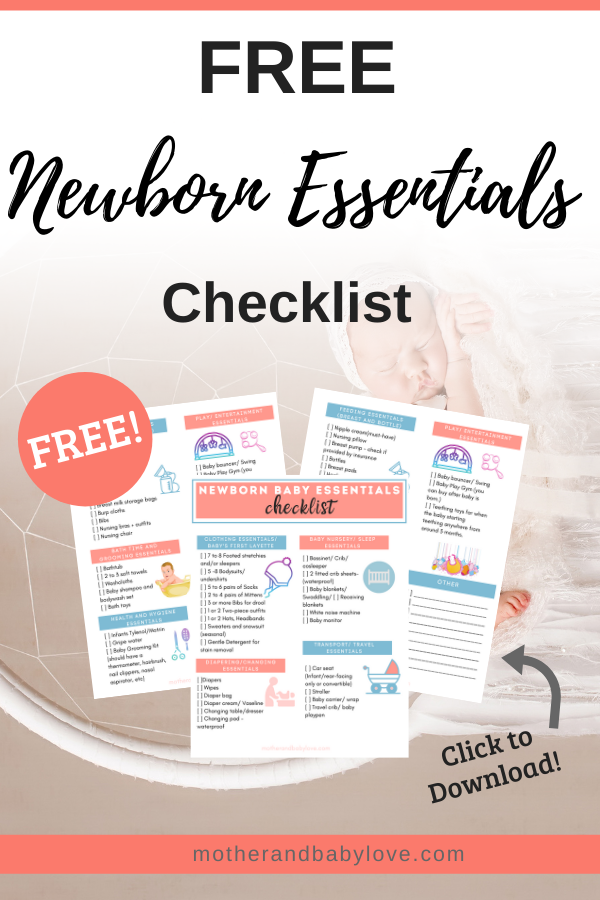 Read next:
The ultimate guide to breastfeeding for new moms
The 11 must-have pregnancy items for moms
The best-rated pregnancy pillows to get your comfortable sleep back
Heartburn remedies during pregnancy
Grab your free Ultimate Baby Prep Bundle with awesome baby preparation checklists and affirmations by signing up to the Mother and Baby Love mailing list below!