140+ Baby Girl Names Starting with an A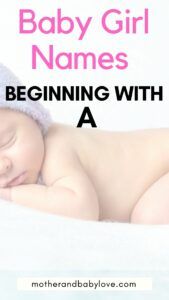 If you love baby girl names that begin with A then you will absolutely love this list of baby girl names starting with A.
We have created a comprehensive list with the cutest girl names that range from unique modern girl names that start with A like Akira, Aera, Aldri, and many more. You will find classics like Abigail, Anna, Anastasia, and other timeless baby girl names that begin with the letter A.
Not to mention some cute unisex baby names that start with A like Alex, Addison, and Andy and so many more names that you can pick from. You will be spoilt for choice.
Baby names starting with A
We have arranged the names in alphabetical order for ease of going through them but each section has beautiful names that you can pick from.
In this section, we cover baby girl names starting with Aa to Ad
Aaliyah
Abby
Abigail
Abrielle
Ada
Adalee
Adaline
Adallie
Adalyn
Adalynn
Addison
Adelaide
Adeliah
Adeline
Adella
Adelyn
Adrianna
Adrienne
Adyson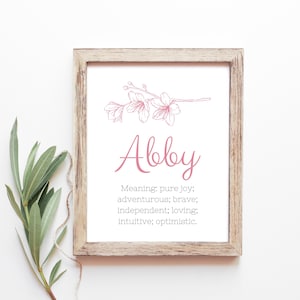 Abby Baby Name Meaning Baby Names Nursery Sign Girl Names
Baby Girl Names – Modern, Unique Baby Names For Girls that Start with an A
Now let's look at the beautiful names starting with Ae to Al. You will notice that some of these names have the same sound but different spellings.
It is really up to the parents to decide how to spell their baby's name so we have provided multiple options in some cases.
Aeilaia
Aera
Aiyana
Aiyana
Aizlynn
Akeila
Alaia
Alaina
Alana
Alani
Alanna
Alauna
Alaya
Aldri
Aleace
Alejandra
Alessandra
Alessi
Alex
Alexa
Alexandria
Alexia
Alexis
Aleycia
Alia
Alianna
Alice
Alison (Ali)
Alivia
Allie
Allyson(Ally)
Alondra
Aloni
Alysen
Alyssa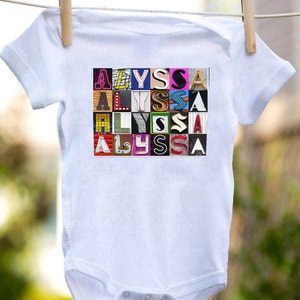 Personalized baby bodysuit featuring the name ALYSSA showcased
Names Starting with A for Baby Girls
In this section, we cover names that start with Am which are quite a number.
Amal
Amalia
Amanda
Amani
Amara
Amarie
Amaya
Amber
Amberlynn
Ameela
Ameila
Amelia
Amena
Amera
America
Amila
Amina
Amira
Amirah
Amy
Amyah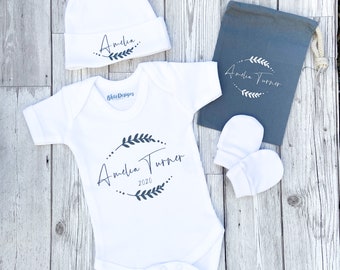 Personalised Name 5 piece Baby Gift Set Bodysuit/Vest
Beautiful and Unique Baby Girl Names Beginning with A
We also have girl names starting with An in this section and they range from classic baby girl names to modern unique baby girl names. The options are endless.
Anaia
Analeigh
Anastasia
Andrea
Andrea (Andi)
Andrina
Andy
Angelica
Angelique
Ania
Anika
Anna
Annabelle
Annabeth
Annalise
Annalynn
Anna-Marie
Annasta
Annastaisea
Anne
Annette
Annie
Anniston
Ansley
Antonia

ANSLEY Boho Rainbow Nursery Name Print Template Nursery
More Baby Girl Names Starting With A
Additionally, baby girl names that start with Ap to As are covered in this section and there are quite a number of cute ones that can suit your new baby girl.
April
Aquata
Arabella
Aria
Arianna
Aricelly
Arie
Ariel
Ariella
Arissa
Arista
Ariyah
Artemis
Arya
Asami
Ashley
Ashlynn
Ashton
Asia
Aslin
Asma
Aspen
Aster
Astrid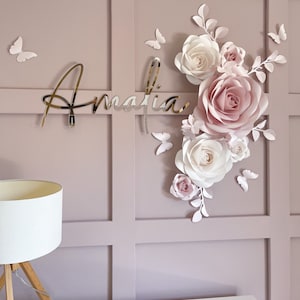 Set of Paper Flowers in Blush Pink and White Paper Flowers
The Best Baby Names for Girls that Start with A
Last but not least, we have baby girl names starting with At to Az. These are mostly modern names and if you are looking for unique baby girl names starting with A, you will definitely be covered here.
Athena
Atlas
Attina
Aubrey
Aubriana
Audrey
Audrina
Aura
Auri
Aurora
Autumn
Ava
Avalee
Avani
Avelina
Averi
Averleigh
Avery
Ayana
Ayla
Aylea
Azaria
There you have it. so many options to choose from but so worth it. I hope you found the perfect name for your newest member of the family.
Finally, please share your favorite A girl name in the comments below. We love to see them.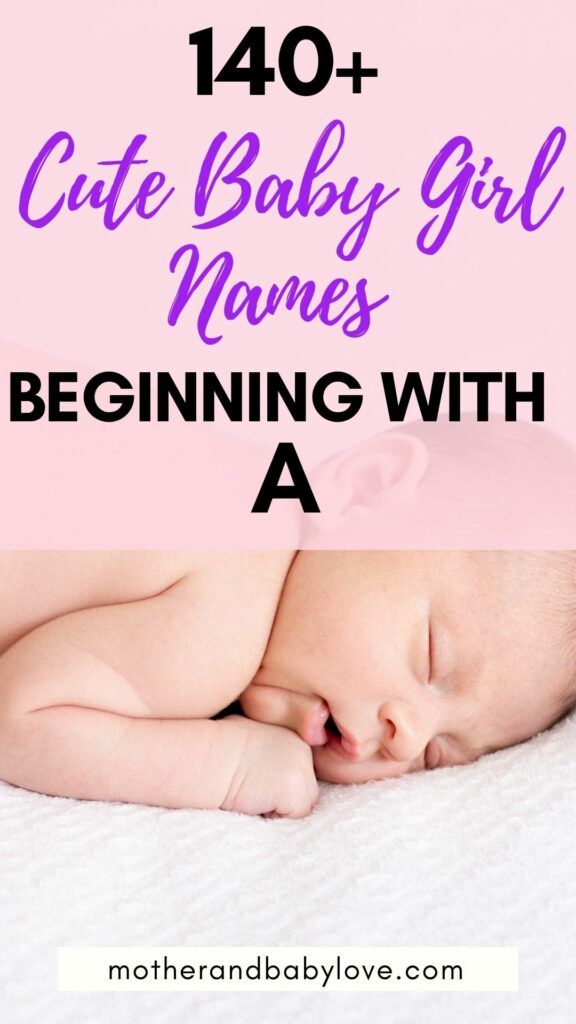 Related:
Download the baby essentials checklist printable and get ready for sweet baby!
>>>Enter your Name and Email below to Download the newborn essentials checklist in PDF<<<