10 Gorgeous Fall Pregnancy Announcement Ideas For Social Media
Are you ready to reveal your pregnancy to your social media fam? We have rounded up the cutest fall pregnancy announcement ideas that you can use on social media.
These ideas are so cool, it will be a pregnancy reveal to remember. Honestly, it is hard to choose just one.
–>> Shop My Favorite Pregnancy Items<<–
I am sure you were the very first person who got a "pregnancy announcement" by experiencing one of these very early pregnancy signs, followed by a positive pregnancy test.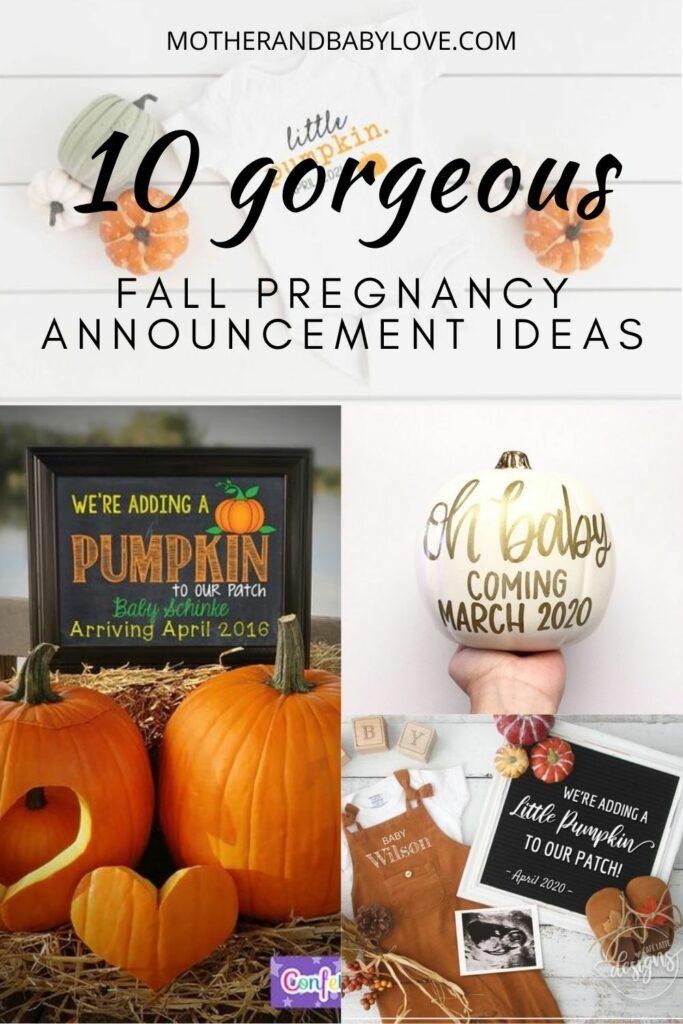 Congratulations, mama!
For everyone else that you care about, it is on you to announce your pregnancy to them.
Or you could wait until your growing tummy reveals the big news on its own.
It's your choice.
Disclaimer: Some links on this page are affiliate links and as an Amazon Associate, I earn from qualifying purchases
More pregnancy announcement/reveal ideas:
Who should you reveal your pregnancy to first?
Before you do your cute digital pregnancy announcement on social media for the whole "world" see, there are people that should have priority in knowing about your pregnancy.
So who should you reveal your pregnancy to first?
Related: 13 Must Have Pregnancy Items For Every New mom
The first person you should tell about your pregnancy is your partner.
Whether it is your boyfriend, fiance, or husband, it is their child too and they will appreciate knowing first.
Sometimes, your husband will be right there with you as you take the pregnancy test. However, if this is not the case, you could make revealing your pregnancy to your husband a fun surprise.
Use these creative pregnancy announcement ideas to the husband to make it fun.
Remember to document his reaction when he finds out that you are pregnant. It will be really fun to watch it later.
Once you have revealed your pregnancy to your partner, a pregnancy announcement to close family and friends is in order.
The next people to find out about your pregnancy are your family members. Most of the time these are your siblings and your parents.
If you are very close to your aunties and uncles, you can also let them in on your little secret and give them a chance to celebrate with you.
If this is going to be the first baby in the family you can expect even more excitement when the grandma-to-be and grandpa-to-be find out.
Make it interesting by including a surprise element. These scratch-off cards or these cute promoted to grandma and grandpa mugs are a great idea.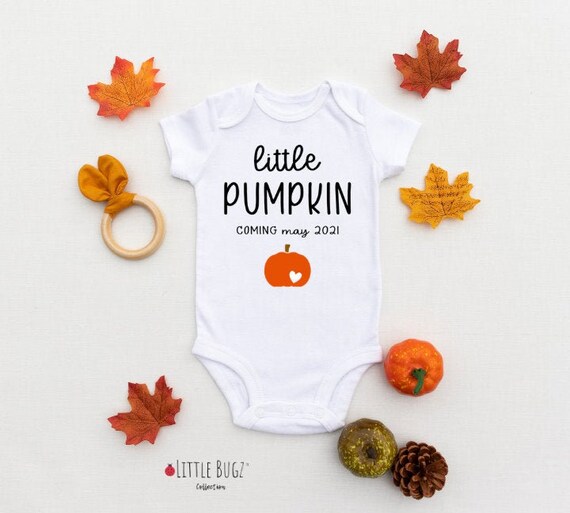 Little Pumpkin Due Date Onesie® halloween pregnancy
After family, the next person you should tell about your pregnancy is your best friend.
Can you imagine opening your Instagram to see a lovely pregnancy announcement post from your best friend and you had no idea?
Be nice to your bestie. Use one of these 15 cool ways to tell your best friend that you are pregnant.
How to announce your pregnancy on social media
Now that your close family and friends have had time to celebrate the good news with you, you are free to tell the world.
Announcing your pregnancy on social media is easier than ever! All you need is an digital pregnancy announcement template that you can customize to your needs and a clever caption.
Here are some hilarious pregnancy announcement quote ideas to use:
There are tons of editable pregnancy reveal templates to choose from that won't cost you much.
Alternatively, you can also get a personalized pumpkin that is perfect for your fall pregnancy announcement.
Below, I am sharing over ten gorgeous fall pregnancy announcement ideas for social media. Choosing any one will ensure that your pregnancy reveal makes an impression on your friends and followers.
Let's get your friends ready to fall in love with your new babe.
The best pregnancy pillows for comfortable sleep
My favorite fall pregnancy announcement ideas for social media
Without further ado, let me introduce you to my favorite fall pregnancy announcement ideas that will be a hit for social media.
Digital Fall Pregnancy announcements
1. Editable Fall Pregnancy Announcement- We are having a little pumpkin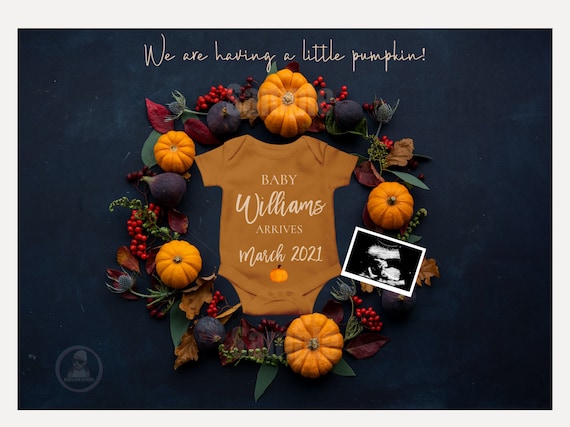 Via Etsy
2. Baby Announcement Calendar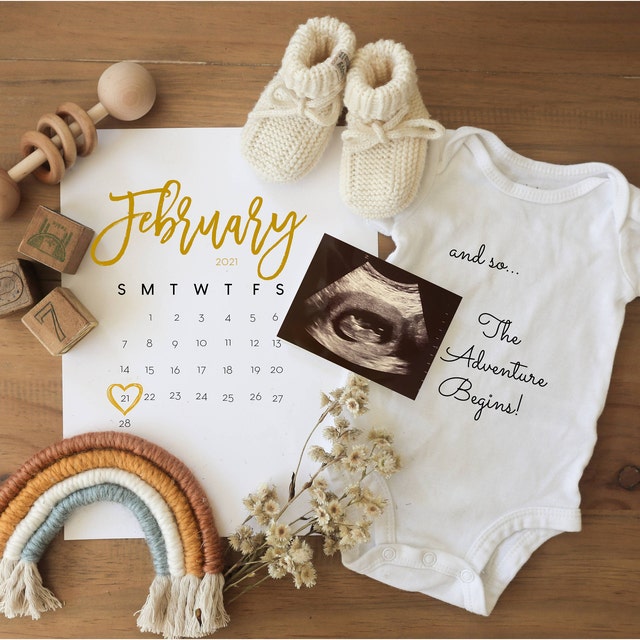 Via Etsy
How cute is this baby announcement calendar! And it comes in a bunch of different options that you can choose from. Including one for rainbow babies. I love it!
3. Fun Digital Pregnancy Announcement – Sweater Weather and Baby Kicks…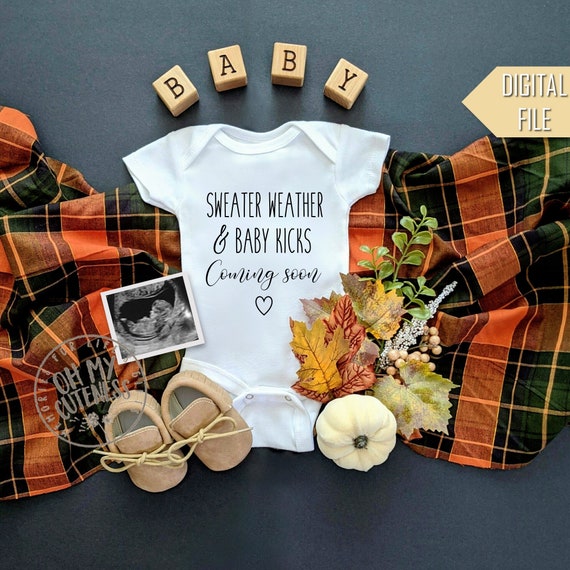 Via Etsy
4. Cute Fall Themed Digital Pregnancy/ Baby Announcement for Social Media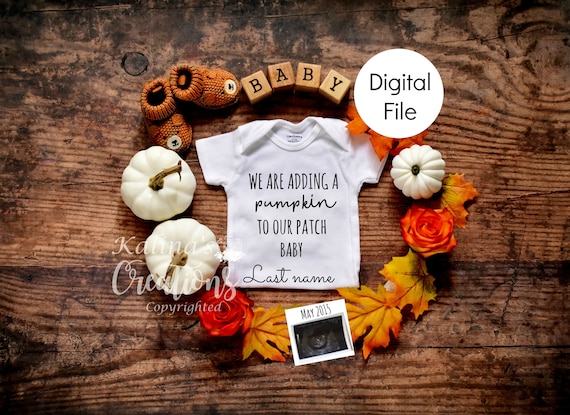 Via Etsy
5. Buffalo Plaid Baby Reveal Idea – Digital Pregnancy announcement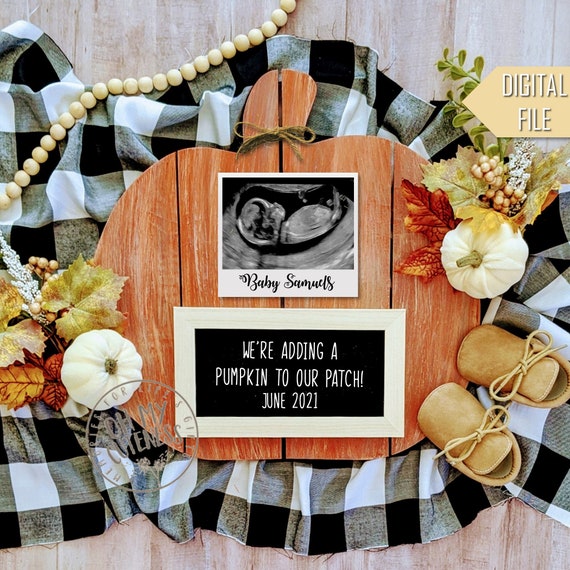 Via Etsy
Pumpkin Pregnancy announcements
6. We Are Adding a Little Pumpkin To Our Patch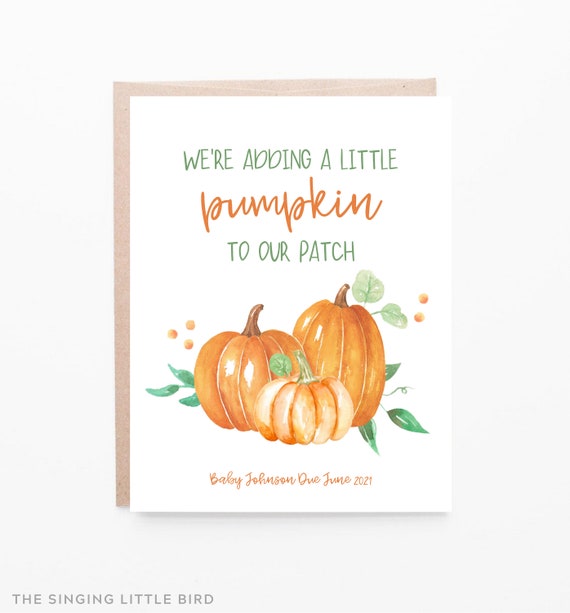 This pumpkin-themed card from Singing Little Bird on Etsy can be customized and mailed to friends and relatives to announce your pregnancy.
In addition to that, since this card is so cute, you can take a photo and use it for your social media pregnancy announcement.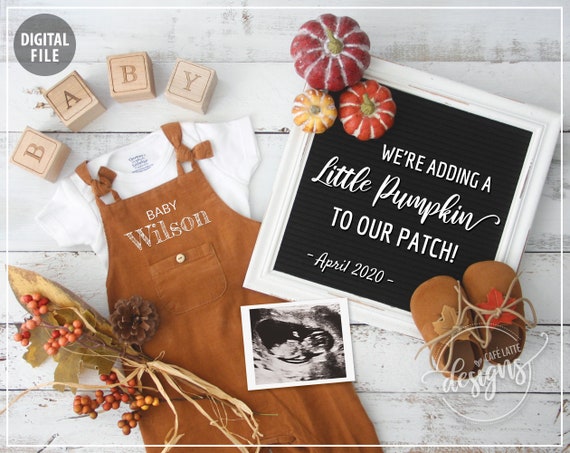 FALL Pregnancy Announcement Autumn Baby Announcement Digital
from: Etsy
Best Ways To Announce Your Pregnancy on Social Media In The Fall
7. Chalkboard Custom Sign Prop – Pumpkin Pregnancy Announcement for Social Media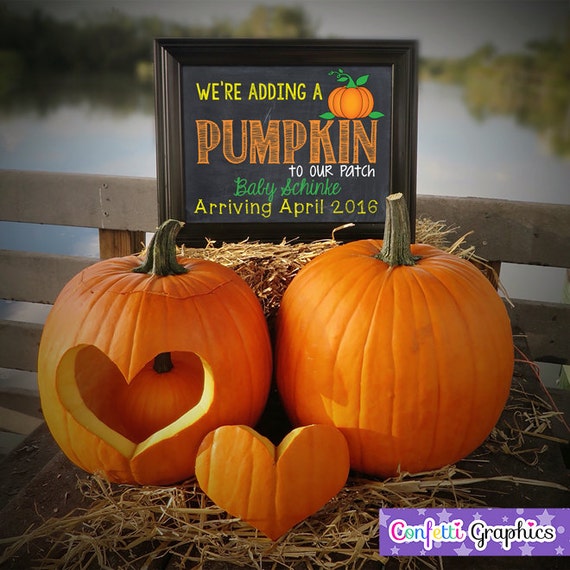 We're adding a Pumpkin to our patch Fall October November
from: Etsy
25 Unique and Trendy Unisex Baby Name Ideas
8. Little Pumpkin Pregnancy Announcement Onesie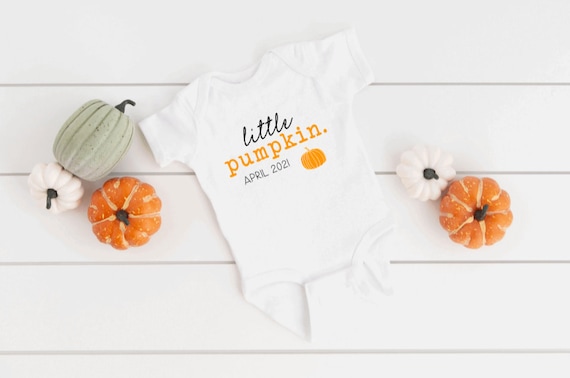 Little Pumpkin Pregnancy Announcement ONESIE® Fall Baby
from: Etsy
9. Oh Baby! – Calligraphy Pumpkin Pregnancy Announcement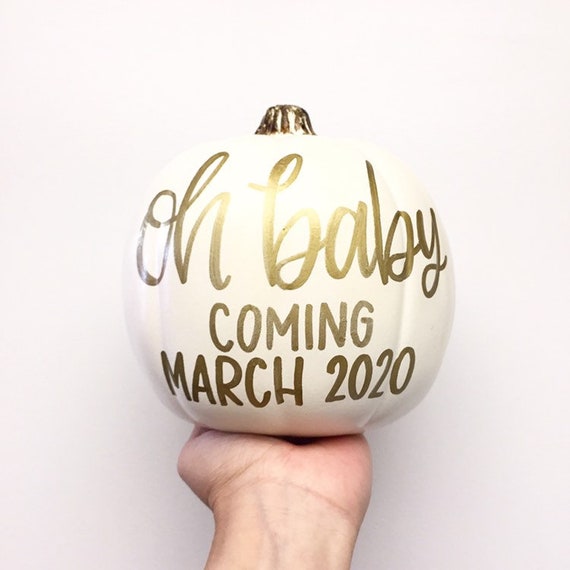 Oh Baby / Baby Announcement / ON SALE / Calligraphy Pumpkin
from: Etsy
Pumpkin Photo Prop Pregnancy Announcement Idea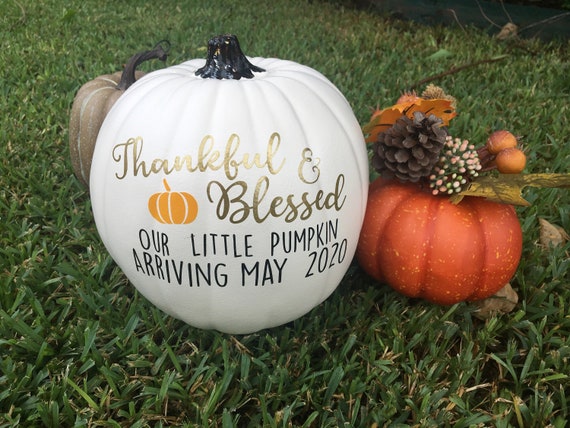 I love this cute artificial pumpkin. It can be personalized with your expected arrival date and then use it as a photo prop. See some of the photos real customers have taken here
10. Baby Bodysuit Pregnancy Reveal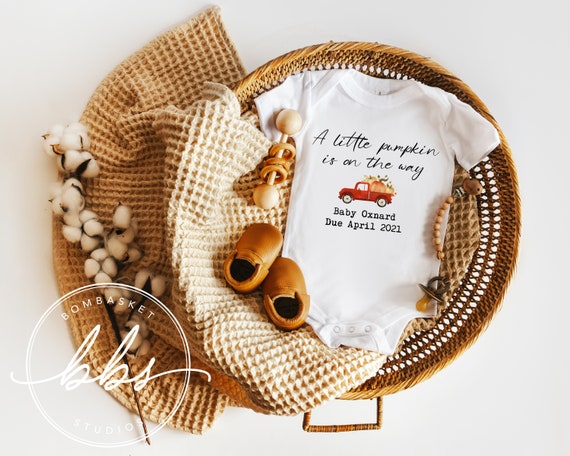 A Little Pumpkin Is On The Way Fall Autumn Pregnancy
from: Etsy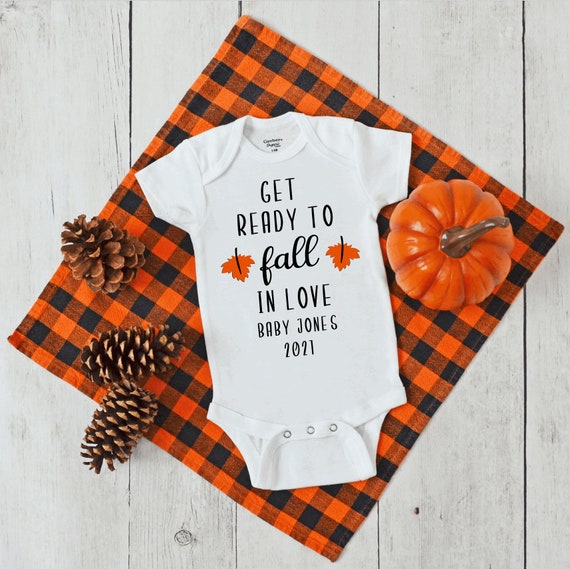 Get Ready to Fall in Love Baby Announcement Bodysuit Baby
from: Etsy
Inspirational Motherhood Quotes About The Love Of A Mother and Child
Bonus: Cool Fall Pregnancy Announcement Card For family and Friends
Happy Fall! Pregnancy announcement Scratch Off Cards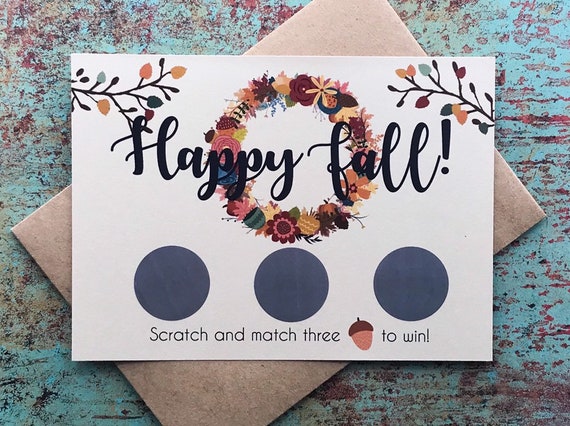 Fall Pregnancy Announcement Scratch Off Cards Autumn fall
But wait, when should you announce your pregnancy on social media?
Having seen all these beautiful pregnancy announcement ideas. You might still be having questions.
Is it appropriate to announce your pregnancy on social media? When is the right time to do it? Why should you do a pregnancy reveal on social media or why not?
You are not alone. Many moms grapple with these questions at one point or another.
The question on the appropriateness of announcing your pregnancy on social media is a deeply personal one. It is as personal as the choice to have or not to have a social media presence.
Now, if you are already active on social media and you want to announce your pregnancy you might want to consider a few factors.
One of the reasons most people choose to wait until later to announce their pregnancy on social media is due to the fear of losing the pregnancy.
To put things into perspective, 10-15% of pregnancies end in miscarriage. Of these, 80% of miscarriages happen in the first trimester (before 13 weeks).
This means that the odds of having a miscarriage reduce as your pregnancy progresses.
Most moms will announce their pregnancy at the end of the first trimester at around 13 – 14 weeks. It feels safer at this point due to the reduced chance of miscarriage.
The other reason to announce at this point is that pregnancy begins to show around this time.
If you are very active on social media, it gets harder and harder to hide the pregnancy as time goes by.
Pregnancy will often start showing at around 12 to 16 weeks for your first pregnancy. It starts to show earlier for subsequent pregnancies.
So instead of waiting to get unsolicited "congratulations" from curious friends, it could be better to announce the pregnancy on your own terms and avoid the probing.
Is there anything wrong with announcing your pregnancy in the first trimester?
Absolutely not.
There is anything wrong with announcing before 13 weeks. It is all about your level of comfort.
If you are comfortable with announcing as soon as you find out, go ahead. Hopefully, all will go well with your pregnancy and you will have the additional support of your online friends.
It is not worth it to live in constant fear of losing your baby. Truth is, sometimes miscarriages happen even after 13 weeks and quite often there is nothing you can do to stop it.
So enjoy your pregnancy in the most authentic way to yourself, take the necessary precautions, and hope for the best. It's all you can do.
FALL PREGNANCY ANNOUNCEMENT IDEAS FOR SOCIAL MEDIA
I love all the way these fall pregnancy announcements incorporate pumpkins and leaves, they are so gorgeous!
Am I the only one who thinks including a pumpkin in your fall pregnancy reveal is a must?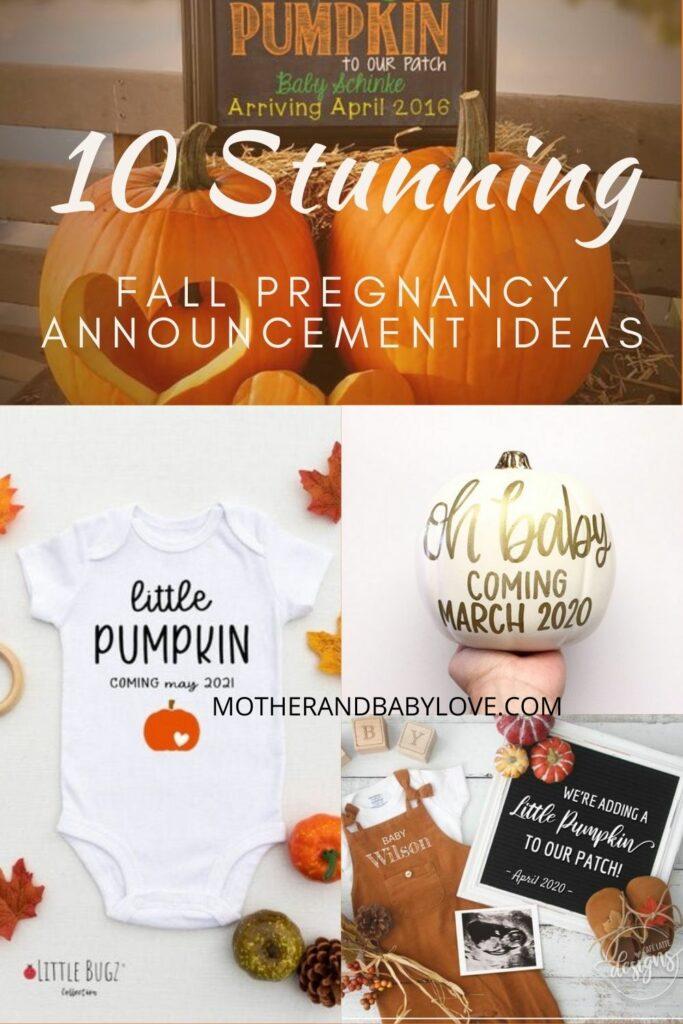 Related: