37 Gorgeous Fall Pregnancy Announcement Ideas For Social Media and In Person
Are you ready to reveal your pregnancy to your social media fam or in-person to your friends and family? We have rounded up the cutest fall pregnancy announcement ideas that you can use to reveal the good news to your loved ones.
These ideas are so cool, it will be a pregnancy reveal to remember. Honestly, it is hard to choose just one.
–>> Shop My Favorite Pregnancy Items<<–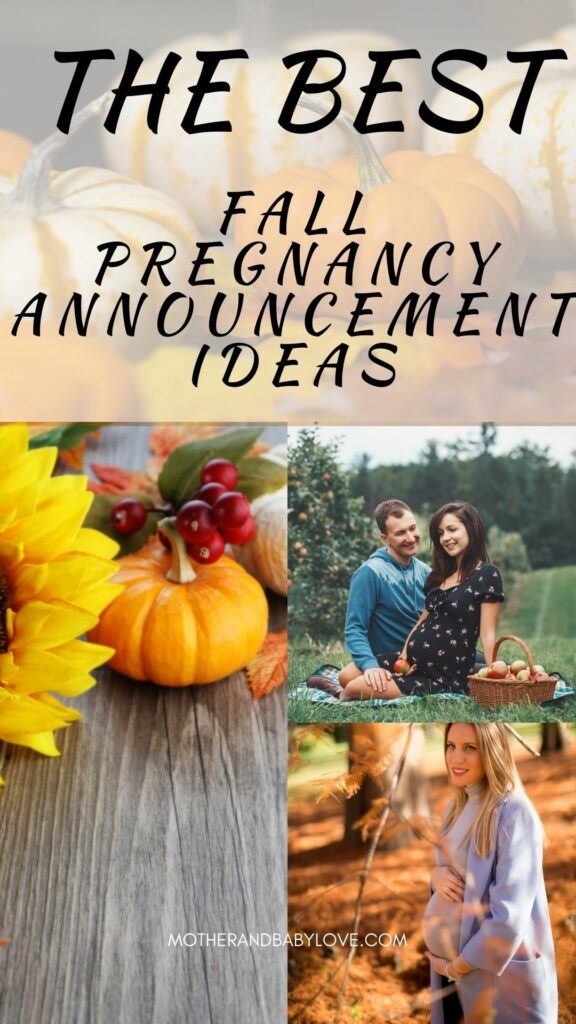 I am sure you were the very first person who got a "pregnancy announcement" by experiencing one of these very early pregnancy signs, followed by a positive pregnancy test.
Congratulations, mama!
For everyone else that you care about, it is on you to announce your pregnancy to them.
Disclaimer: Some links on this page are affiliate links and as an Amazon Associate, I earn from qualifying purchases
And here are our top 10 picks for the best fall pregnancy announcement ideas that you can use:
Okay let's get to the fall pregnancy announcement ideas.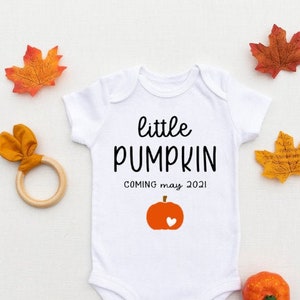 Little Pumpkin Due Date Onesie® halloween pregnancy
More Pregnancy announcement ideas:
Thanksgiving Pregnancy Announcement Ideas | 13 Spook-takular Halloween Pregnancy Announcement Ideas | The Cutest Pregnancy Announcement Ideas to Reveal Your Pregnancy to Your Husband
The Best Fall Baby Announcement Ideas
These fall pregnancy announcement ideas are likely to be a hit whether you are using them to announce on social media, in text, email or in person.
Below, I am sharing 37 gorgeous fall pregnancy announcement ideas that you can use to announce to your family and friends whether they are with you, by mail or virtually. Any one of these ideas that you pick will ensure that your pregnancy reveal makes an impression on your family, friends and followers.
Let's get your friends ready to fall in love with your new baby, shall we?
Pumpkin in the Belly/ Pumpkin in the Patch- themed announcements
1. Personalized pumpkin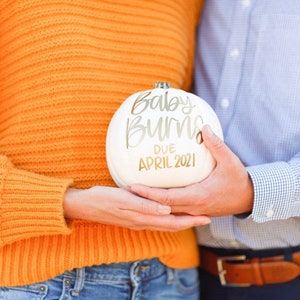 Oh Baby / Baby Announcement / ON SALE / Calligraphy Pumpkin
from: Etsy
This cute personalized calligraphy pumpkin can be used for your fall announcement photoshoot with your spouse or even alone on your belly.
You can also use the pumpkin for an announcement on its own as in the image below.
2. Oh Baby! – Calligraphy Pumpkin Pregnancy Announcement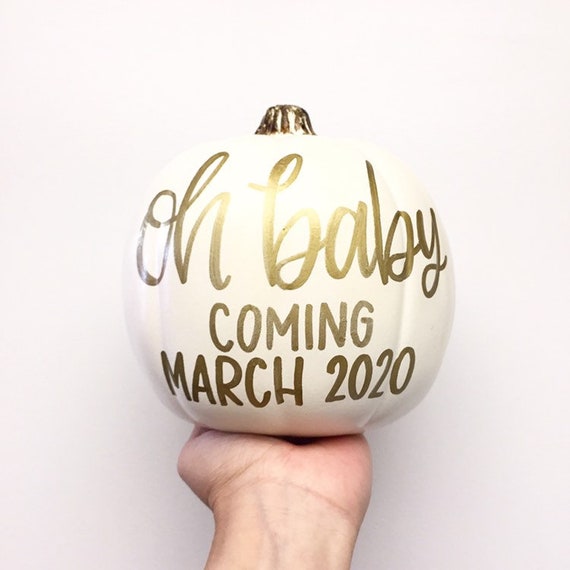 Oh Baby / Baby Announcement / ON SALE / Calligraphy Pumpkin
from: Etsy
3. Pumpkin Photo Prop Pregnancy Announcement Idea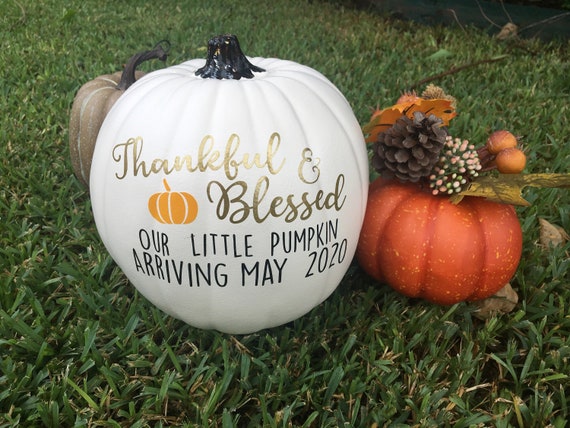 I love this cute artificial pumpkin. It can be personalized with your expected arrival date and then use it as a photo prop. See some of the photos real customers have taken here.
It is a great option if you want to do a thanksgiving pregnancy announcement.
4. We are adding another pumpkin to our patch Chalkboard Prop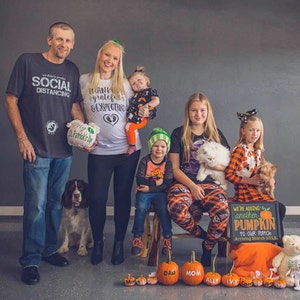 We're adding another Pumpkin to our patch Fall/October Announcement
from: Etsy
You can also use a chalkboard announcement prop for your october baby announcement.
This one has the wording "We are adding another pumpkin to our patch" but you can also vary the phrasing and use "the pumpkin patch is growing" instead. I think this idea is especially great for big families like the one pictured above. I love it!
No time for a photoshoot? A digital file like this one is a great alternative that won't cost you too much. Just send it on text, WhatsApp or email to your family and friends.
5. Little pumpkin on the way – Fall themed onesie announcement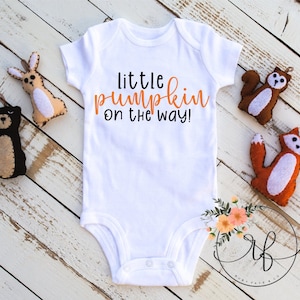 Baby Announcement Pregnancy Announcement Bodysuit Fall
from: Etsy
How about this cute little pumpkin on the way bodysuit for your announcement. Onesies make the best props ever. Check out another alternative below. So gorgeous!
Absolutely one of my favorites this one. Use it as a prop during the pregnancy announcement and then dress baby in it once the baby is here. Good thing it is gender-neutral.
Cool Fall Pregnancy Announcement Cards For family and Friends
7. We're adding a little pumpkin to our patch baby announcement card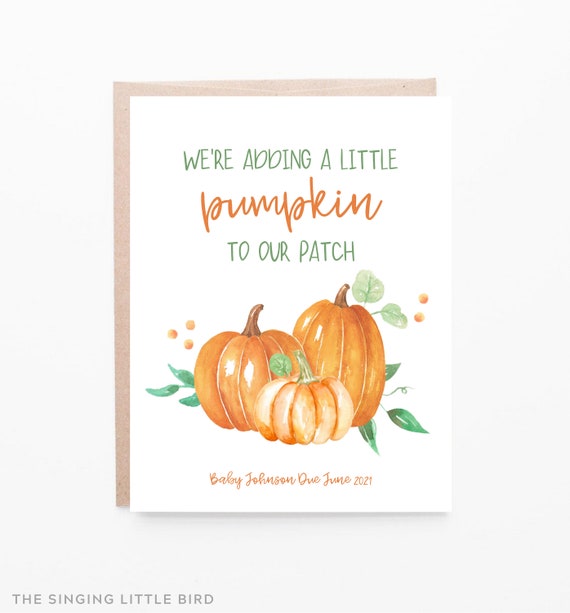 This pumpkin-themed card from Singing Little Bird on Etsy can be customized and mailed to friends and relatives to announce your pregnancy.
In addition to that, since this card is so cute, you can take a photo and use it for your social media pregnancy announcement.
Click here for another variation of this card that is just priceless. It's a thing of beauty.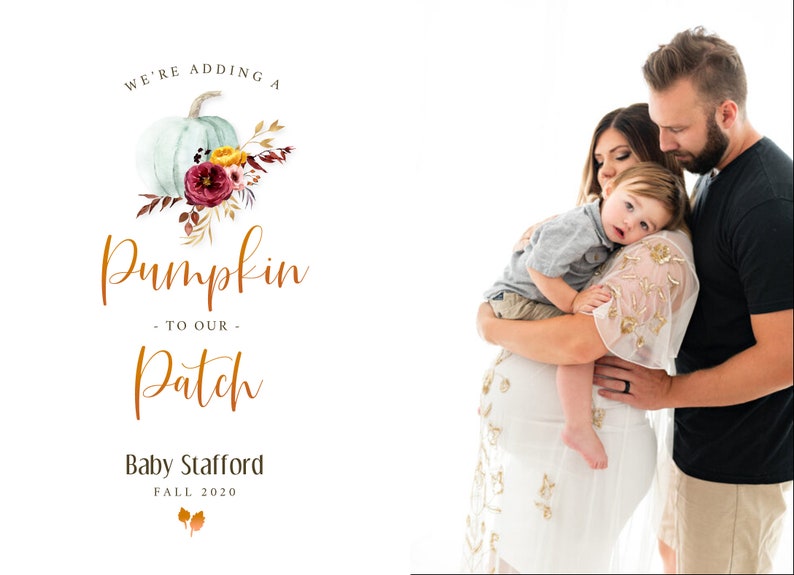 8. Happy Fall! Pregnancy announcement Scratch Off Cards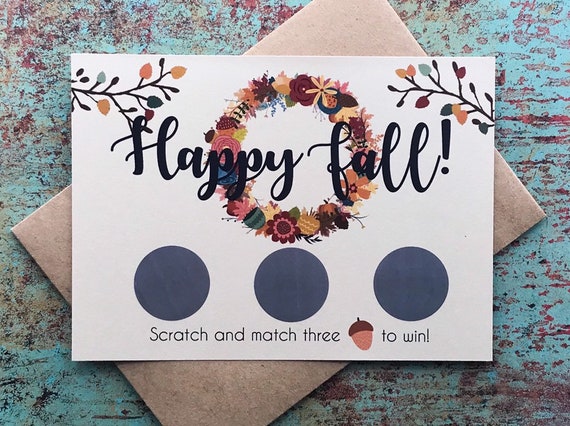 Fall Pregnancy Announcement Scratch Off Cards Autumn fall
Mailing scratch off cards is another great option to share the wonderful news with your loved ones.
Furthermore, this Etsy seller has earned a reputation for offerring stellar customer service so you can expect nothing but the best when you make your order.
Fall Pregnancy announcements with Siblings
9. Promoted to big brother – fall camping announcement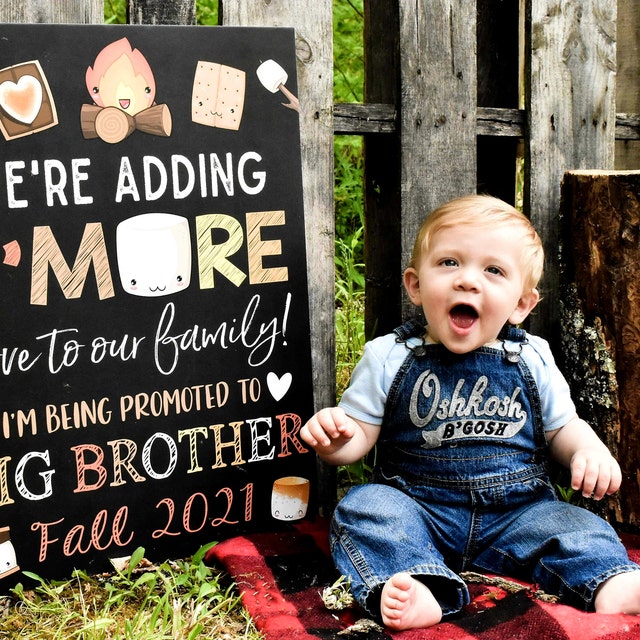 Big Brother or Sister Pregnancy Announcement Fall Camping
from: Etsy
It's always a good idea to include older siblings in a pregnancy announcement and this prop here is perfect for a fall reveal.
10. Big Sister Ice cream and Pumpkin themed announcement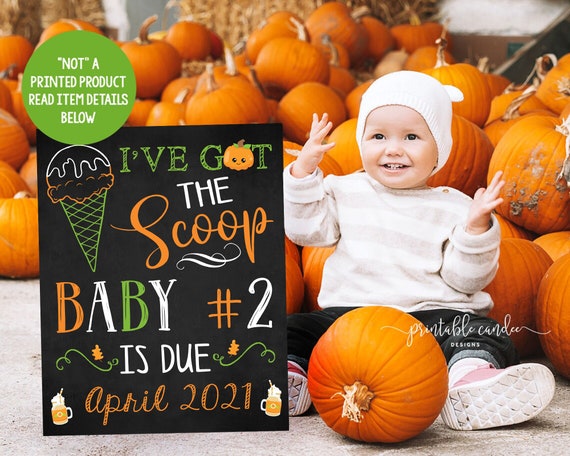 I've got the scoop, baby #2 is due… This is the cutest announcement for the best big sister ever. Ice cream and pumpkin, yum!
Best Ways To Announce Your Pregnancy on Social Media In The Fall
When it comes to making your fall preganncy announcement on social media, the options are endless. I have picked just but a few favorites to give you some ideas.
From autumn-themed flatlays, printables, videos, chalkboards, feltboards and so much more. You have a whole lot of choices to pick from.
I have also attempted to answer some of the frequently asked questions on social media pregnancy announcements further below.
11. Chalkboard Custom Sign Prop – Pumpkin Pregnancy Announcement for Social Media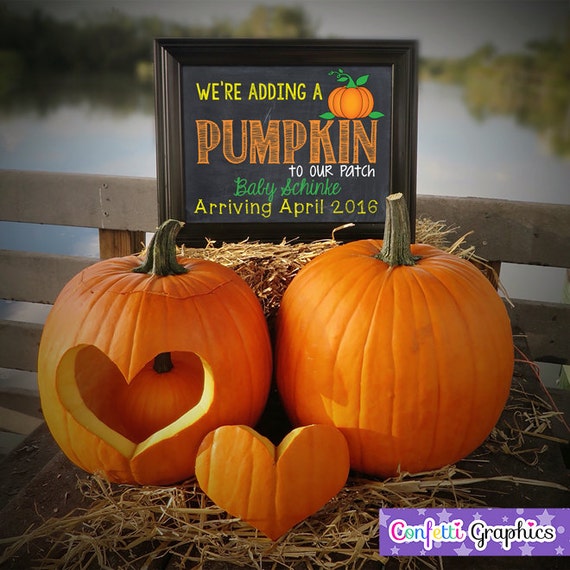 We're adding a Pumpkin to our patch Fall October November
from: Etsy
12. S'More Love Baby Video Pregnancy Announcement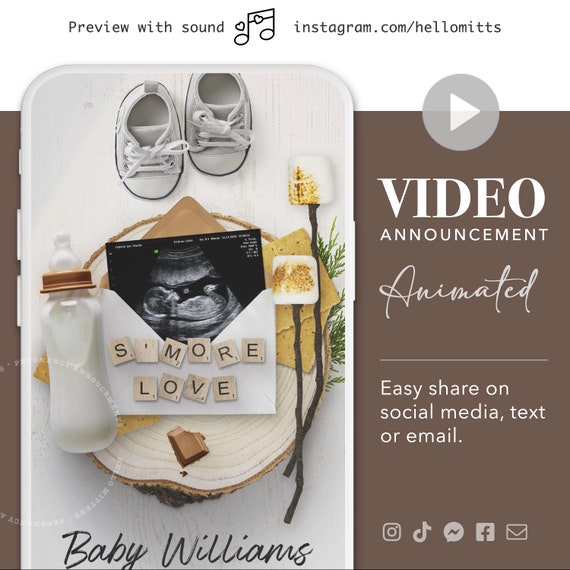 SMORE Video Fall Pregnancy Announcement Baby Personalized
from: Etsy
If you would prefer a video fall baby announcement, this one is a perfect choice for you.
13. Little Pumpkin Pregnancy Announcement Onesie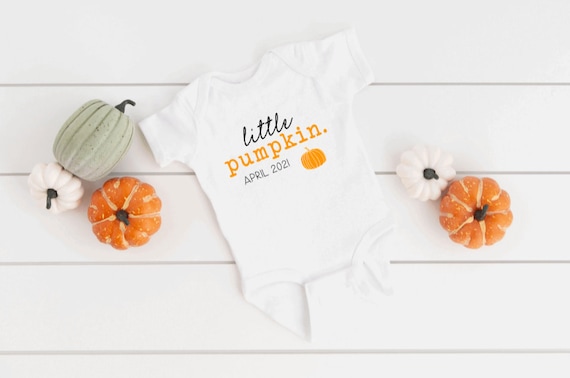 Little Pumpkin Pregnancy Announcement ONESIE® Fall Baby
from: Etsy
14. Baby Bodysuit/ Onesie Fall Pregnancy Reveal Ideas – A little pumpkin is on the way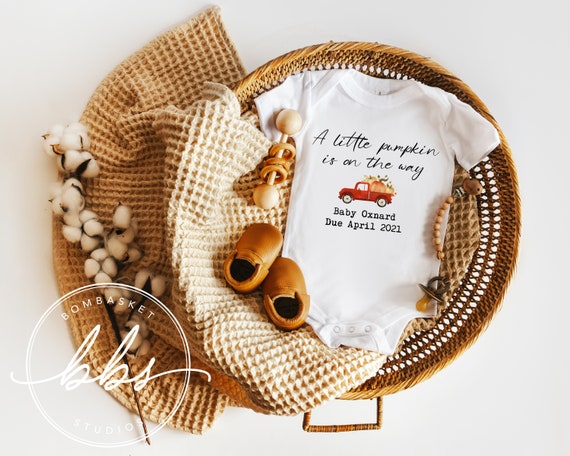 A Little Pumpkin Is On The Way Fall Autumn Pregnancy
from: Etsy
15. Get Ready to fall in love – fall themed onesie announcement idea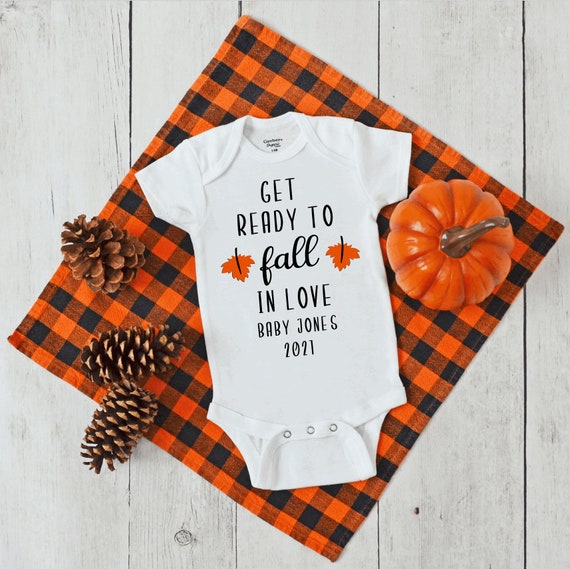 Get Ready to Fall in Love Baby Announcement Bodysuit Baby
from: Etsy
Cute Fall-themed Flatlay Pregnancy Announcement Ideas
16. Editable Fall Pregnancy Announcement- We are having a little pumpkin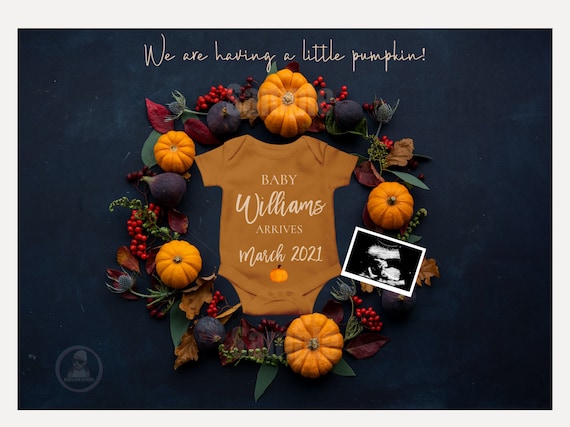 Via Etsy
Fun Digital Pregnancy Announcement
17. Sweater Weather and Baby Kicks…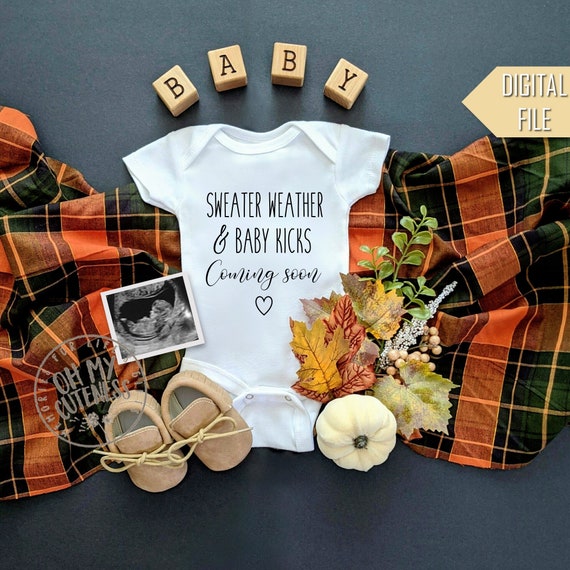 Via Etsy
Best Digital Pregnancy/ Baby Announcement for Social Media
18. We are adding a pumpkin to our patch Digital Announcement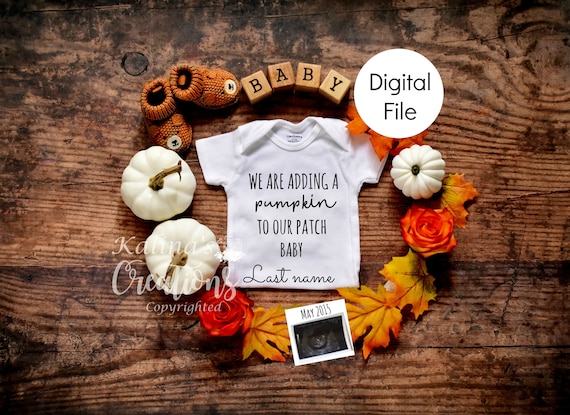 Via Etsy
19. Buffalo Plaid Baby Reveal Idea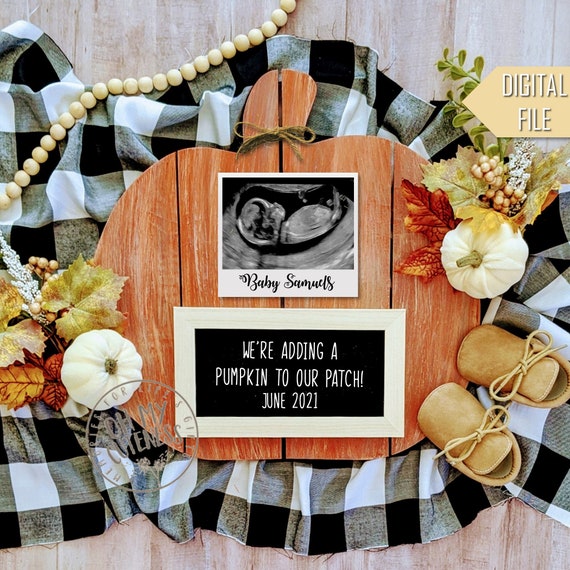 Via Etsy
20. Baby Announcement Calendar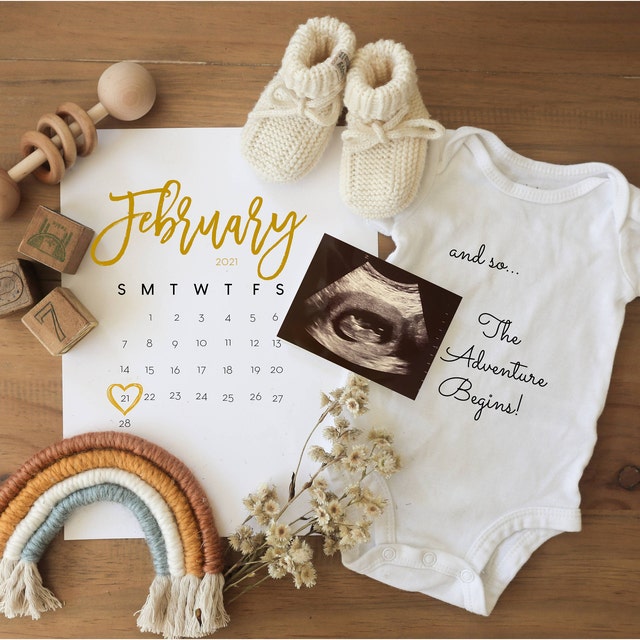 Via Etsy
How cute is this baby announcement calendar! And it comes in a bunch of different options that you can choose from. Including one for rainbow babies. I love it!
Felt board/ Letter board Pregnancy announcements
21. Autumn-themed digital baby announcement with sonogram, letter board and pumpkins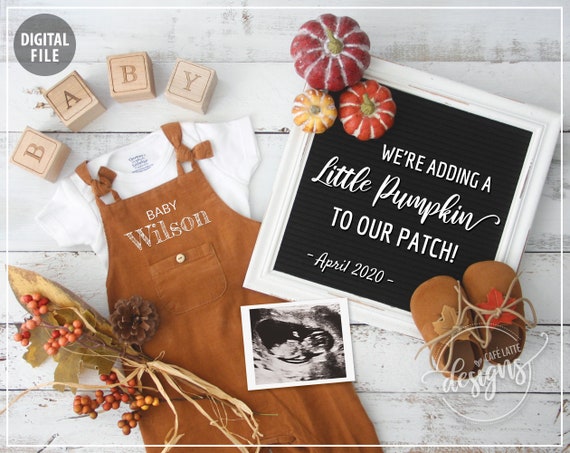 FALL Pregnancy Announcement Autumn Baby Announcement Digital
from: Etsy
This digital announcement uses fall colors, a sonogram, and pumpkins with a felt board included. It just gives all the fall season vibes.
Fall themed Preganncy announcement t-shirts
Pregnancy announcement shirts are some of the simplest ways to do a baby reveal and here are a few fall-themed ideas for you.
22. We are already falling in love
23. Don't eat Pumpkin Seeds…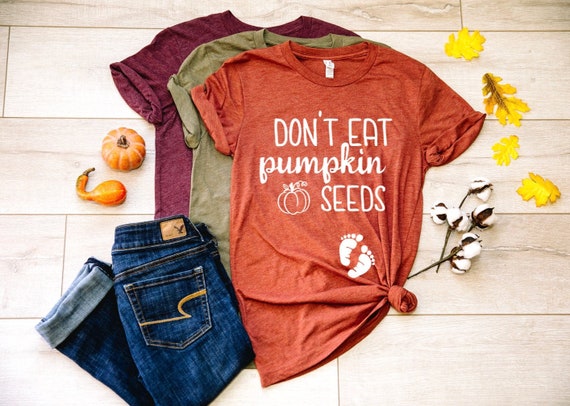 Don't eat pumpkin seeds pregnancy fall shirt
from: Etsy
Love it? Grab it here
24. Pumpkins, Football, Baby Bumps Maternity Shirt for Announcement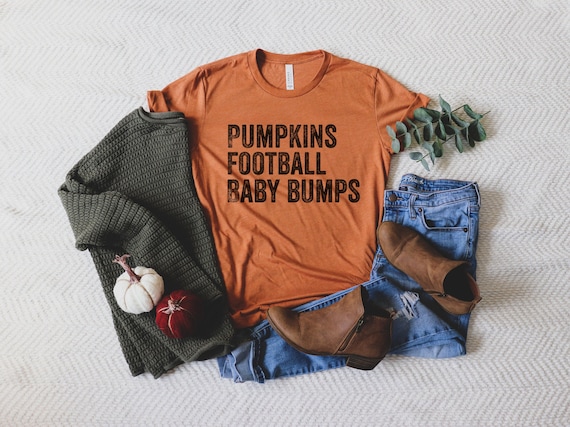 Pumpkin Football Baby Bumps Shirt Fall Maternity Shirt Fall
from: Etsy
25. Expecting a Little Pumpkin Sweat Shirt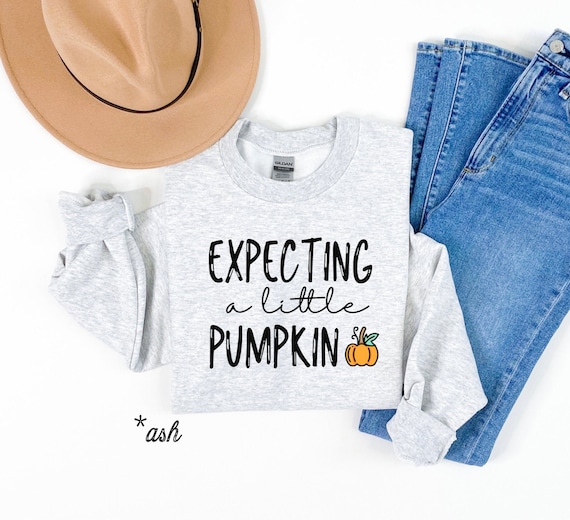 Expecting a Little Pumpkin Fall Pregnancy Announcement Shirt
from: Etsy
Love sweatshirts? Here is a perfect one for your fall announcement
The best fall-themed gift box pregnancy announcements
If you have family and friends that live out of state or you would just prefer to mail your announcement, gift boxes are a great idea. And there's no shortage of great fall-themed ones.
Here are some great ideas below.
26. Baby booties gift box pregnancy announcement to grandparents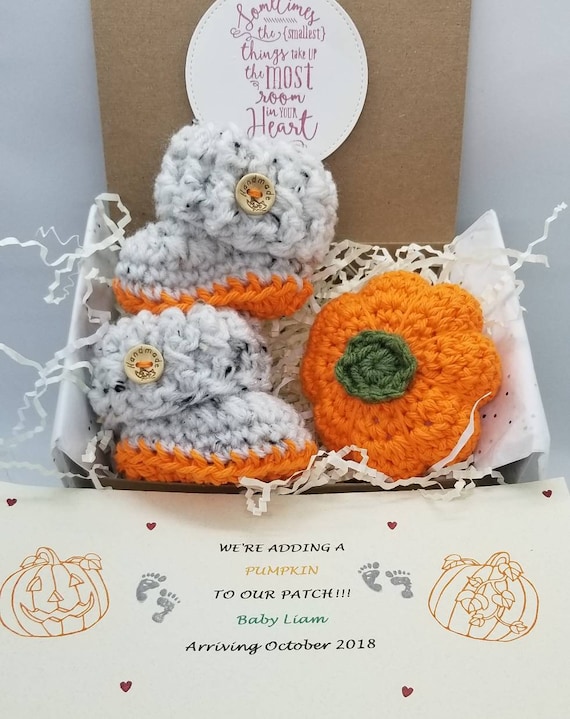 October November Fall baby announcement Grandparent baby
from: Etsy
27. Chocolate truffles Gift Box
If you are looking for something that is very unique to use for your announcement, this stunning gift box is exactly what you need. It can be personalized to your liking and honestly, no one will suspect that it is a pregnancy announcement at all.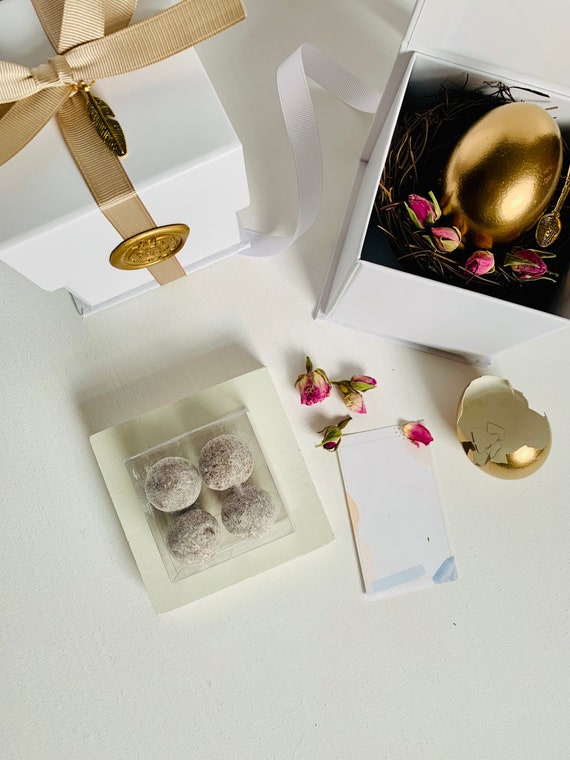 Chocolate truffles gift box pregnancy announcement gift
28. Little pumpkin package
How about this cute little pumpkin package, huh?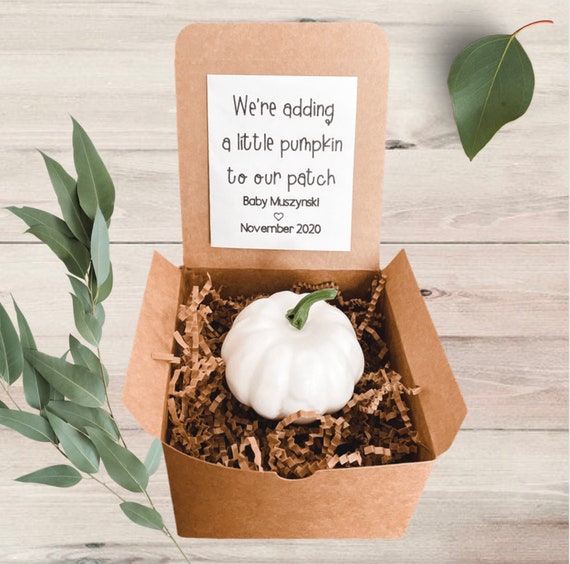 Floral Wreaths for your Fall Baby Announcement
Fall-themed floral wreaths are another great idea that you can use to stage your pregnancy announcement photo shoot. Add a cute onesie or a sonogram and pumpkins and you have the perfect fall baby announcement.
Here are some great floral wreaths that I would recommend.
29. Fall leaves Wreath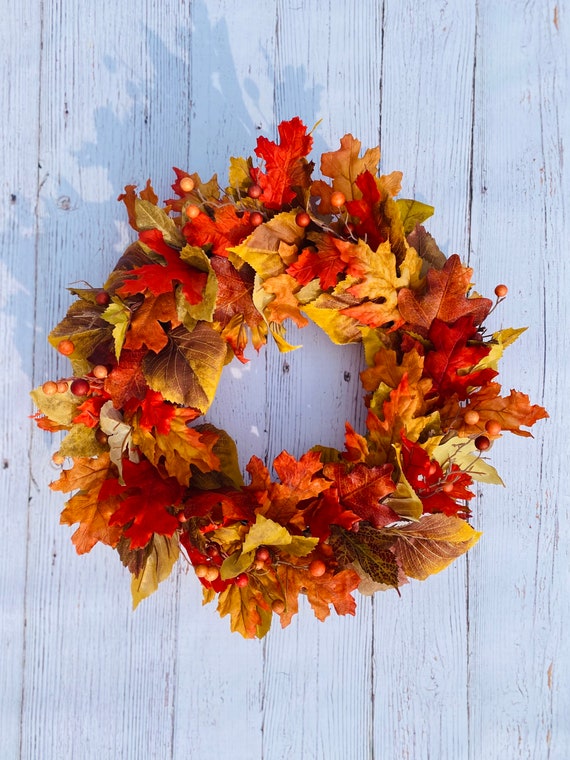 30. Thankful – Beautiful Fall wreath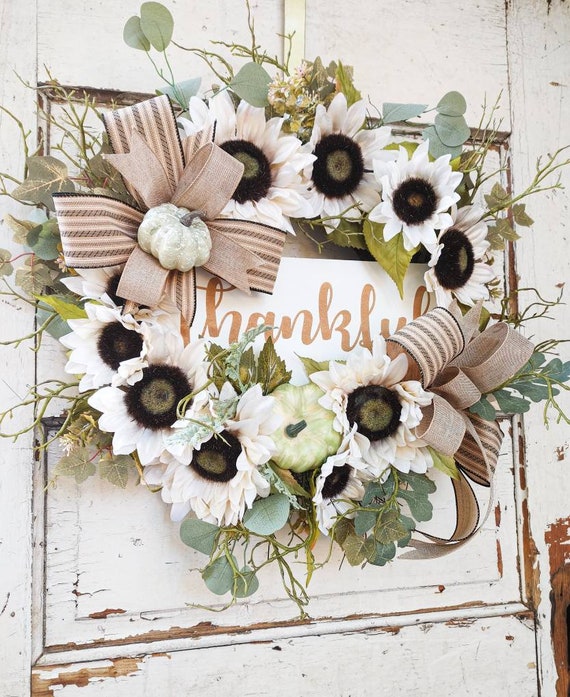 Fall Wreath- Thankful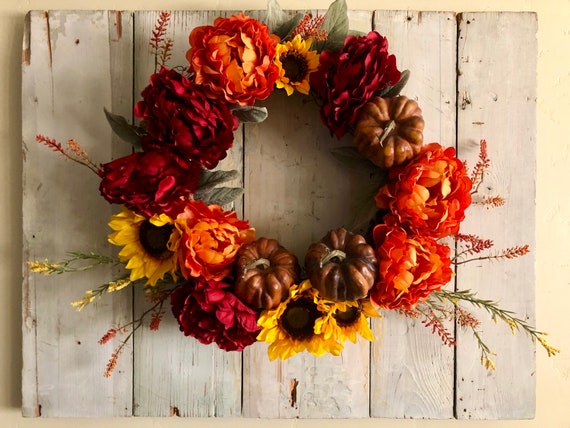 Fall Pumpkin Sunflower Silk Floral Wreath
You know the beautiful thing about using a wreath for your baby announcement? You can always hang it on your door as soon as you are done as part of your fall decor. Talk about getting the most use out of it!
32. Sunflower field photoshoot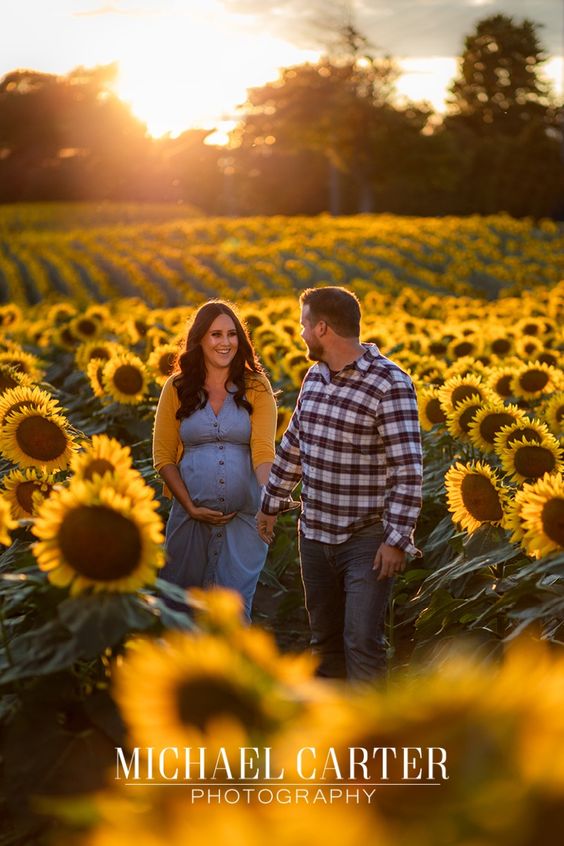 Sunflowers bloom in the fall and if you have a nearby sunflower field, a maternity photo shoot which you can use the images to announce your fall pregnancy is a wonderful idea.
33. Apple of our eye- Fall themed baby announcement printable
Apple picking season kicks off in the fall so using apple theme is consistent with the fall theme. If pumpkins are not your thing, then apples may be just right for you.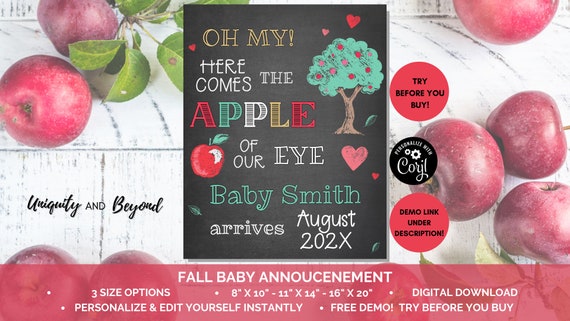 Fall Pregnancy Announcement Editable Pregnancy Announcement
from: Etsy
Still on the apple theme, a photoshoot in an apple orchard can also turn out pretty amazing for your reveal.
34. Apple Orchard maternity photoshoot/ Pregnancy reveal shoot
Image courtesy: gisellesalazarphotography.com
35. Fall themed baby cookies
Need an out-of-the-box idea that is also yummy? cookies!
These ones are from cookieconnection.juliausher.com and I think they are such a fantastic set.
36. Oh Baby Script Balloon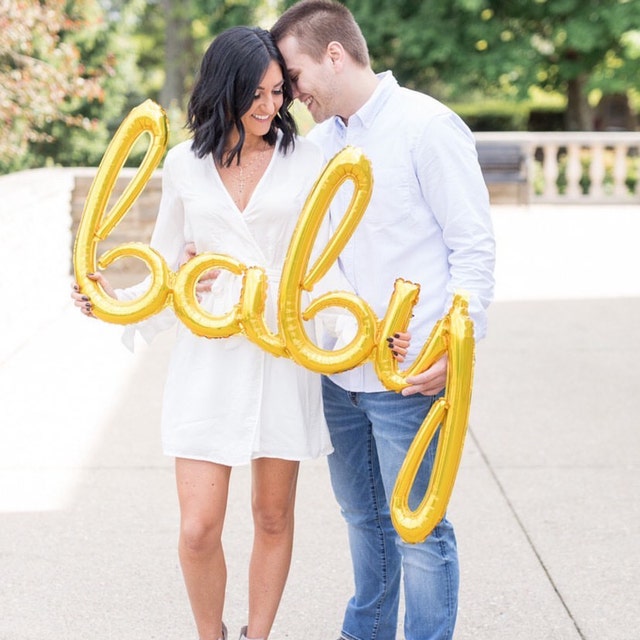 Oh Baby Balloon Gold Baby Shower Decor Gold Baby Script
You can also get the script balloon on Amazon here.
37. Pregnancy announcement with your dog/ pets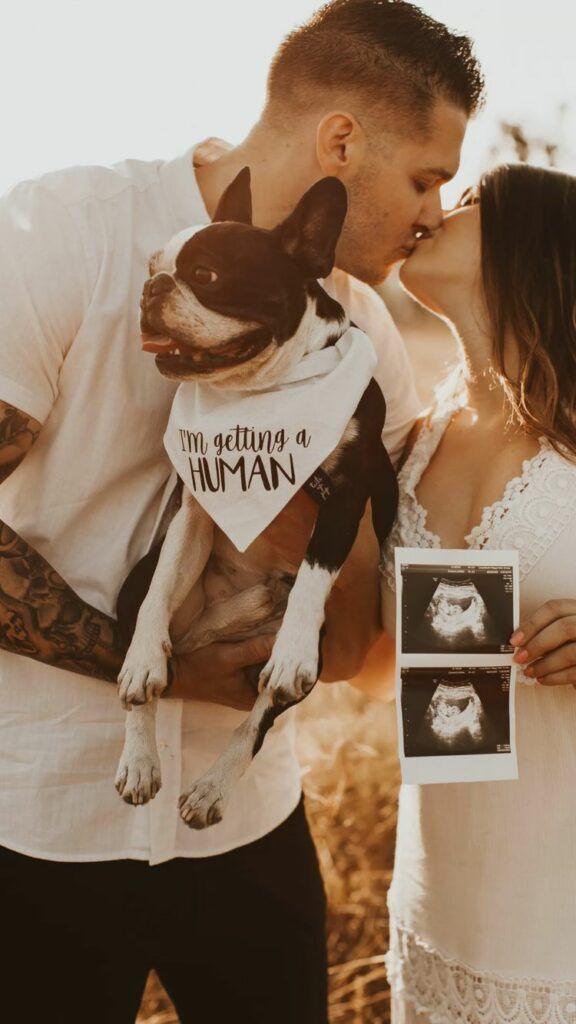 If you have a fur baby and want to include them in your announcement, a photoshoot with them is great. You can get the "I'm Getting a Human" Dog Bandana on Etsy here or on Amazon here
Who should you reveal your pregnancy to first?
Before you do your cute digital pregnancy announcement on social media for the whole "world" see, there are people that should have priority in knowing about your pregnancy.
One of the most frequently asked questions is who should you reveal your pregnancy to first?
The first person you should tell about your pregnancy is your partner.
Whether it is your boyfriend, fiance, or husband, it is their child too and they will appreciate knowing first. Sometimes, your husband/partner might actually be right there with you as you take the pregnancy test.
However, if this is not the case, you could make revealing your pregnancy to your husband a fun surprise.
Use these creative pregnancy announcement ideas to the husband to make it more fun. Also, remember to document his reaction when he finds out that you are pregnant. It will be really fun to watch it later.
Once you have revealed your pregnancy to your partner, a pregnancy announcement to close family and friends is in order.
Most of the time, close family members will be your siblings and your parents. If you are very close to your aunties and uncles, you can also let them in on your little secret and give them a chance to celebrate with you.
If this is going to be the first baby in the family you can expect even more excitement when the grandma-to-be and grandpa-to-be get to find out.
Make it interesting by including a surprise element. These scratch-off cards or these cute promoted to grandma and grandpa mugs are a great idea.
After family, loop in your best friend on your good news.
Can you imagine opening your Instagram to see a lovely pregnancy announcement post from your best friend and you had no idea? You may be a little confused that they did not think to inform you first.
Be nice to your bestie. Use one of these 15 cool ways to tell your best friend that you are pregnant.
How to announce your pregnancy on social media
Now that your close family and friends have had time to celebrate the good news with you, you are free to tell the world.
Announcing your pregnancy on social media is easier than ever! All you need is a digital pregnancy announcement template (pick one from above :)) that you can customize to your needs and a clever caption.
Here are some hilarious pregnancy announcement quote ideas to use:
There are tons of editable pregnancy reveal templates to choose from that won't cost you much. See all the gorgeous fall pregnancy announcement ideas above.
But wait, when should you announce your pregnancy on social media?
Having seen all these beautiful pregnancy announcement ideas. You might still be having questions.
Is it appropriate to announce your pregnancy on social media? When is the right time to do it? Why should you do a pregnancy reveal on social media or why not?
You are not alone. Many moms grapple with these questions at one point or another.
The question of the appropriateness of announcing your pregnancy on social media is a deeply personal one. It is as personal as the choice to have or not to have a social media presence.
Now, if you are already active on social media and you want to announce your pregnancy you might want to consider a few factors.
One of the reasons most people choose to wait until later to announce their pregnancy on social media is due to the fear of losing the pregnancy.
To put things into perspective, 10-15% of pregnancies end in miscarriage. Of these, 80% of miscarriages happen in the first trimester (before 13 weeks).
This means that the odds of having a miscarriage reduce as your pregnancy progresses.
Most moms will announce their pregnancy at the end of the first trimester at around 13 – 14 weeks. It feels safer at this point due to the reduced chance of miscarriage.
The other reason to announce at this point is that pregnancy begins to show around this time. If you are very active on social media, it gets harder and harder to hide the pregnancy as time goes by. Pregnancy will often start showing at around 12 to 16 weeks for your first pregnancy. It starts to show earlier for subsequent pregnancies.
So instead of waiting to get unsolicited "congratulations" from curious friends, it could be better to announce the pregnancy on your own terms and avoid the probing.
Is there anything wrong with announcing your pregnancy in the first trimester?
Absolutely not.
There is nothing wrong with announcing before 13 weeks. It is all about your level of comfort.
If you are comfortable with announcing as soon as you find out, go ahead. Hopefully, all will go well with your pregnancy and you will have the additional support of your online friends.
It is not worth it to live in constant fear of losing your baby. Truth is, sometimes miscarriages happen even after 13 weeks and quite often there is nothing you can do to stop it.
So enjoy your pregnancy in the most authentic way to yourself, take the necessary precautions, and hope for the best. It's all you can do.
Related: 13 Must-Have Pregnancy Items For Every New mom
THE BEST FALL PREGNANCY ANNOUNCEMENT IDEAS
I love all the way these fall pregnancy announcements incorporate pumpkins and leaves, and so much of the fall mood. They are so gorgeous and the options are just amazing!
Do you agree? Okay, let me know in the comments below which one is your favorite fall-themed baby announcement idea.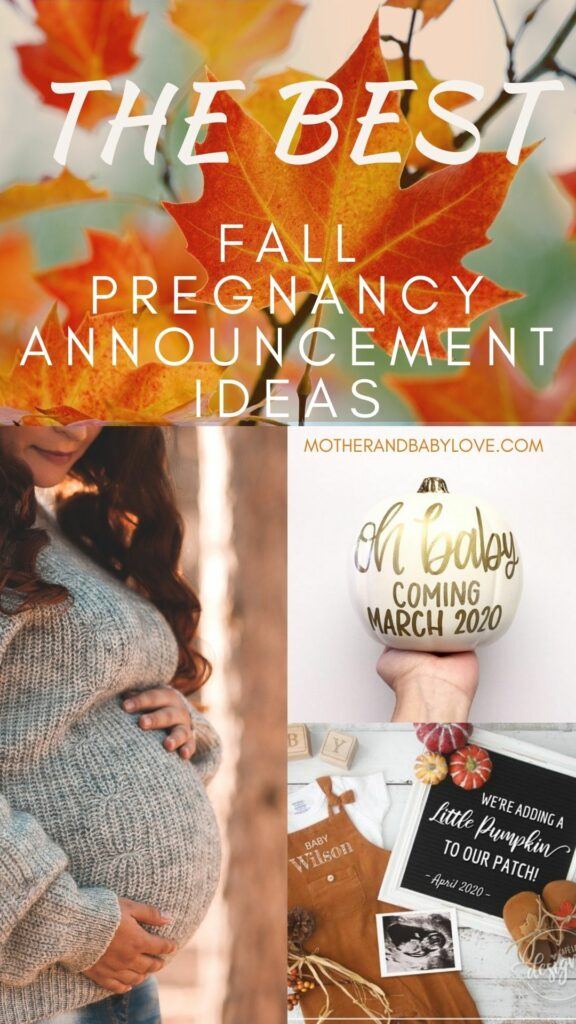 Also check out: The best pregnancy pillows for comfortable sleep