This list has over 200 cute baby names for girls. They are not very common names and I think they are absolutely adorable.
I know that choosing a name for your baby can be tough.
Expecting a boy? Here is a list of 300+ superb names for your strong boy.
Here are a few tips to make choosing a name for your baby girl a little easier:
Go through the baby name list and eliminate all the names you don't like by marking them out.
Talk about the names that are left with your partner and eliminate more names that they don't like.
With the shorter list, look up the meanings of the names and write them down.
Once you are down to a minimal list of names, try pairing them up and sound them out.
Check how they initial together with your last name so that you don't end up with awkward initials like Alaine Sarah Smith.
If there are names that are contentious, try to reach a compromise using other techniques. For example, you can have two middle names or you can try a different spelling or shortened form of the name that both of you can agree on.
Let the names sit for some time before the baby arrives, after a few days you may realize you no longer like a name that much or a new name may grow on you.
Don't Have Time To Read The entire List?
Download the PDF and Save The List!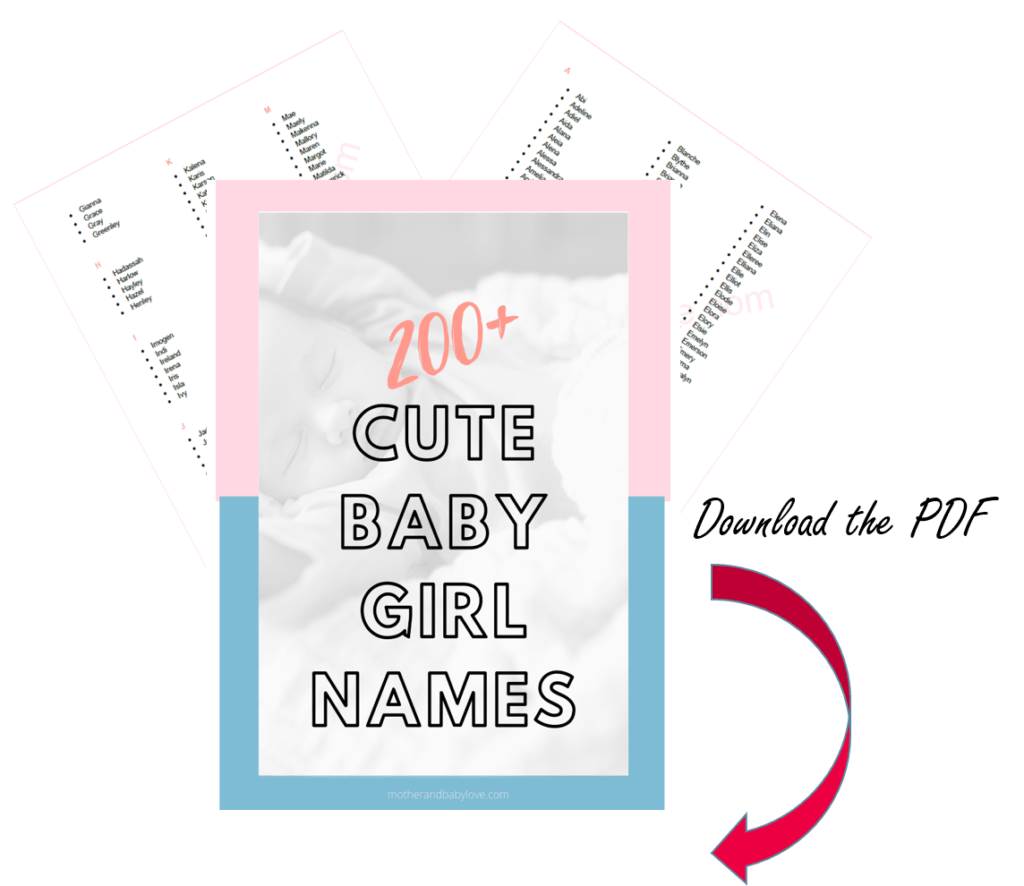 Do you have a baby registry yet? Read my honest review of the Amazon baby registry and tips to maximize the benefits
250+ Unique Baby Girl Names That Are Perfect For Your Beautiful Baby Girl
Abi
Adeline
Adiel
Aida
Alana
Aleia
Alena
Alessa
Alessandra
Amelia
Andalyn
Annabelle
Annelise
Aria
Ariah
Ariana
Arianna
Arlo
Arlow
Arlyn
Ashley
Aspen
Aubrey
Audrey
Audri
Aurora
Auspen
Bailey
Banks
Baylor
Bella
Bellamy
Bentley
Bethany
Bexlee
Billie
Birkley
Blain
Blair
Blakeley
Blanche
Blythe
Brianna
Brianne
Bronwyn
Brooke
Brynn
Cadence
Caitlin
Cambria
Camden
Camryn
Carlie
Cazlyn
Chandler
Charis
Charlene
Cheyenne
Clara
Cole
Cora
Corinne
Cosette
Danita
Daphne
Davenee
Dawson
Dempsey
Denver
Dora
Eden
Eileen
Elaina
Eleanor
Elena
Eliana
Elin
Elise
Eliza
Elleree
Elliana
Ellie
Elliot
Ellis
Elodie
Eloise
Elora
Elory
Elsie
Emelyn
Emerson
Emery
Emma
Emmalyn
Emory
Erin
Estella
Etta
Evangeline
Evelyn
Everly
Evie
Finlee
Finley
Fiona
Frances
Frankie
Gemma
Geneva
Genevieve
Georgia
Gianna
Grace
Gray
Greenley
Hadassah
Harlow
Hayley
Hazel
Henley
Imogen
Indi
Ireland
Irena
Iris
Isla
Ivy
Jadee
James
Jane
Janelle
Jean
Jillian
Jocelyn
Jocelynn
Jordan
Jordyn
Jorie
Joslyn
Joy
Kalena
Karis
Karson
Kate
Katherine
Katie
Kay
Keeley
Keira
Kelly
Kellyn
Kennedy
Kian
Kiersta
Kinley
Kylie
Lana
Landry
Lanie
Layla
Leighton
Leila
Lelah
Lennon
Lexie
Lillian
Linden
Lindsay
Lola
Lorae
Lorelei
Loretta
Lorna
Louise
Lucille
Luelle
Luveleigh
Mae
Maely
Makenna
Mallory
Maren
Margot
Marie
Matilda
Maverick
Mellany
Mercy
Millie
Mina
Monroe
Myer
Myka
Myla
Narra
Nayvee
Noa
Noella
Noelle
Nora
Nova
Oaklynn
Odella
Olive
Omah
Onalee
Paige
Penelope
Piper
Presley
Qiana
Quelle
Quinly
Quinn
Rae
Raedyn
Raelyn
Rainey
Raleigh
Remi
Remington
Renee
Riley
Rita
Roma
Rosalie
Rose
Rowan
Ruby
Ruth
Ryan
Sadie
Samara
Santana
Savannah
Selah
Selina
Shaylee
Shea
Shelley
Shiloh
Sienna
Sloane
Soleil
Sullivan (Liv)
Sutton
Sylvie
Taylor
Tess
Tessa
Thea
Tillie
Tinley
Trish
Ula
Ursa
Ulrica
Uda
Udella
Ulissa
Ulka
Valerie
Vayda
Veda
Vinley
Violet
Vivian
Willow
Winsley
Wren
Wrigley
Xandra
Xyla
Xenia
Xabrina
Xeni
Xiomara
Xoe
Xianna
Yvette
Yvonne
Yolanda
Yara
Yareli
Yanna
Zawadi
Zella
Zoe
Zoey
Zola
Zora
Zuri
Zada
Didn't find one you like? Find more baby girl names here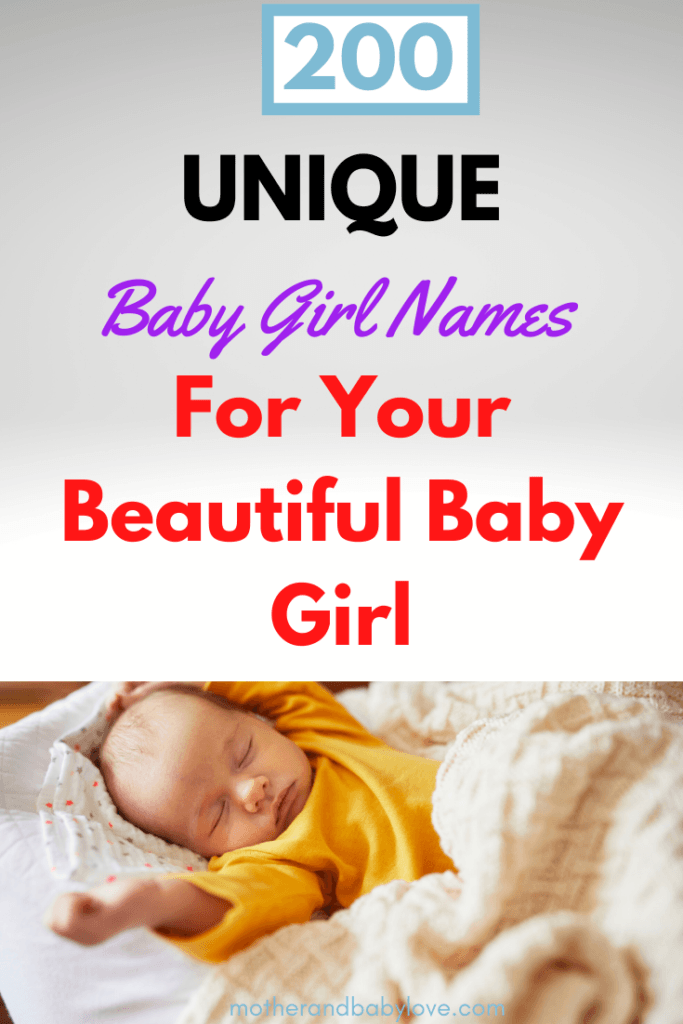 Over 200 absolutely beautiful baby names for girls.
Get this list of baby names for girls and find the name that will match your little girl perfectly.
You can also grab my free maternity bag checklist here, I had my baby girl six months ago, and here is the whole list of items that I packed in my hospital bag for delivery. Don't be caught unprepared.
You also know how important it is to prepare for breastfeeding. I created an ultimate guide to breastfeeding to take you through the hoops step by step and give you my best tips to have a successful breastfeeding journey.