Are you looking for fun and creative pregnancy announcement ideas or wondering how to tell your husband/boyfriend that you are pregnant? Whether it is your first, second, or subsequent baby, we have some really great ideas for you. Keep reading.
The Cutest Pregnancy Announcement Ideas To Surprise Your Husband with your pregnancy
I couldn't help but tear up when I watched this video from Nicole of Healthnut nutrition telling her boyfriend that she was pregnant. It was a "bun in the oven" theme and Matt's reaction was so worth it!
Watching this video and my love for all things pregnancy reveals and baby announcements is what inspired me to share my favorite pregnancy reveal ideas.
The reactions from soon-to-be dads always melt my heart. And I know I'm not the only one who loves raw pregnancy announcement videos because this video on Youtube about husbands finding out that they are going to be dads has over 3.5 Million views! And that is as of August 2020 and that video is only a couple of months old over 10 Million views as of October 2021. How amazing!
Related:
The best fall pregnancy announcement ideas for social media | 13 Spook-takular Halloween Pregnancy Announcements| 32 Super Cute Pregnancy announcement shirts| 22 Super fun Christmas pregnancy announcement ideas
Disclaimer: Some links on this page are affiliate links and as an Amazon Associate, I earn from qualifying purchases.
My top 5 favorite surprise pregnancy announcements for husbands – How to tell your husband that you are pregnant.
We have over 20 pregnancy announcement ideas for husbands that will wow you below. However, here are my personal favorites.
Now you know my favorite funny and creative surprise pregnancy announcement ideas to tell your husband that you are pregnant. But there are more below.
I hope you find the best one for you from these cute pregnancy announcement ideas and get the best reactions from your husband.
** Some portions of this post were in partnership with Basic Invite. Thank you for supporting the brands that make this site possible.
Related: 14 Early pregnancy signs even before missing a period
Turns out, we can make things a little interesting by surprising our dad-to-be husbands when revealing the big news. By the way, if you haven't got this book already, make sure you get it because it's like the Expectant mom's bible.
21 Cute and funny ways to announce your pregnancy to your husband
Now without further ado, here are 21 awesome pregnancy announcement ideas that you can use to tell your husband or boyfriend that you are expecting.
1. Hide the pregnancy test
This is a really good idea if you don't have time to make an elaborate plan for a surprise but you want to have a fun way to tell your husband that you are pregnant. On the other hand, if you are not good at keeping a secret from your husband or boyfriend for too long, this is also an excellent option for you.
Idea 1: Hide the positive pregnancy test in a drawer and ask him to get you something from there.
Idea 2: You could also hide the pregnancy test behind the TV stand or something that he won't make him suspicious and pretend to have dropped something back there and ask for his help to get it.
Position the test in such a way that he will need to put a bit of an effort to find it but also don't hide it so hard that he will give up before finding it.
Related: 13 Must-Have Pregnancy Items for New Moms
2. 'Always Read The Fine Print' Preggers Shirt
Get this pregnancy announcement shirt, wear it just casually and act as if everything is normal.
There is a chance that he might notice it immediately but if he doesn't, it's okay to ask him what he thinks about the print. Most importantly, he is gonna need to read the fine print.
And then, watch his jaw drop!
–>> Shop My Favorite Pregnancy Items<<–
3. A Bun in the Oven Pregnancy Announcement to Husband Idea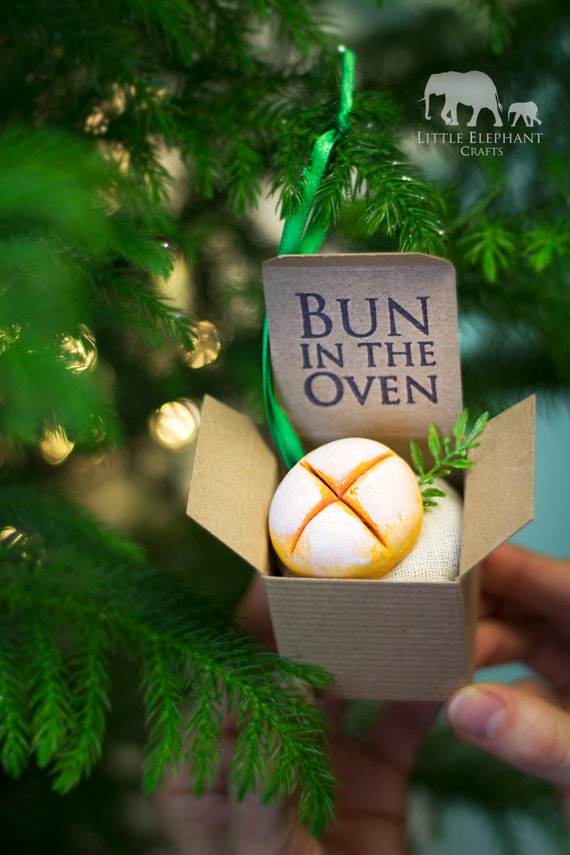 Christmas Ornament Pregnancy Announcement Bun in the
from: Etsy
We often hear people saying 'a bun in the oven' as an idiom for being pregnant, so what better way to let your husband know that you are pregnant than using your oven and a 'bun' (doesn't have to be a real one).
For instance, you can bake a real bun and keep it in the oven along with a note saying "We are pregnant" or something more personalized.
Alternatively, you can also just keep a baby item (like this onesie or baby shoes) along with a positive pregnancy test in the oven.
Meanwhile, make up an excuse why he needs to help you get something in the oven and surprise! There it is.
Related: The 8 Best Pregnancy Pillows for Your Comfortable Sleep
4. Scavenger hunt pregnancy reveal
In addition to keeping "a bun in the oven", you can make things even more interesting by doing a scavenger hunt.
In other words, tell him that there is a secret treasure hidden somewhere in the house and he needs to find it. Then give him the first clue and leave other clues in different parts of the house.
Let the final clue lead him to the big reveal, maybe the bun in the oven or something else.
Make sure to capture everything on video because it will be really fun to watch your husband's reaction later.
Related: The reasons for bed rest during pregnancy
5. Send him a surprise announcement gift box on his birthday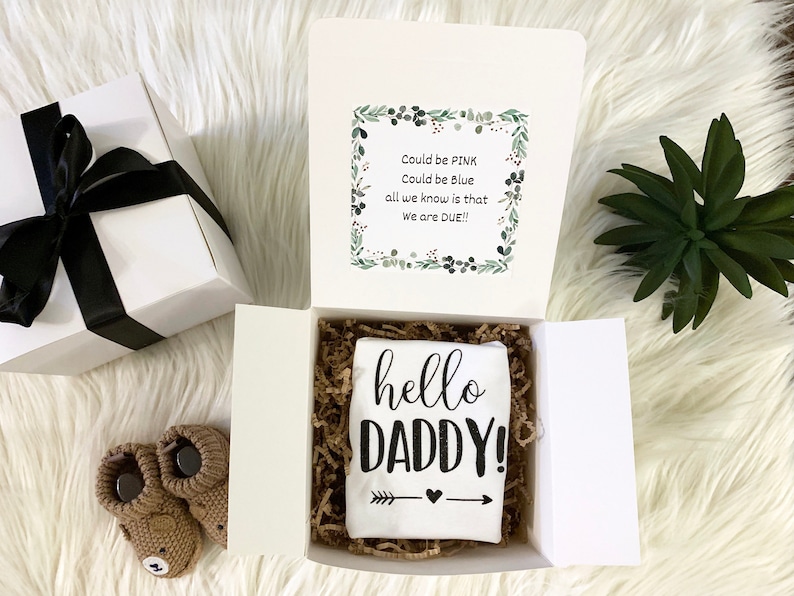 Hello Daddy Pregnancy Announcement To Husband Baby
If you want to reveal your pregnancy to your significant other on his birthday, this is perfect for you. Since receiving a gift on his birthday won't be out of the norm, he will not suspect that there is big news for him.
So, imagine his reaction when he opens his gift box and meets a "hello daddy."
Certainly get him one that includes sweet words like," the only thing better than having you as a husband is our baby having you as a dad" or something sweet and meaningful.
It will be the best present ever!
6. A memorable card

Do you like giving each other cards? Get him a memorable card and write something really sweet inside. Find some of my favorite cards here.
There are even some really funny pregnancy announcement cards like this one here and this one which your naughty hubby will totally love.
Related: The Best Practical Gifts for New Moms
7. A Book
Surprise your husband with this book. It's perfect for the first-time dad/ dad-to-be.
8. Enlist the help of your fur baby.
Do you already have a fur baby? Perfect. Since they are also going to be a big sister or big brother so why not include them?
Hang this cute bandana around the neck just as soon as daddy is about to get home and let him enjoy the news.
9. Hidden Message in a Coffee Mug
If your husband loves coffee, get him this coffee cup with a message at the bottom of the mug. Next, watch for his reaction when he empties the cup.
Keep in mind that you can personalize the message at the bottom of the mug to fit your personalities. Some messages you can use are "you are going to be a dad", "Daddy to be" if you don't want to keep him guessing.
On the other hand, if you want the surprise to last a little longer use something like the "The third player enters the game" if he is a gamer or "And the adventure begins."
Ultimately you want to use a phrase that will resonate with your husband the most.
Related: 11 Easy things to do when you are on bed rest
Fun & Funny Pregnancy Announcement Ideas for your Husband
10. The Best Oops Ever! Pregnancy announcement Card
In the event that you are having a surprise pregnancy, this is a perfect pregnancy announcement idea for you.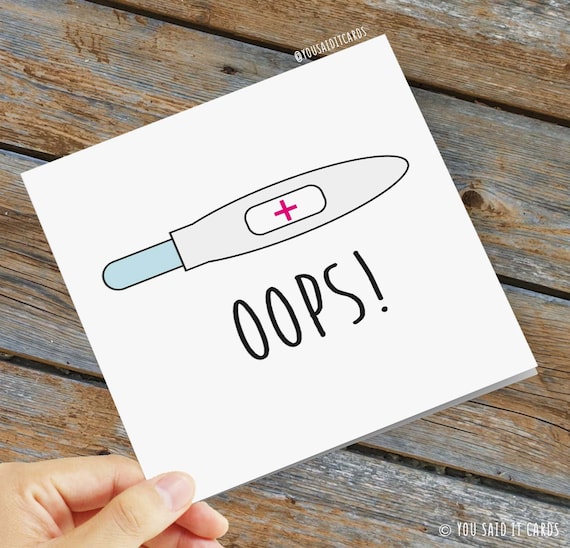 I know a little something about unplanned pregnancy and the anxiety that is involved but let me tell you something, it was the best oops ever!
11. Pregnancy announcement scratch off cards
These scratch–off cards are perfect for a surprise element. And the good news? You get to personalize the message that appears when he scratches it off.
Related: 25 Trendy Unisex baby names and their meanings
12. Jigsaw puzzles
If the daddy to be loves puzzles this will be a puzzle he will live to remember. I love this one on Etsy and this one on Amazon.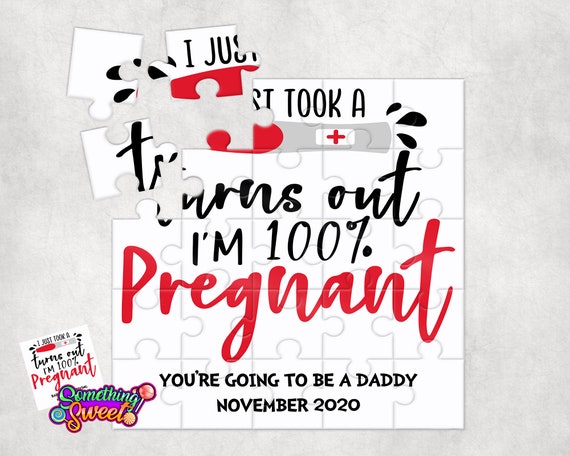 13. Quail egg pregnancy announcement
A little bird came to say… this is such a unique pregnancy announcement idea! Your husband will enjoy cracking open the quail egg to find the sweet surprise awaiting him in there.
Related: My pregnancy story: surviving a high-risk pregnancy
14. Beer bottle label sticker pregnancy announcement idea for husband
Does your man love to come home to a cold beer? This will be perfect for him.
You take the pregnancy announcement stickers and stick them as labels on his beer and then you wait for him to go for his beer.
Such a cute and funny pregnancy announcement idea!
Creative & Funny ways to announce your pregnancy to your husband/boyfriend
15. Feed it to him on a spoon
How about sneaking this pregnancy reveal spoon onto his cutlery set while he is not looking and let him eat the news? Now that's something 😄
16. We have a winner mug
If you are looking for a funny pregnancy idea, I think this is perfect!
Related: The only pregnancy pillow that I used and loved
17. Say it with a keychain
Gift your partner with this 'new fishing buddy coming soon' keychain. It is a perfect Christmas gift for the dad who loves fishing or if you want to reveal your pregnancy to him on his birthday, this can also make a perfect birthday gift.
Related: How to pick the best baby registry website for you
18. You are going to be a daddy Banner
Hang this banner on the doorknob for your husband to find it or around your fur baby's neck.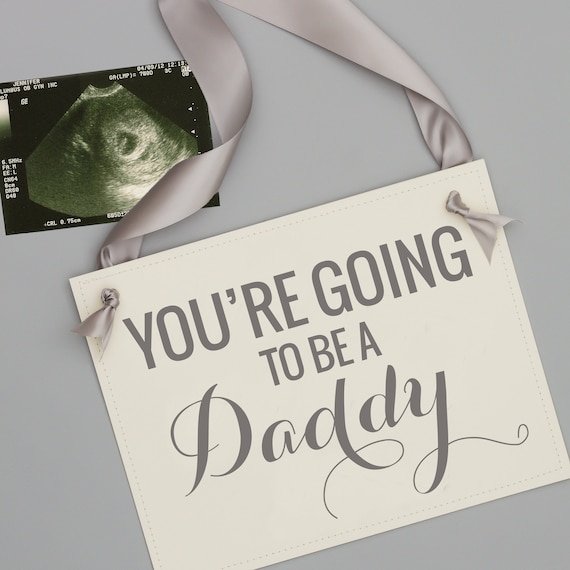 19. Surprise him during your anniversary photoshoot
I found this pregnancy announcement idea when I was researching for this post and I thought it was fantastic.
Think about it, if you have an anniversary photoshoot planned, you can work with the photographer to surprise him and then turn it into an announcement photoshoot.
See the story of how this mom-to-be pulled it off here. It's amazing.
Another alternative anniversary pregnancy announcement idea is to send him an anniversary gift like this one.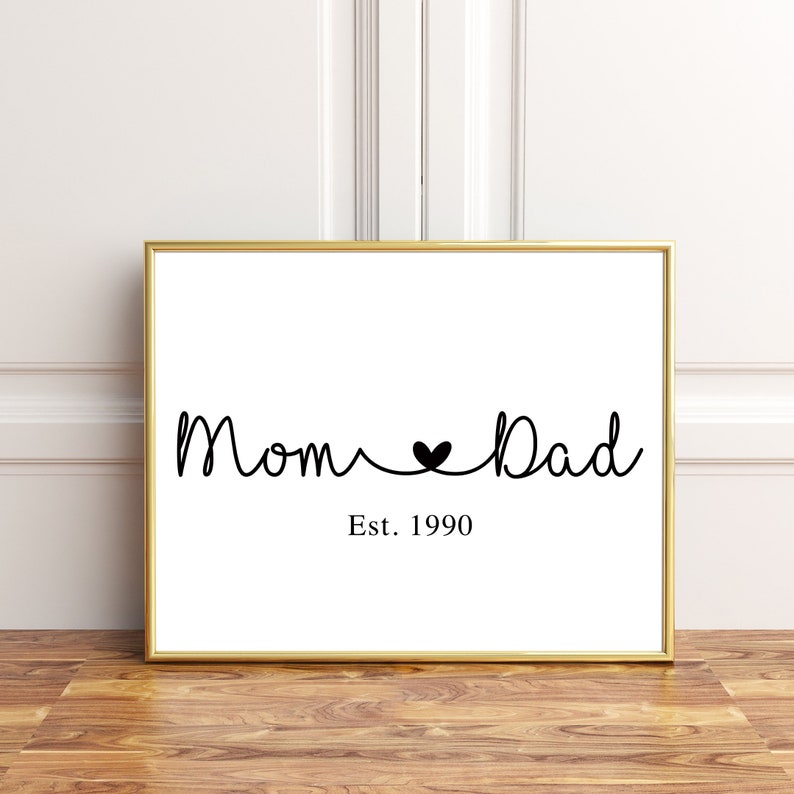 Related: How to stay fit and healthy during pregnancy
20. Color changing coffee mug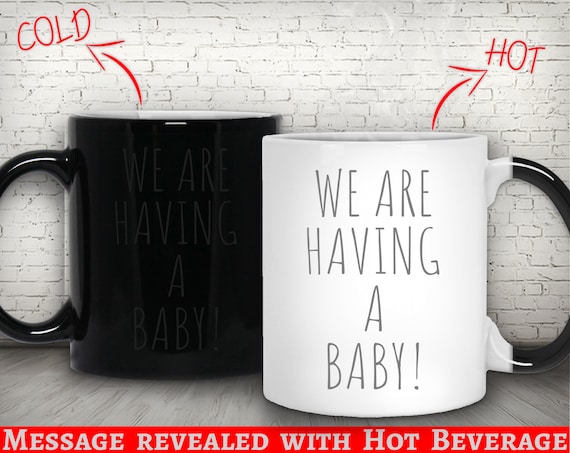 Pregnancy Announcement to Husband Pregnancy Reveal Magic mug
from: Etsy
This mug will reveal the message when you put something hot in there. It is another fun way to let your husband know that you are expecting.
21. Nursery under construction
Let him come home to find this at the door of your second bedroom and watch the reaction. I bet it will be video-worthy. You can also use this pregnancy reveal sign to achieve this.
Cute Surprise Pregnancy Announcement Ideas to Husband
I hope you loved all these ideas that you can use to reveal that you are expecting a new baby to your husband or boyfriend. By now, you should have more than one good idea that you can pull off for your announcement.
Remember to have your camera ready when they get to find out because capturing that surprise reaction is priceless.
Now that your husband is in the know…
There are going to be baby showers, birth announcements, and lots of invitations coming ahead. And you know what? It does not have to be so hard.
Allow me to introduce you to Basic Invite, a gem hidden in plain sight. Here you will find instantly customizable cards and invitations that will be a lifesaver in this phase of your life. My personal favorites are the simple birth announcements and the baby shower games which you should really check out. 
They also have free baby shower websites with an address collection feature. You will find this very useful when sending thank you cards to your guests, thank me later!
I got really excited browsing the site earlier but I don't want to oversell it to you. So, do me a favor and click on the link below to see all the good stuff for yourself. Oh, and let me know what you think when you do. 
Learn more: www.basicinvite.com
Loved these creative pregnancy announcement ideas to surprise a dad-to-be?

Share the post on social media.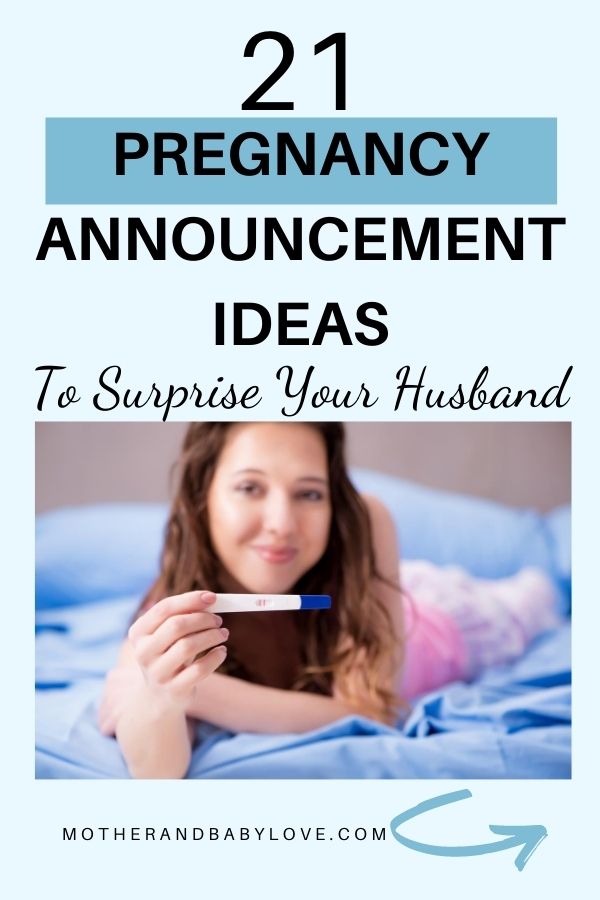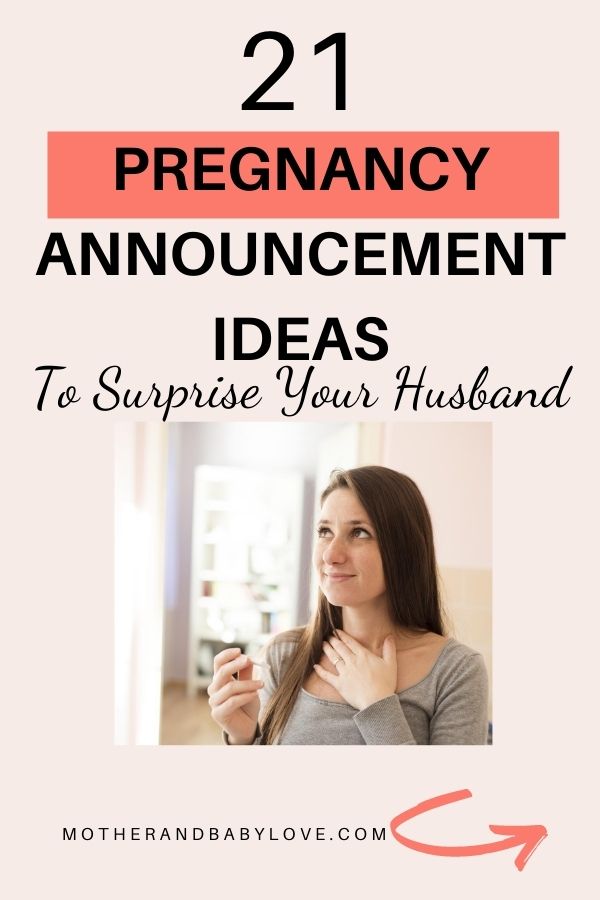 Read Next: