The Cutest Thanksgiving Pregnancy Announcement Ideas
Even during a tough year, as 2020 has been, there is always something to be thankful for and pregnancy is a pretty big reason. At least for most of us.
If announcing your pregnancy during this Thanksgiving is something on your mind, these ideas are going to get your creative juices flowing.
From cute little turkey onesies to being extra thankful and all the things in between you can create a noteworthy pregnancy reveal this thanksgiving using the ideas below.
---
More Pregnancy announcement ideas:
---
Disclaimer: Some links on this page are affiliate links and as an Amazon Associate, I earn from qualifying purchases
1. Little Turkey Baby Onesie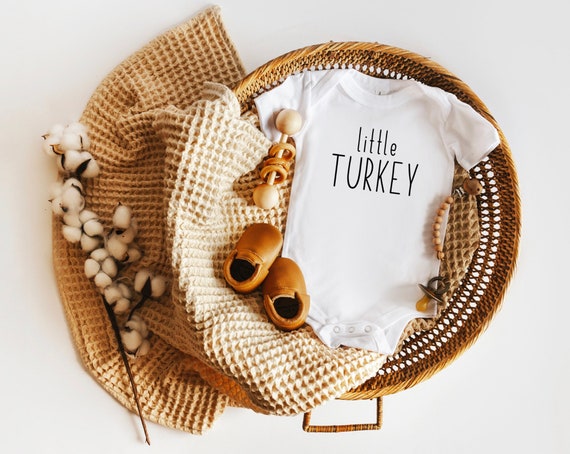 Little Turkey Baby Onesie® or Toddler T-Shirt Thanksgiving
from: Etsy
2. Personalized Bodysuits For Thanksgiving Pregnancy Announcement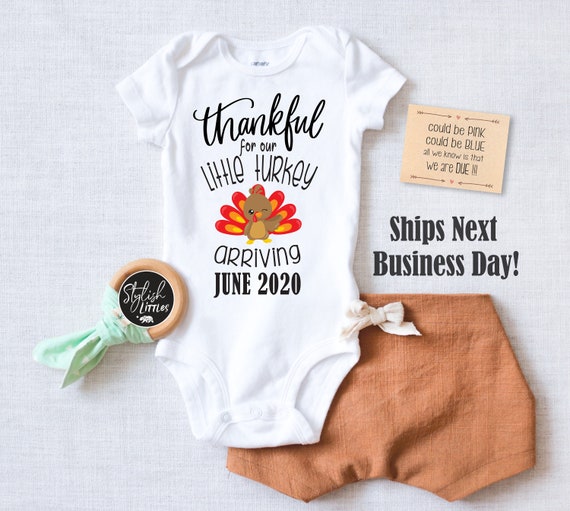 Personalized Thanksgiving Turkey Pregnancy Announcement
from: Etsy
3. One More Reason To Be Thankful This Year
You may have just a few reasons to be thankful or maybe you have a ton but you know what? Your little turkey (or is it little pumpkin?) has given you one more reason to be thankful this year.
How about sharing the news with family and friends during thanksgiving. It will be a great way to celebrate.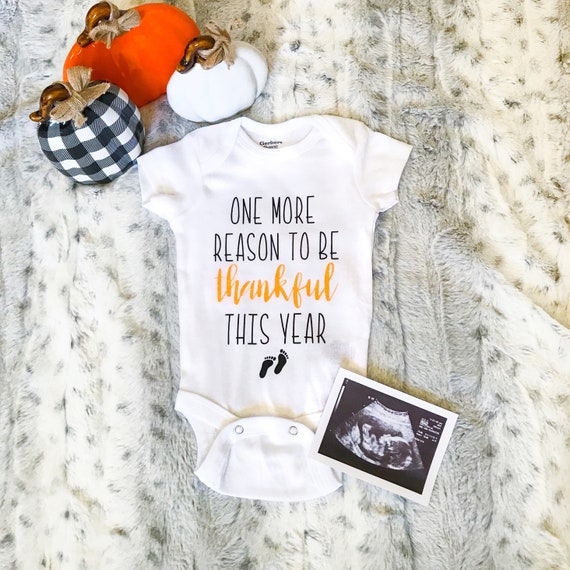 Thanksgiving Baby Announcement
from: Etsy
4. I am Thankful I am Going To Be a Big Bro Thanksgiving Pregnancy Announcement Tshirt
How about enlisting the help of the soon-to-be big brother/big sister to do the thanksgiving pregnancy reveal. I'm sure they would love to be part of the announcement.
This shirt is for boys but you can also get one for big sister and let your baby girl have their day.
5. Thanksgiving Pregnancy Announcement T-Shirts
A bun isn't the only thing that could be baking in that oven. During thanksgiving, we can have a little turkey baking in there too.
These matching his and hers shirts are a cute way to have a funny pregnancy announcement – thanksgiving themed.
6. Extra Thankful This Year…
This onesie would be so cute to use in your maternity photoshoot and then post those cute family photos on thanksgiving to do the big pregnancy reveal to the world.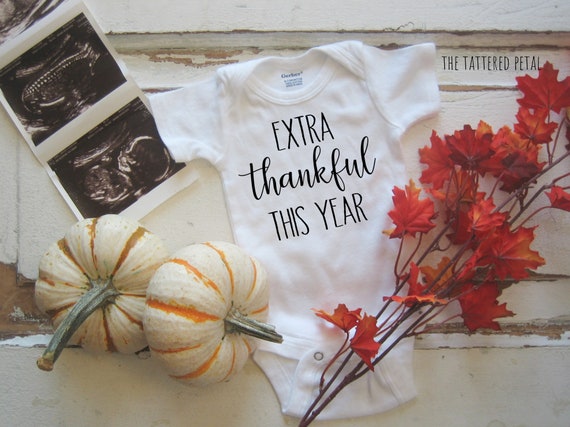 Baby announcement onesie Thanksgiving pregnancy announcement
from: Etsy
7. Thankful
There are many words to describe the feelings of expecting a little addition into the family but for many of us mamas, thankful is a major one.
I was thankful for the opportunity to grow my family, thankful that my body was able to handle it, despite the challenges, and lastly, I was just so so grateful that I get to be called mama by the sweetest little babies in the world.
With that in mind, I think this editable social media pregnancy announcement is a perfect thanksgiving pregnancy announcement idea.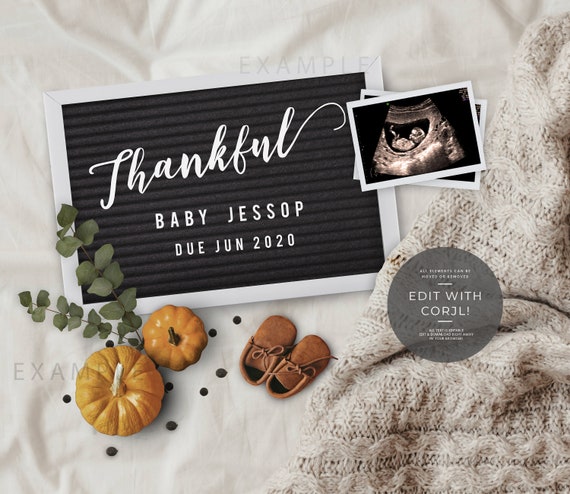 AWESOME THANKSGIVING PREGNANCY ANNOUNCEMENT IDEAS
I think all these baby announcement ideas are pretty cool. Which one is your favorite?