One of the ways you can reveal your pregnancy is by using the cute pregnancy announcement shirts in this post.
Below, I have rounded up the cutest baby announcement shirts from Amazon and Etsy.
Baby reveal shirts are really convenient to use because all you need to do is wear a shirt, show up for the next family event and surprise everyone with your wonderful news.
There are baby announcement shirts in this list for the mom-to-be, dad-to-be, couples, siblings, and family members that may be involved in the pregnancy reveal.
32 Best Baby Reveal T-Shirts from Etsy and Amazon
One more thing to note with pregnancy shirts, is that you can make the caption as funny or subtle as you want. Basically, customize it to suit your personality.
You can also find shirts that are perfect for the season that you want to do your pregnancy announcement.
From St. Patrick's Day, Halloween, Thanksgiving, or Christmas, there are lots of pregnancy reveal shirts for Holidays and other themes to choose from.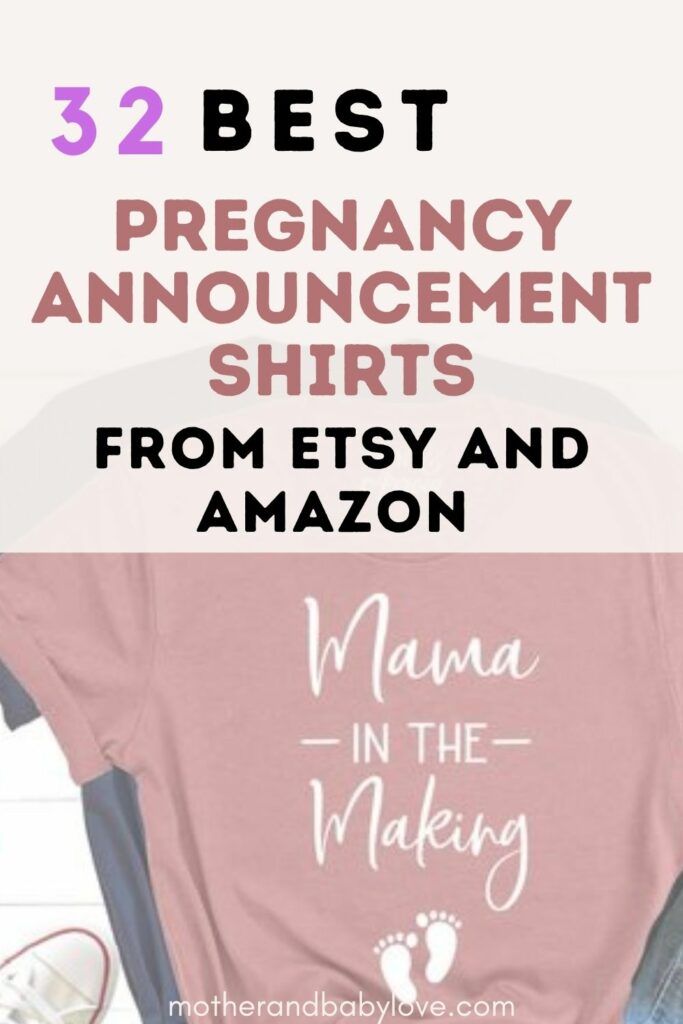 Disclaimer: Some links on this page are affiliate links and as an Amazon Associate, I earn from qualifying purchases.
To make it easier for you, I have organized the pregnancy reveal shirts into various categories. Feel free to use the table of contents above to jump to the section that you like.
By the way, the pregnancy reveal shirts come in different sizes and colors and you can request customization to your taste.
Click on the images to get more details or to buy the shirts you like.
Adorable baby announcement shirts for mommy-to-be
Coming soon Shirt for Mom-to-be
This coming soon cotton-blend shirt comes in pink, dark gray, and claret and it is available in different sizes on Amazon.
You can pair it with jeans and wear them for a pregnancy reveal photoshoot or to visit family and announce your pregnancy to them.
Who said you can't be pregnant and still look stylish?
Pregnant as a Mother Shirt
This funny "Pregnant as a Mother" pregnancy announcement shirt is from THE-COLLECTION on Amazon and comes in a variety of colors and sizes. According to the reviewers, it is very comfortable.
I think it would make a great gift too for your pregnant mama friend or sister.
Mama in the Making…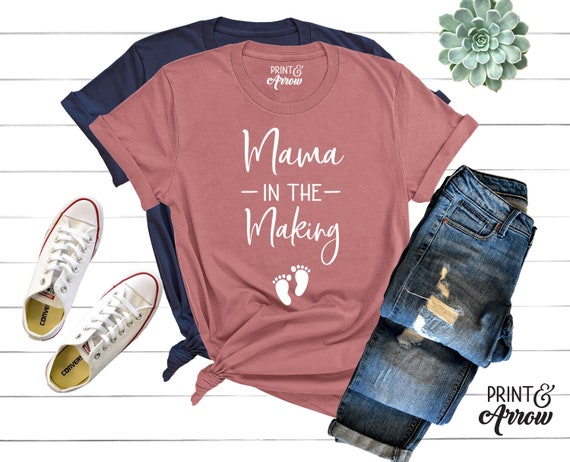 How cute are those little feet on this Mama in the making shirt! It is also available in more than 20 color options from Print & Arrow on Etsy.
I think this would be such a thoughtful gift from a husband to his pregnant wife. You can wear it for your pregnancy reveal, your baby shower, heck I would even wear it for no occasion since it is so pretty.
Print & Arrow also has many more pregnancy shirt options. With over 70k sales on Etsy, I think they are doing something right with their shirts. And honestly, all the reviews I went through were positive.
Tv-Show/Book Themed Pregnancy shirts
Are you a big fan of The Office, Harry Potter, Friends, etc? You can actually get a maternity shirt with a quote or reference to your favorite character, tv show, or book.
Here are some really cute ones you may want to check out:
The Office Pregnancy Shirt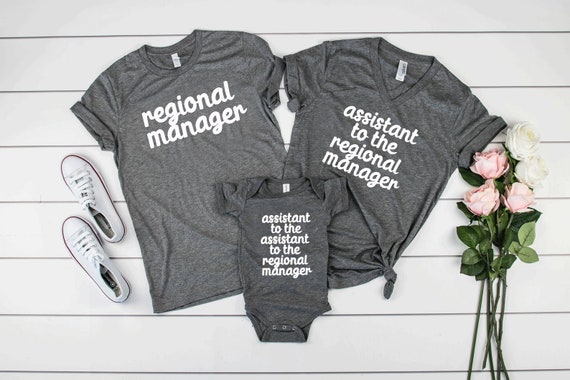 The Office Pregnancy Announcement
Are you and your husband The Office fans? Great. You will be glad to announce the addition of the assistant to the assistant to the regional manager with this cute shirt set.
Friends Baby Announcement Shirt: The one where everyone finds out I'm P.R.E.G.N.A.N.T.
This shirt on Amazon is perfect for you if you are a Friends fan.
There is also one that says "The one where we become parents" that's the perfect baby announcement shirt for the supportive daddy-to-be.
Harry Potter Bump Reveal Shirt: Expecting Patronum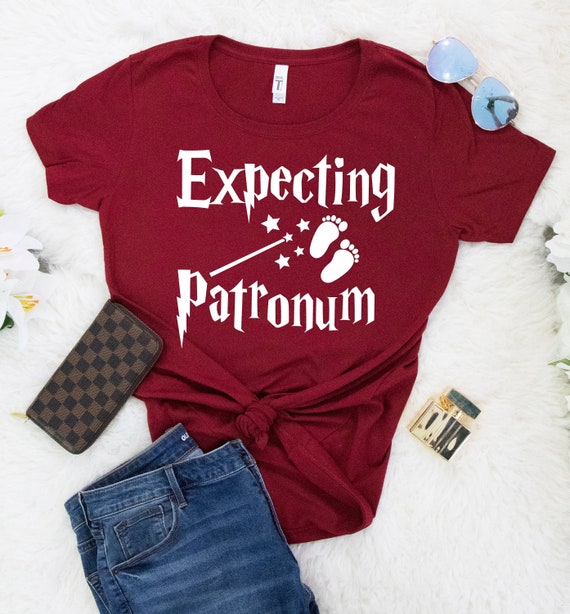 Pregnancy announcement shirt baby announcement shirt
from: Etsy
Harry Potter fans, this custom made pregnancy announcement shirt from The Bachelorette Hub on Etsy is perfect for you. It's also available in other colors and captions.
Baby announcement shirts for couples
Promoted to Daddy, Promoted to Mommy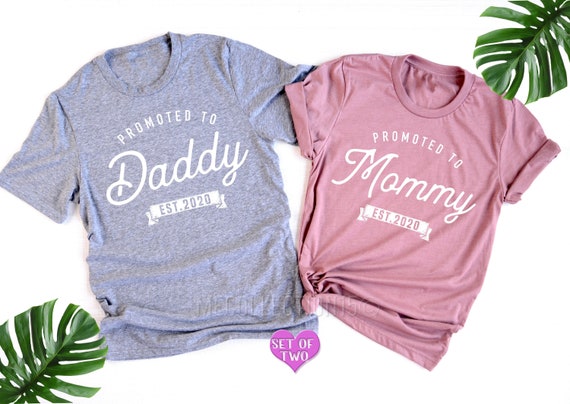 Pregnancy Announcement Shirts for CoupleBaby Announcement
from: Etsy
These matching couple shirts are great for first-time parents. The perfect way to announce your promotion to parenthood.
It's Not A Trick, We a re Expecting a Little Treat, Halloween Couples' Shirts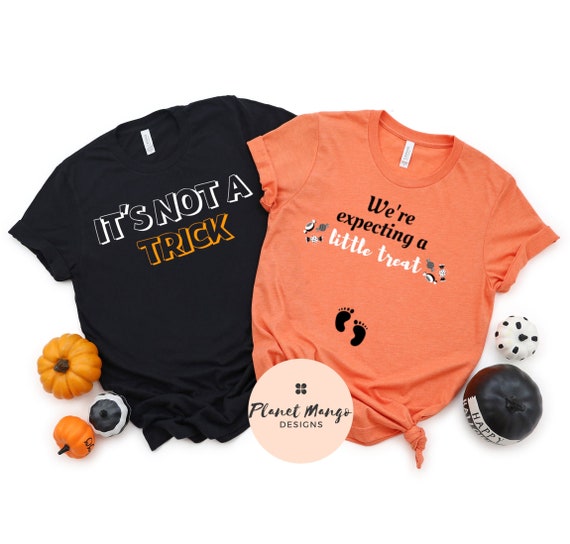 If you are doing a Halloween family baby reveal, these Trick or Treat pregnancy announcement matching shirts for couples will come in handy. Click on the image to order them.
Related: Halloween pregnancy announcement ideas
Christmas Couples' Pregnancy Reveal Shirts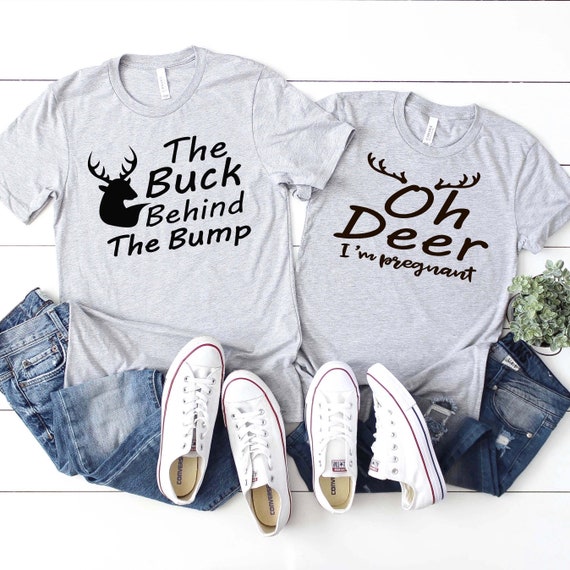 These couples' pregnancy shirts are such a cool way to announce your pregnancy to family in the fall. The new mom says, "Oh Deer I'm Pregnant!" and the proud soon-to-be daddy acknowledges, "The Buck Behind The Bump" 😍.
These shirts just make me think of the holidays. Which is perfectly appropriate since we are counting down to Christmas at this point.
The shirts are unisex and available in 9 different colors.
Related: The Best Fall Pregnancy announcement Ideas
Pregnancy announcement T-shirts for siblings- Second Baby (Or Third, Fourth…) Baby announcement
If this is not your first baby, older siblings will gladly want to be involved in your pregnancy reveal.
Pregnancy announcement big brother shirt for baby sibling announcement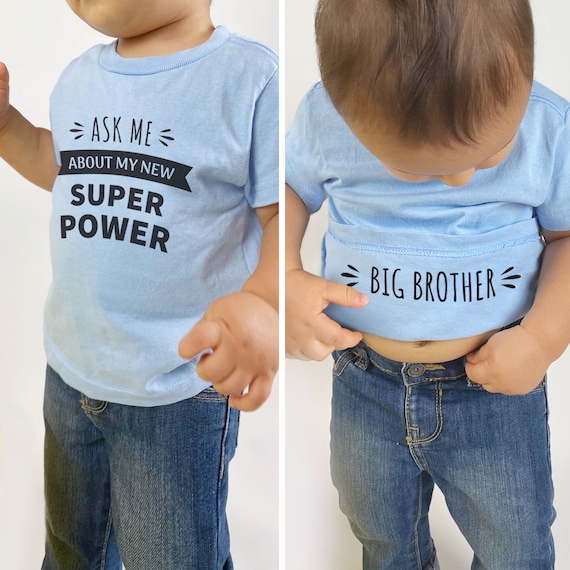 This "Ask me about my new super power" shirt is so cute. I imagine visiting family with my son wearing this and then encourage them to ask him, and then once they ask, you tell him to turn the shirt and show the inside which says "Big Brother."
It might take a second before it clicks, but when it dawns on them what that means, it will be so cool!
Custom Big Sister Sibling Shirt For Pregnancy Reveal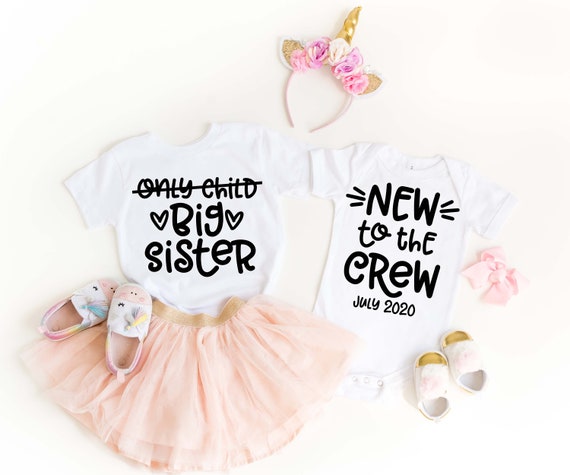 This big sister shirt is really cute , I would use it for a photoshoot and then use the photos to announce on social media.
I have a secret, I'm going to be a big sister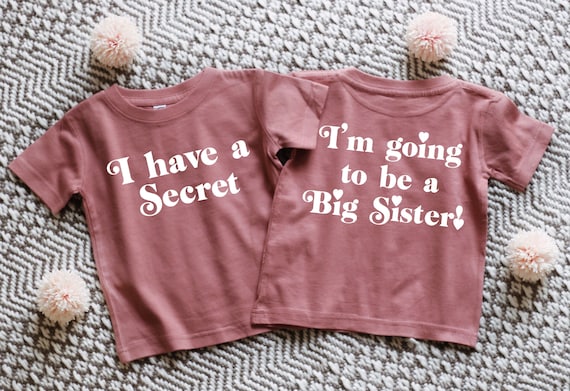 The front side of this shirt says, I have a secret. Then the back reveals the secret. It's pretty awesome if you ask me.
–>> Shop My Favorite Pregnancy Items<<–
Funny pregnancy announcement shirts
Yes I am Pregnant. I Feel Fine. No you Can't Touch My Belly…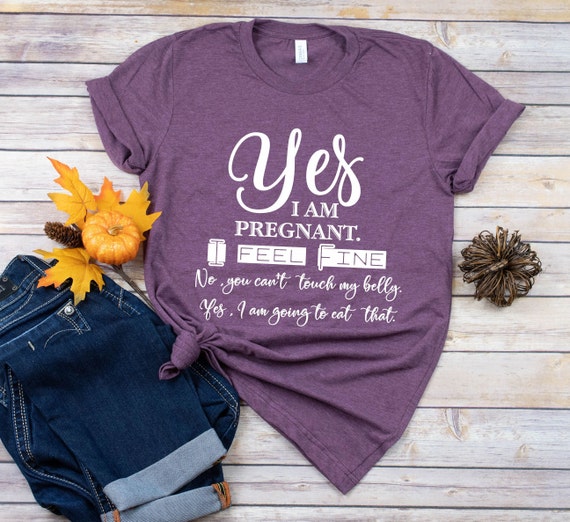 And yes, I am going to eat that. Haha.
This shirt is so hilarious. You are basically answering all the questions before they are asked and who wouldn't want that when you are dealing with pregnancy exhaustion? I love it.
You Can Stop Asking Now, Baby announcement Shirt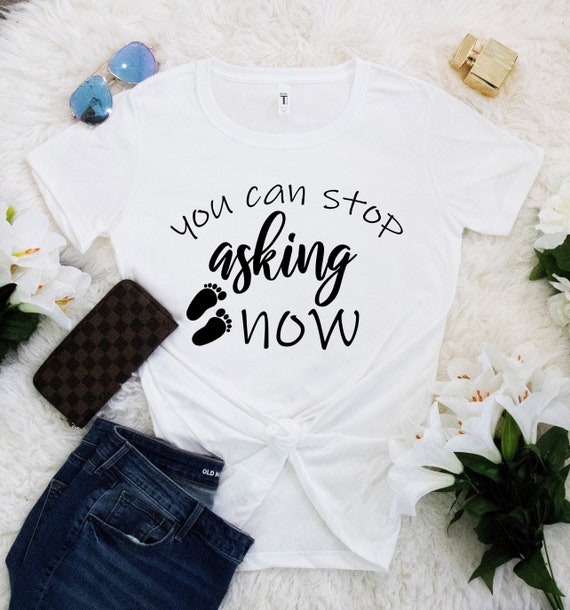 Pregnancy announcement shirt baby announcement shirt
from: Etsy
If your friends and family have been constantly on your case asking when you are going to have a baby (which is a question people should stop asking couples, seriously), this is a perfectly appropriate shirt for revealing your pregnancy.
Now, if the person who has been asking the most is your mama, maybe you can send them this shirt in the mail to let them know they are going to be grandma. No?
She's Eating For two… Baby Announcement Shirt For Daddy-To-Be
She's eating for two, I'm drinking for three. Yeah, right😂
I love this funny pregnancy announcement shirt for new dads that I found on Amazon.
Funny Quarantine Baby Reveal Shirts
Before 2020 terms like quarantine, social distancing and lockdown were unheard of. Fast forward and now they are probably the most used terms of 2020 and even pregnancy reveals are now themed around them.
Having a baby in the middle of a pandemic is tough, so you better find ways to infuse humor into the journey to get through it. These pregnancy announcement t-shirts are perfect examples of that
Quarantine got me knocked up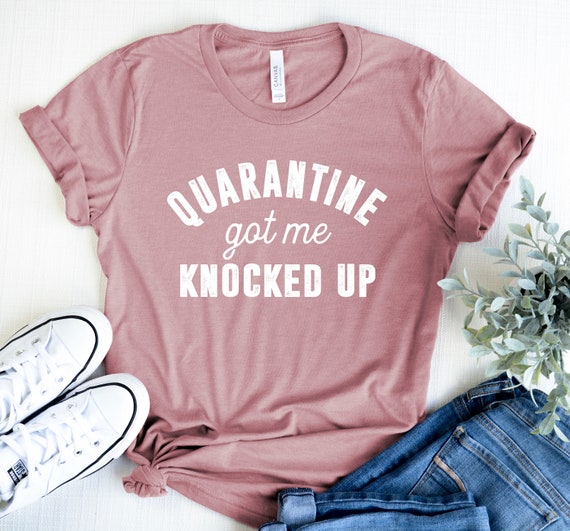 We failed social distancing matching couples shirts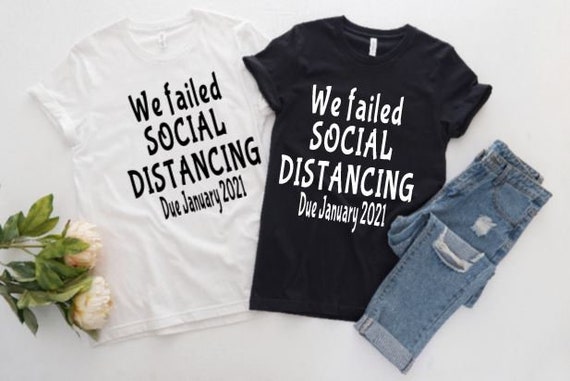 Baby in Quarantine Customizable Maternity Shirt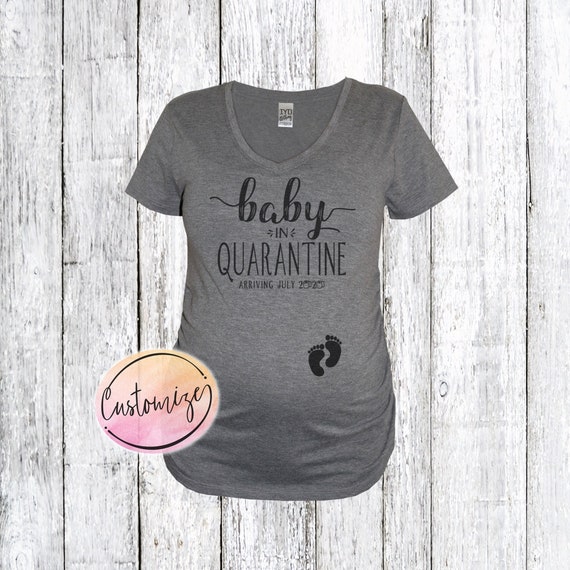 Instead of baby arriving on…, you can actually customize this to read, lockdown ends on… to stay on theme. What do you think?
Q.U.A.R.A.N.T.I.N.E. The One where I got pregnant – Friends +Quarantine Pregnancy announcement shirt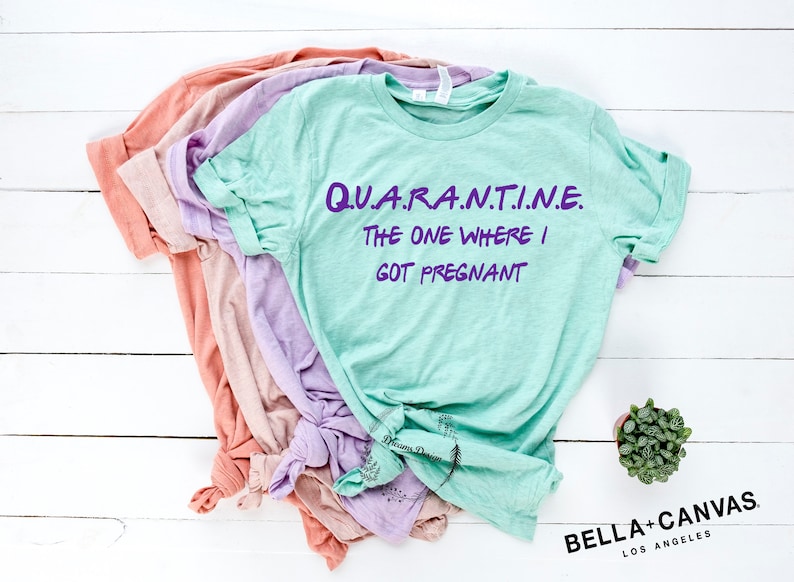 I tested Positive but not for COVID Baby Announcement Shirt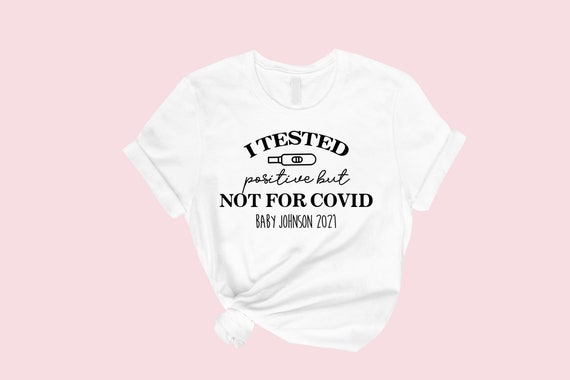 Funny pregnancy shirt Quarantine pregnancy announcement
Since everyone is afraid of testing positive for COVID, why not use that line. This is a nice shirt for people with a good sense of humor.
Pregnancy announcement shirts for the family
Promoted to Grandma, Promoted to Grandpa Pregnancy Announcement t-shirts for the grandparents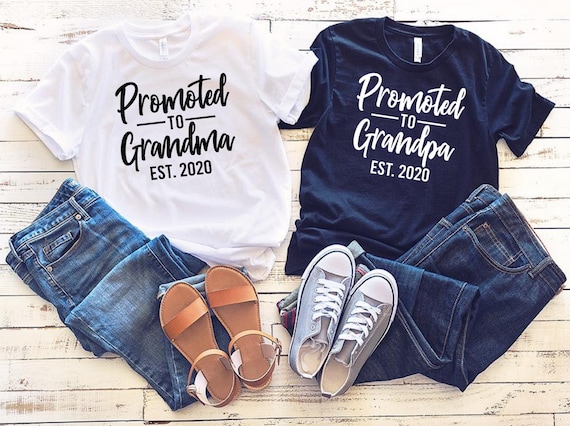 If your parents live far from you, a cute way to announce your pregnancy to them is by sending them these t-shirts in the mail. You can ask them to record themselves on video as they open the package or even better, have them video call once they receive the gifts.
Watching them catch the surprise and seeing their reactions is priceless. If this is their first grandbaby, expect even more excitement.
Promoted to Auntie, promoted to uncle Shirt for Pregnancy Reveal Photoshoot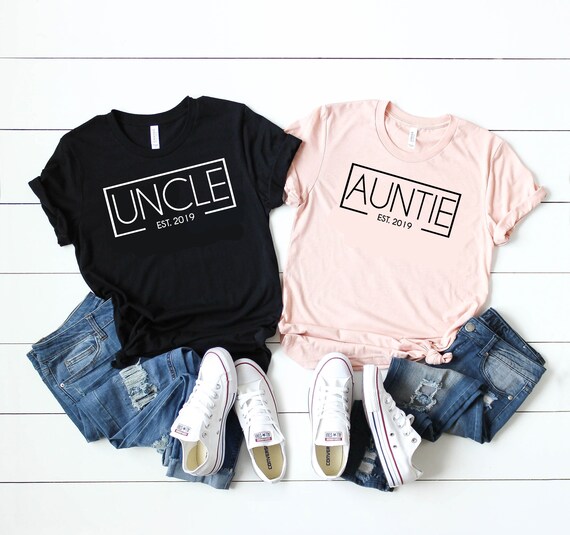 Family matching shirts For Mommy, daddy, big sister/brother and Little sister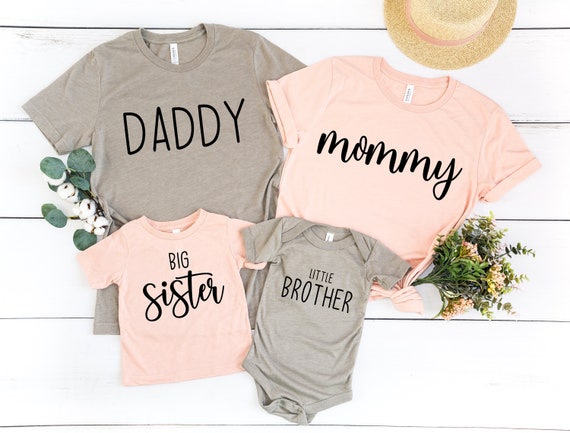 Thanksgiving pregnancy announcement T-shirts
I'm Stuffed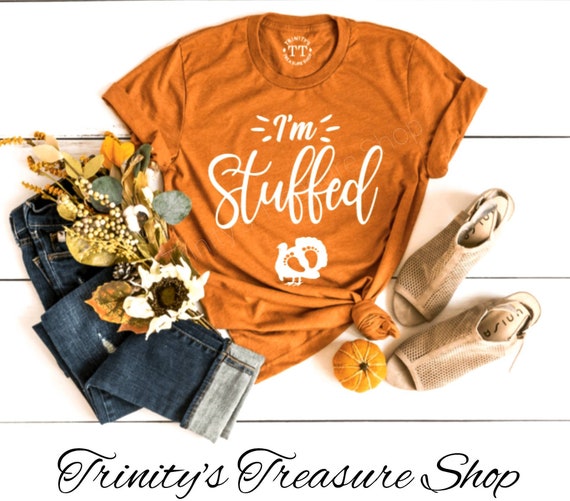 The turkey won't be the only thing that will be stuffed this Thanksgiving and you better let the people know with this pretty baby announcement shirt.
Grateful, Thankful, Preggers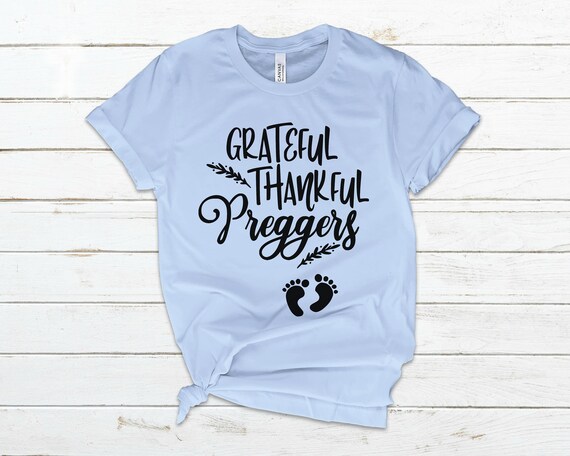 It may take some people a minute before they get what you mean in this shirt. Hopefully the little feet at the bottom will help them to decode.
One More Reason To Be Thankful This Year – Unisex Baby Announcement Shirt
With a little turkey baking in the oven, there is definitely a reason to be extra thankful. It is even more so if you have been trying to conceive and finally get to do your reveal on thanksgiving.
She's My Sweet Potato, Yes I Yam Pregnancy Announcement Shirt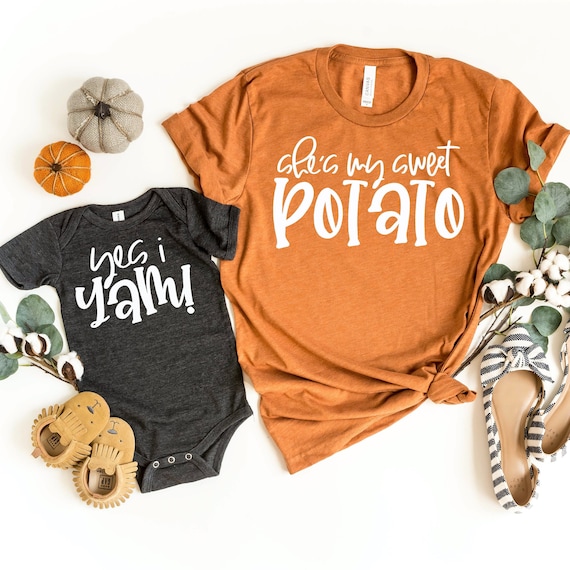 Related: Thanksgiving pregnancy announcement ideas
Christmas pregnancy announcement shirts
No More Silent Nights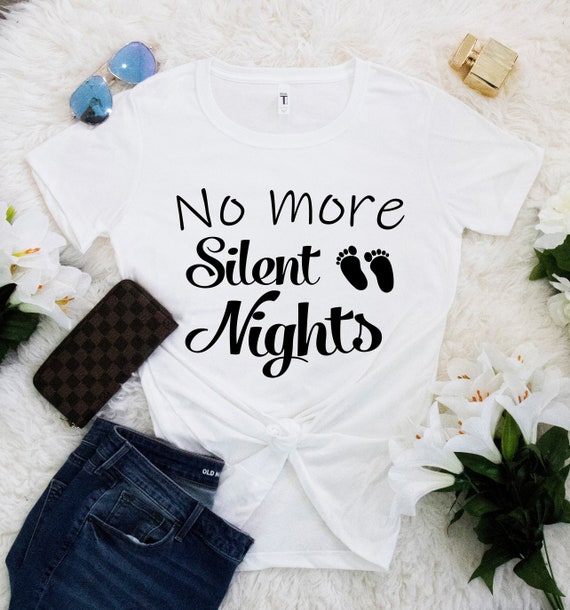 Such a realistic expectation of life with a newborn here. And the little feet get me, every time.
Funny Christmas Pregnancy Announcement T-Shirt for Dad
"She jingled my bells and now she's pregnant". This Christmas pregnancy announcement shirt is not for everyone, but for the right person, it is everything.
Santa is promoting me to big brother – Christmas baby announcement shirt
What better gift would you get from Santa than a promotion to big brother. Your older baby will love this.
Pregnancy Announcement Shirts for Pet Parents
Mom and dad are getting me a human, yay!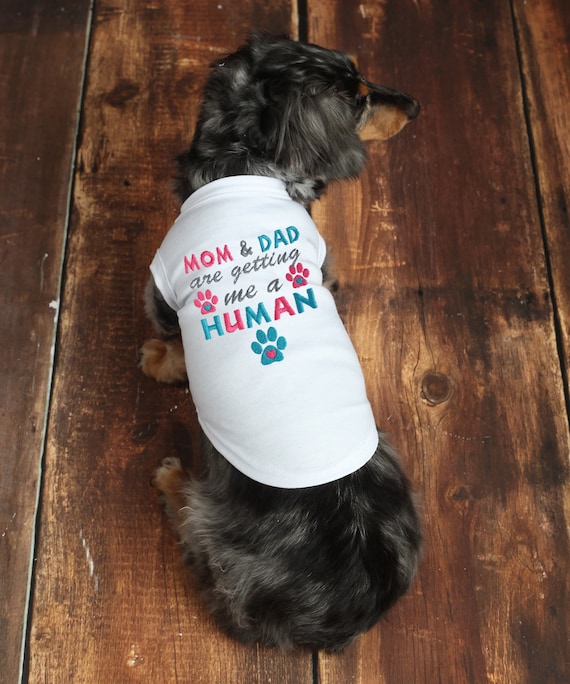 Get the help of your fur baby to announce your promotion from dog mama to human mama with these cute shirt.
We're hoping it's a kitten
If you love cats and enjoy some sarcasm, this sarcastic maternity t-shirt is for you. Available in more colors and sizes.
Our Fur Babies Wanted a Friend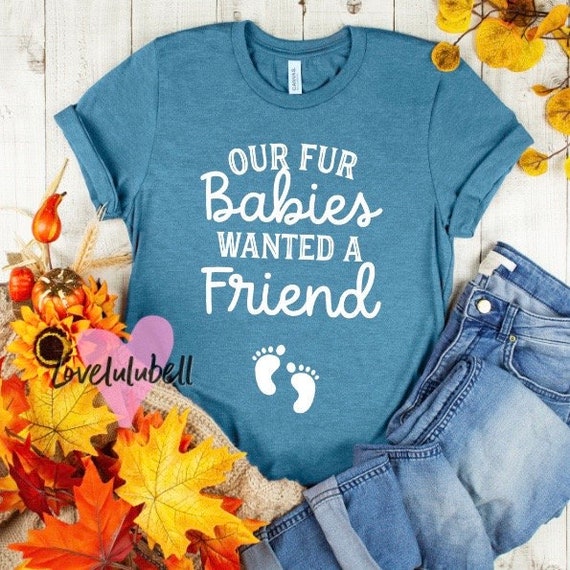 Our fur babies wanted a friend Pregnancy announcement shirt
Did you use a pregnancy announcement shirt for your reveal?
READ NEXT: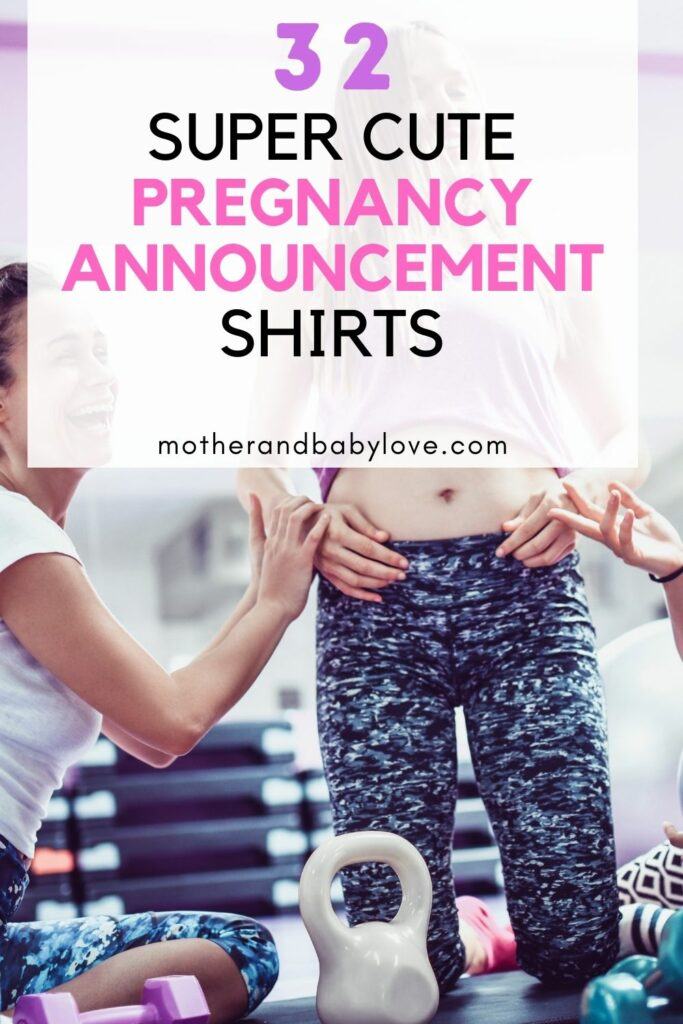 Join our Facebook group for First Time Moms and find your community