Pretty Baby Girl Names Beginning With Letter K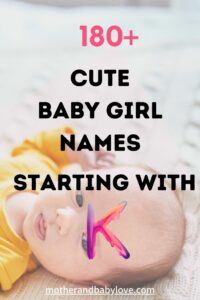 Whether you are looking for classic baby girl names that start with K like Katherine, or cute modern names for your little girl like Kyla, there are enough names in this list to pick from.
Read on for super cute K names for girls. There are over 180 of them!
Many of the names here won't be found on the top 100 popular baby names 2019 list which makes them even more appealing because they are unique.
Beautiful Baby Names For Girls That Start With Letter K
I have included some short and sweet baby girl names starting with K in the list. For all of you lovely parents who love super short baby names.
If K is your chosen letter, or you just want to keep it going in the family, be ready for the most amazing beautiful baby girl names starting with K.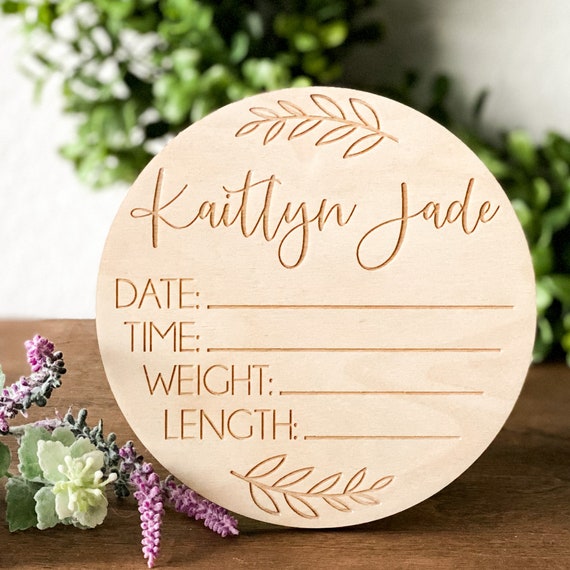 Hospital Welcome Sign Baby Announcement Plaque – Newborn Name
How cute is this hospital baby announcement plaque that I found on Etsy? It's the perfect addition for your hospital photos with your newborn and the best part, it can be customized to whichever name you pick.
Okay, I have digressed but I will share a few more cute nursery decor items at the end of the post because they are too good not to share. Check them out at the end.
180 + Cute Baby Girl Names That Start With K
Unique baby girl names starting with K
Kaari
Kabryna
Kacey
Kadena
Kadence
Kadeson
Kadey
Kadi
Kady
Kaeloni
Kaelyn
Kaezleigh
Kai
Kaia
Kailonie
Kaira
Kairi
Kairie
Kaislee
Kaisley
Kaitlyn
Kaiya
Kalahni
Kalani
Kalanie
Kaleah
Kaleigh
Kaleina
Kali
Kaliana
Kalina
Kaliska
Kalista
Kaliyah
Kallie
Kamaiya
Kamala
Kamari
Kamaria
Kamayah
Kamden
Kameron
Kami
Kamila
Kamiya
Kamla
Kammie
Kamora
Kamryn
Kamrynn
Kamya
Kandace
Kandy
Kannin
Kanoe
Kara
Karan
Karas
Kareen
Kareena
Karenza
Cute K Girl Names that aren't overused
Karis
Karleigh
Karly
Karlynn
Karmalita
Karmyn
Karri
Karson
Karsyn
Karter
Kasandra
Kasiah
Kasidee
Kassidy
Katalayah
Kataleya
Katalia
Katarina
Katerina
Katherine
Kathleen
Katiana
Katrina
Katya
Kaya
Kayden
Kaydence
Kayesha
Kayla
Kaylani
Kaylee
Kayleen
Kayliana
Kaylor
Kaylynn
Kaymoni
Kaytlin
Keandre
Keeley
Keely
Kehlani
Keira
Keirra
Kelani
Kelcie
Keleisha
Kelsey
Kendall
Kendra
Kennedy
Kensie
Kenzie
Kenzlee
Keri
Keria
Kesler
Keyaira
Keyawna
Khaila
Khaleesia
Khalli
Beautiful K Names for Girls that are Unique
Khamera
Khamila
Kharri
Khiya
Khylie
Kia
Kiah
Kiana
Kiara
Kiari
Kiarna
Kiera
Kieran
Kierson
Kiersten
Kilani
Kimber
Kimberly
Kimble
Kimbreigh
Kimmie
Kimora
Kinessa
Kingsley
Kinley
Kinlynn
Kinslee
Kinsley
Kinzlee
Kiona
Kiyah
Kleo
Knighton
Knoxlyn
Kolby
Kolsen
Konnie
Kora
Korine
Korra
Krimson
Krista
Kristalina
Kristen
Krystle
Kurin
Ky
Kyah
Kyane
Kyara
Kyella
Kyla
Kylar
Kyleigh
Kylene
Kylie
Kylinn
Kyra
Kyree
Kyrie
Related: 50+ Cute baby girl middle names for Olivia
My favorite short baby girl name that starts with a K on this list is Ky. I think it sounds so cute and complete despite having only two letters.
What is your favorite baby girl name that starts with K?
Did you not find a K girl name that you like? Check out more baby names in the lists below
Struggling to find K girl names that you love?
If you are still struggling to come up with a baby name that both you and your partner love, be encouraged. You are not alone.
Coming up with baby names that both you and your spouse agree on can be challenging.
Like in our case, the baby names that I loved, my husband did not care much for. And then the names that he really liked, I did not. We went through a lot of baby names before finally settling on one. And this was actually the case for both baby girl names for our second and baby boy names for our first.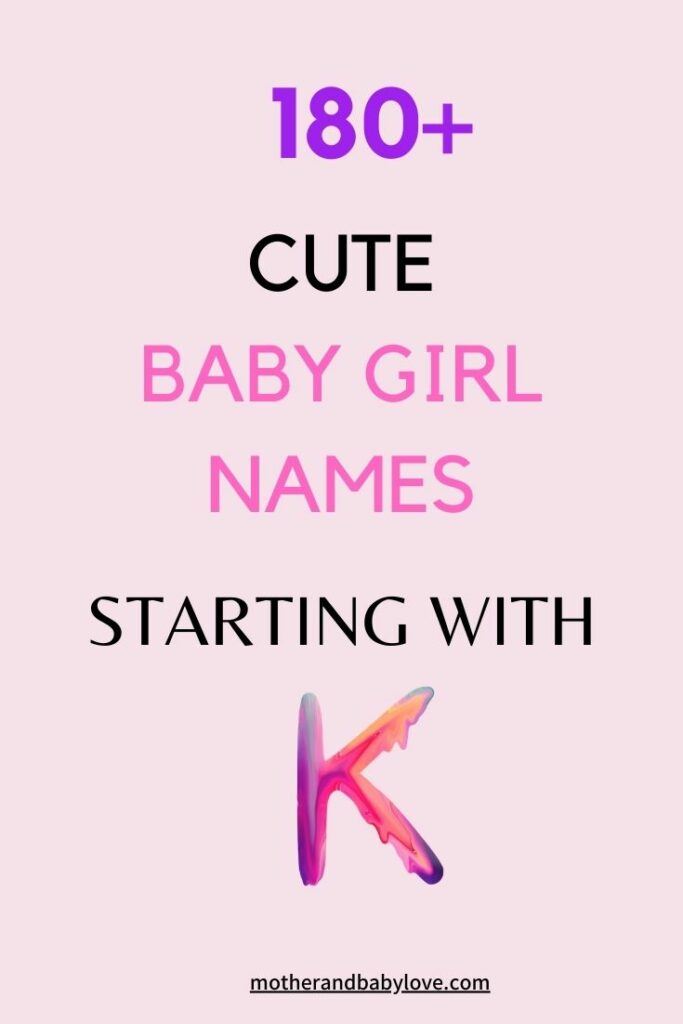 Tips to Help you With Coming up with a Beautiful K Baby Name for your Girl
After having discussions with a number of parents, some of them in our Facebook group (you should join, by the way, 😉) it seems like this is a common challenge in many families.
One thing I have learned with picking baby names is that it is good to give yourself permission to play with spelling and pronunciation.
So, if let's say your spouse really loves a name or the baby name has some other significance attached to it, try to play around with the spellings or the pronunciation and see if you like it.
Checking the meanings of a name can also be an easy way to eliminate them or find names with similar meanings that you like better.
It is not an easy thing to choose a baby name and for some parents, you have to see the baby to find a name that actually suits them. So don't beat yourself up if you haven't found a name yet.
Picking a unisex name is also a good alternative when you feel like you are stuck and we have a nice list of 25 unisex names and their meanings that you can check out.
Cute nursery decor items that are too cute not to share:
Llama Baby Cot/ Crib Mobile for Nursery
This Llama cot mobile made of felt ball is stunning and irresistible. No wonder it is a bestseller on Etsy. I think it is such a nursery decor essential in any home and it would make a great baby shower gift as well. So go get it, folks!
Just click on the image or the button under it.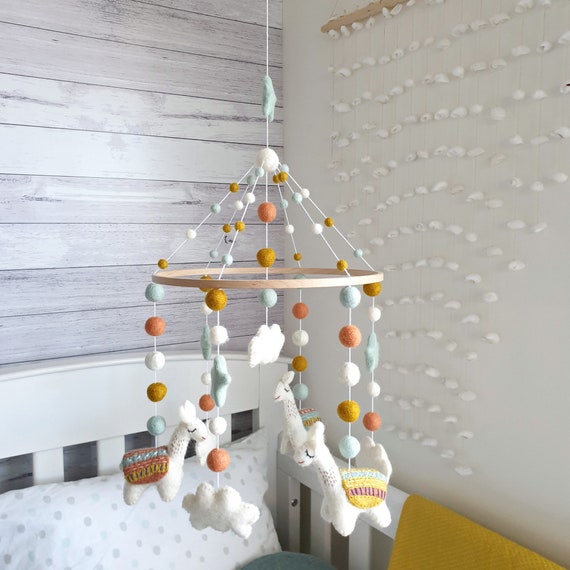 2. You are My Sunshine Set of 3 Nursery Prints
This set of 3 prints are so adorable and will bring such a ray of sunshine to any home.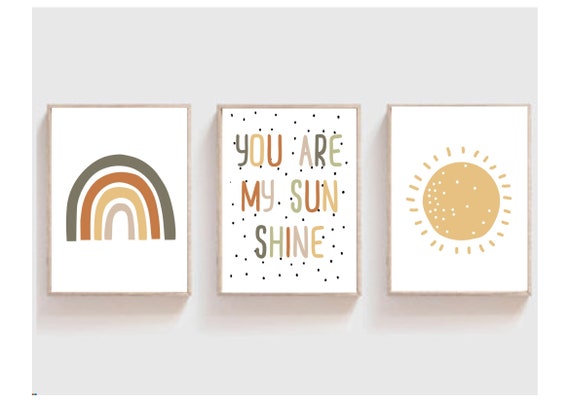 3. Headband and Bow Holder
As a mama to a cute little girl, you are definitely going to need someplace to store headbands and bows. This beautiful headband and bow holder on Etsy can be personalized to make your nursery both organized and looking cute.
You can thank me later 🙂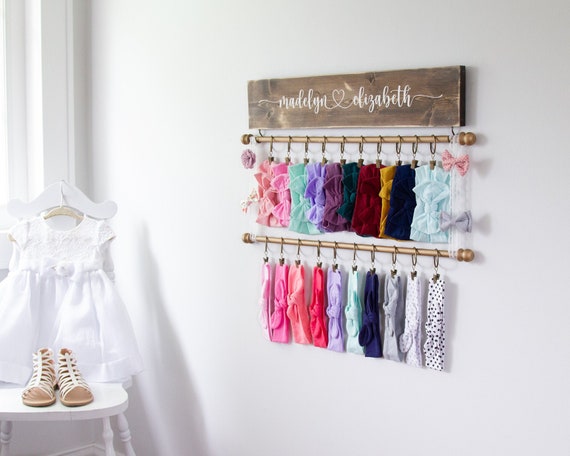 Did you find a cute baby girl name beginning with K that you love, please share in the comments, I would love to hear it!
For more nursery decor items, click here.