I promised to create a list of vintage baby boy names for the parents who prefer a little old-fashioned sounding name. The old fashioned baby girl names list was very popular so I am making good of that promise for my boy moms (and dads).
If you haven't seen my list of old-fashioned baby girl names that are totally in style in 2020, you can find it here.
The thing about vintage names is that they are so easy to remember and everyone knows how to pronounce them correctly. For parents who like simplicity and want names that will never go out of style, vintage baby boy names are a perfect choice.
When selecting the names for this list, I went for names that are not complicated and don't have any fancy spelling.
When it comes to old-fashioned baby names, I feel like they are so likable because they are familiar. The simplicity and familiarity are what makes the names so special.
Some links on this page are affiliate links and as an Amazon Associate, I earn from qualifying purchases.
Because they are timeless names, they make other people feel comfortable, and more relaxed when they hear the name. And when you tell someone your name is Paul, they most certainly will smile because it is so easy to remember.
The other thing I have found really interesting with baby names in 2020 is that some people are moving away from all the "fancy" baby boy names and leaning more and more towards the classic sounds. And I kinda like that.
If you would much rather prefer the unique and rare baby boy names, no judgment here. I have a huge list that you can find some name inspiration from and even download the printable version.
90 Timeless Vintage Names For Baby Boys in 2020
Alexander
Alfred
Anderson
Anniston
Arlow
Barrett
Beckett
Bennett
Blake
Bobby
Boone
Bowen
Branson
Brooks
Byron
Caleb
Camilo
Cash
Cassidy
Christopher
Clark
Clyde
Colton
Craig
Dallas
Davis
Dawson
Deacon
Duncan
Eli
Elijah
Elwood
Felix
Garrett
Graham
Grant
Gregory
Hank
Harold
Harper
Harrison
Henry
Holden
Hudson
Jameson
Jefferson
Jeffrey
Jesse
Joel
Joshua
Kingston
Lawrence
Levi
Macoy
Marcus
Mario
Mathis
Maxwell
Michael
Mitchell
Montgomery
Morgan
Nathan
Neil
Nelson
Oliver
Owen
Preston
Quinn
Raylan
Reed
Reid
Remington
Richard
Robert
Roger
Roland
Samuel
Scott
Silas
Stratton
Sutton
Travis
Warren
Wesley
Wesson
Weston
William
Wyatt
Zachary
There you have it.
I hope you found the perfect name for your baby boy in this list. If not, don't worry I have over 300 names more to choose from.
>>> Find 300+ Perfect Baby Names For Boys<<<
Fun fact: Did you know that William, James and Oliver made it to the top 5 baby names in the US in 2018? Yeap, according to the Social Security, they were number 3,4, and 5 respectively.
Too bad the 2019 most popular baby names list hasn't been released yet due to the COVID-19 pandemic.
Did you find a vintage baby boy name that you loved? Let me know which one is your favorite in the comments.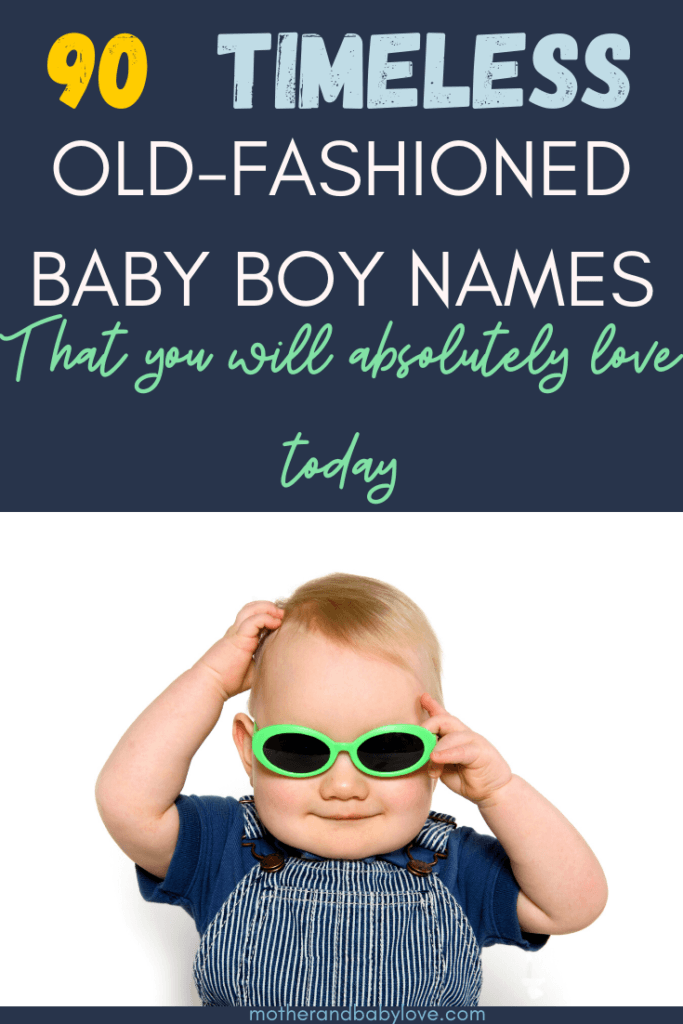 Read Next: