Congratulations on your pregnancy! Isn't it a joyful thing for a joyful season? I love Christmas, I love motherhood and pregnancy announcements truly melt my heart. That means I had lots of fun scouring the internet and putting together the most beautiful and fun Christmas pregnancy announcement ideas for you.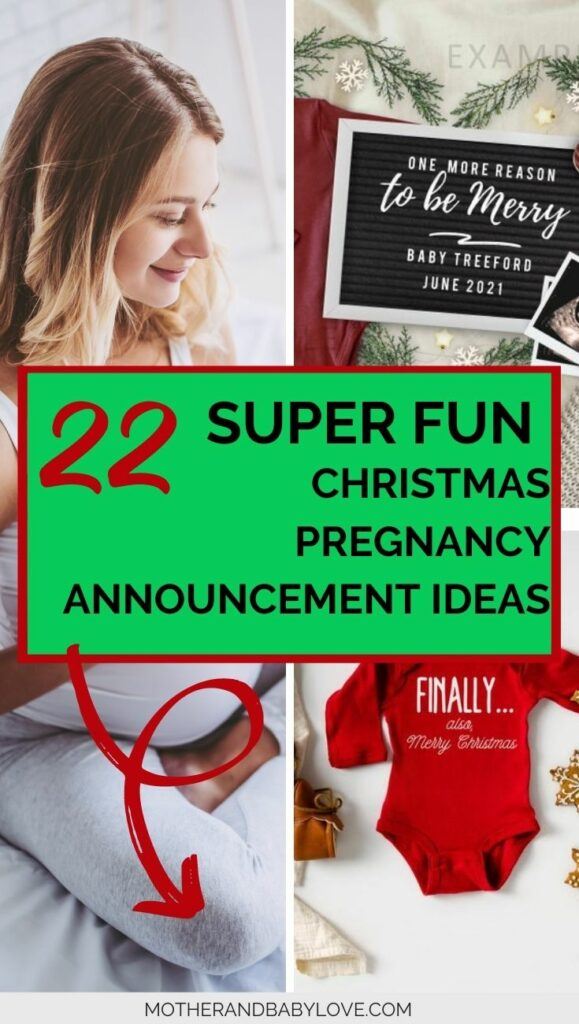 I hope you get the perfect one to reveal your pregnancy to family and friends this Christmas.
Keep scrolling, you'll see the huge selection.
Whether you want to announce your pregnancy to family in person, to do a pregnancy reveal on social media, or to send them some cheery Christmas baby reveal cards, these fun pregnancy announcement ideas are worth checking out.
Disclaimer: Some links on this page are affiliate links and as an Amazon Associate, I earn from qualifying purchases
I am pretty sure you will find at least one pregnancy reveal idea that is perfect for you. Personally, I would be spoilt for choice.
Okay, let's get to the fun part of this post.
How to tell your husband that you are pregnant on Christmas.
Now before we get to telling family and friends, your husband, boyfriend, or significant other needs to be in the know. If announcing your pregnancy to your husband is in your plans for Christmas, we have some ideas for you.
Here are some fun ideas to do a surprise pregnancy reveal to your husband on Christmas:
1. Finally! Pregnancy Reveal to Husband Bodysuit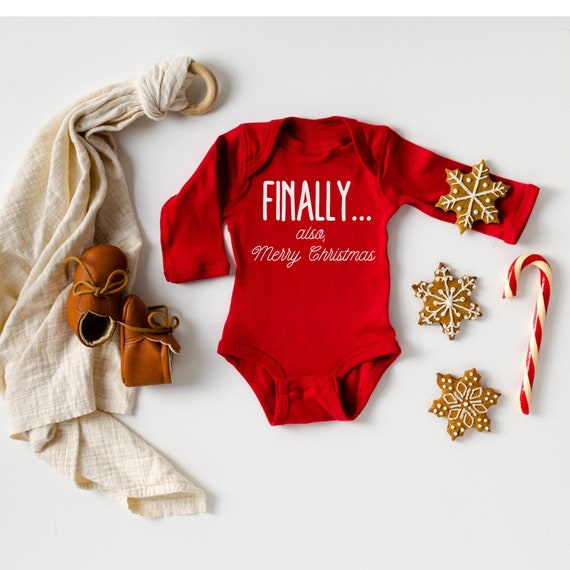 Finally…pregnancy announcement bodysuit
from: Etsy
This cute pregnancy announcement bodysuit is perfectly themed for Christmas. It will be a great Christmas gift for your husband especially if you have been trying to conceive for some time.
Order it from Parkwood Co on Etsy
2. Customizable Pregnancy Announcement Christmas Ornament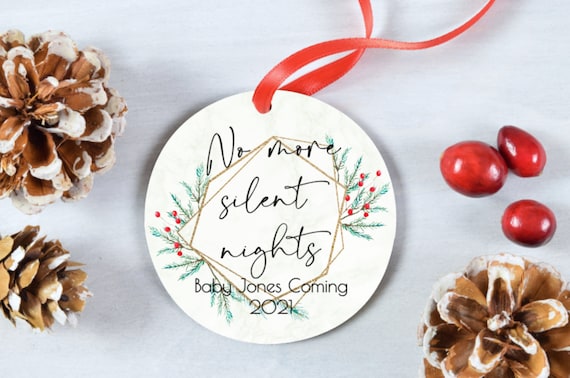 A customizable Christmas ornament is another cool way to announce your pregnancy to your husband. Be sure to personalize it to your liking and then use it to decorate your Christmas tree.
It will be a pleasant surprise for your husband when he checks on your new decoration, only to find the most awesome news. Merry Christmas! (in Santa's voice😊)
Also check out: 21 Creative Pregnancy Announcement Ideas to Reveal Your Pregnancy to Your Husband
3. Custom Baby Announcement Onesie – Husband's Christmas Gift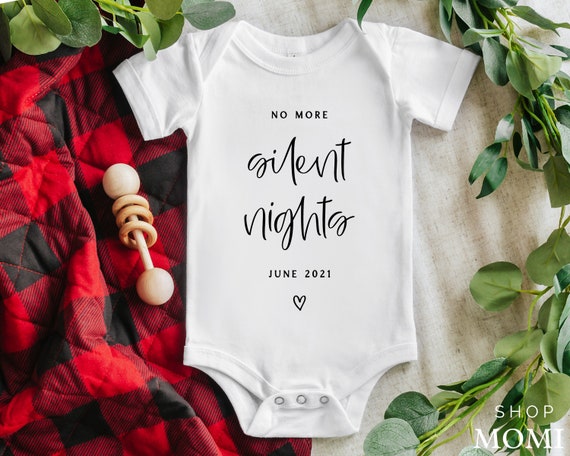 How cute is this pregnancy announcement onesie? The perfect Christmas gift for your husband.
Can't wait till Christmas? Here are other sweet ways to surprise your husband with your pregnancy news.
How to Announce your Pregnancy to family at Christmas
There are many ways to announce your pregnancy to your family during Christmas even if you are not gathering this year.
The main thing is the element of surprise and including some holiday/ Christmas-y elements to bring on the holiday cheer.
4. It's the Most Wonderful News of the Year Onesie- Christmas Pregnancy announcement to Family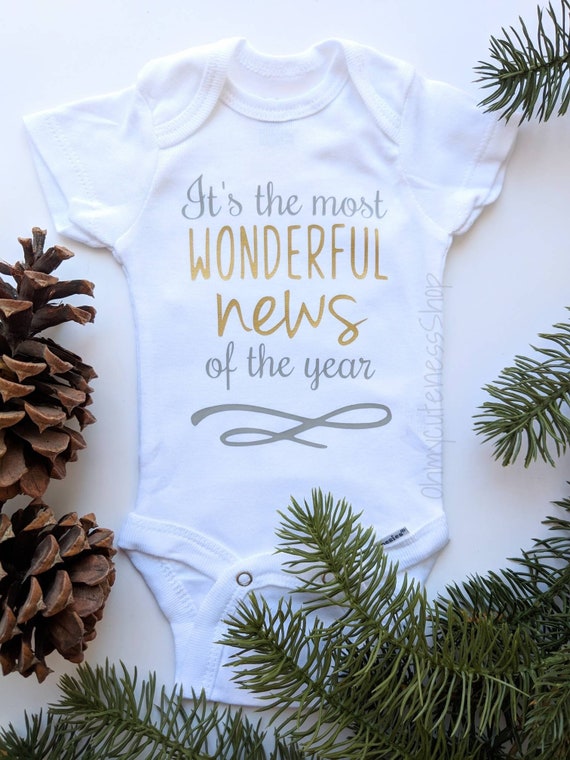 It's the Most Wonderful News of the Year Christmas
Honestly, Onesies are the cutest and they are like the safest bet for all things pregnancy announcements, Christmas or otherwise.
You can't really go wrong with a onesie.
And this one is perfect. How about you give people the most wonderful news of the year during the most wonderful time of the year?
Grab this one from Oh My Cuteness Shop on Etsy (the name of the shop says it all 😉)
5. Your Christmas Present is on Layaway Onesie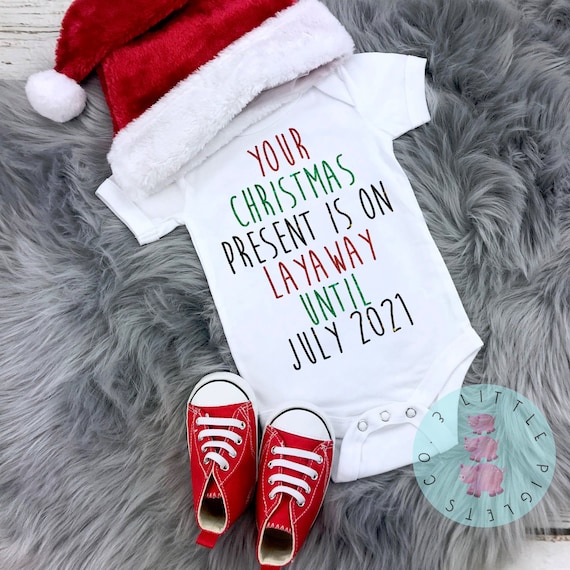 Christmas Pregnancy Announcement Onesie® Pregnancy
from: Etsy
Still on that onesie/bodysuit vibes, here is another brilliant one. "Your Christmas present is on layaway…"
Order it from 3 Little Piglets Co
Christmas Baby Announcement Ornaments
6. Coming soon Pregnancy announcement Christmas Ornament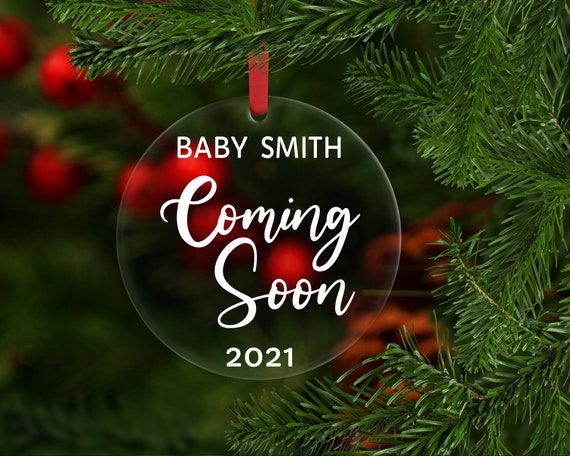 Pregnancy Announcement Christmas Ornament Coming Soon
This stunning Christmas ornament is from Peki Design studio and it will make the perfect addition to your Christmas tree decorations.
You can actually use it for your Christmas Pregnancy reveal pictures too and they will look awesome. Plus, it will also make a wonderful memorable gift for your family and friends.
Check out some Christmas announcement photoshoot ideas at the end of this post.
7. Baby Due Date Announcement Christmas Ornament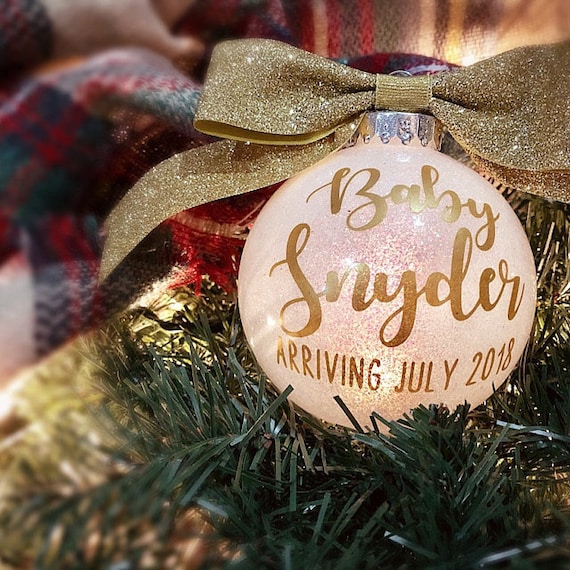 This white glittery ornament is so beautiful and will be customized with your baby's last name and due date. It is bound to be a hit.
Check out this review:

8. Surprise Winter Pregnancy Announcement Ideas – Christmas Tree Ornament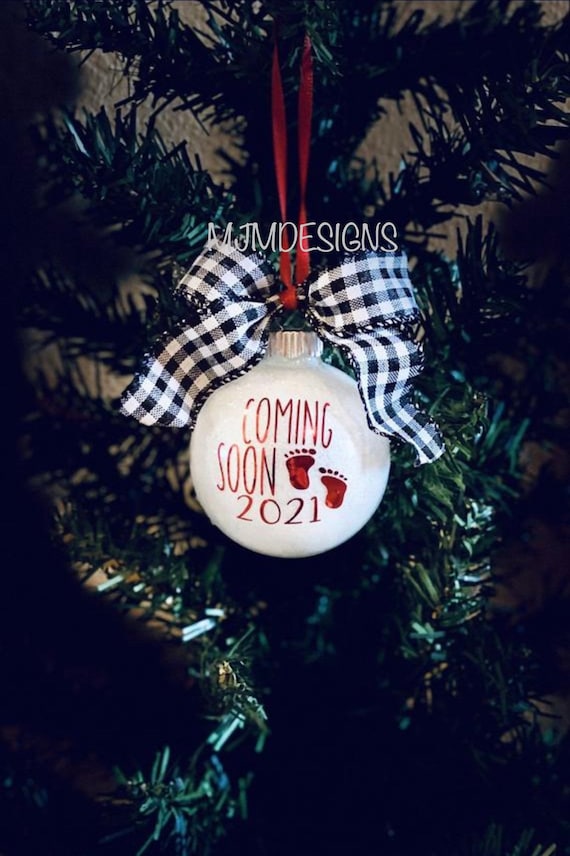 Pregnancy announcement expecting reveal Surprise pregnancy
from: Etsy
If you are wondering how to tell your parents that you are pregnant, deliver this Christmas tree ornament to their house and add it to their Christmas tree decoration.
It is sure to be their favorite Christmas tree ornament and the best gift you could give to them. The gift of making them grandparents.
You have the option of getting it in red or white from MJM Designs on Etsy
Christmas Card Pregnancy Announcements
While we are still doing pregnancy announcements to the grandparents, here is another cute idea.
9. Merry Christmas We are Getting You A Grandchild Pregnancy Announcement Christmas Card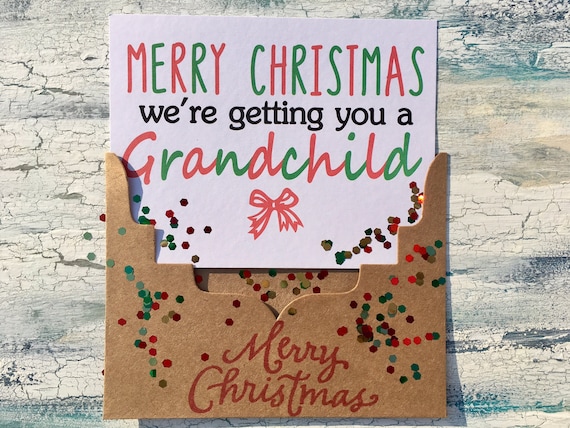 Christmas Pregnancy announcement card
from: Etsy
If you need a unique and memorable way to announce your pregnancy to the soon to be grandma and grandpa, this is the way to go.
This is also a perfect long-distance pregnancy announcement idea because it can be shipped directly to your family members who live far. The card is handmade and is packed with red and green glitter perfect for the occasion.
It is definitely the best Christmas present as well as the most surprising and unforgettable pregnancy announcement for your parents.
10. We are Having a Baby Pregnancy Reveal Card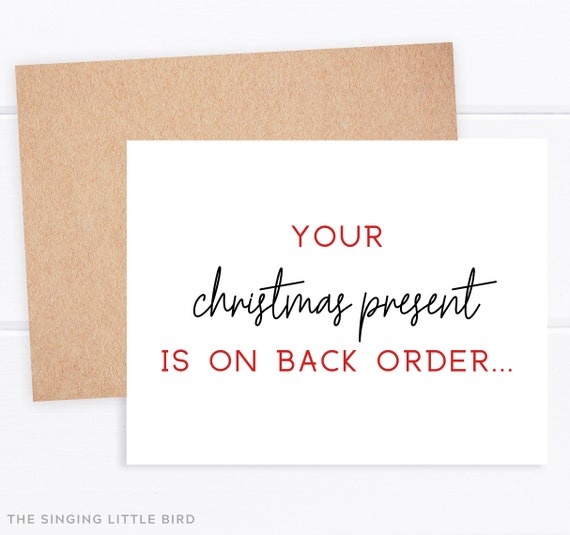 Christmas Pregnancy Announcement Card / We're Pregnant
These beautiful cards from the Singing Little Bird are such a fun and low-cost way to share your pregnancy news with your family.

11. We have a Special Christmas Surprise Baby Reveal Card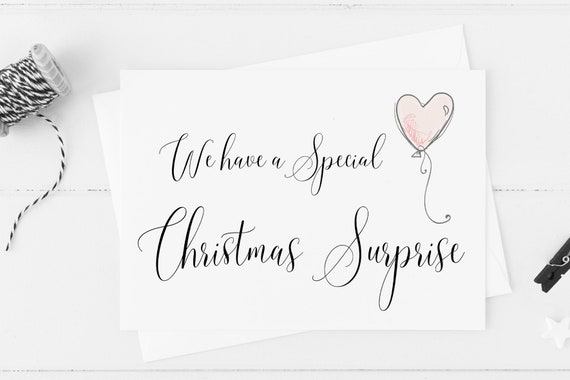 Christmas Pregnancy Announcement Card We're Pregnant
from: Etsy
This lovely Christmas card by Purple Hare Creations can be easily personalized for that special person in your life.
It is left blank inside for your personal message. If you need some clever pregnancy announcement riddles to add to the card, here are some ideas.
12. Scratch Off Pregnancy Announcement Card – We are Expecting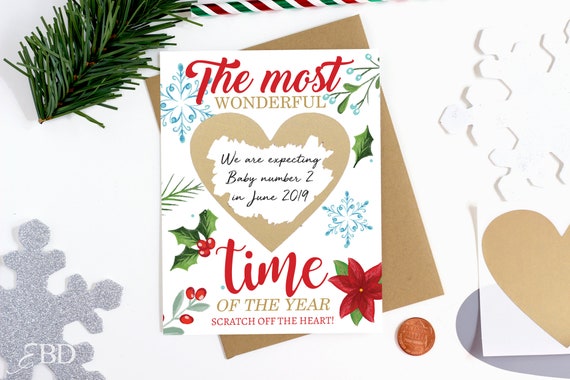 This handmade Scratch off Christmas greetings card is a really cool way to surprise your family and friends with your pregnancy reveal. It is also quite pocket friendly.
The cards can be personalized and the backside comes blank white to allow for you to write something if you wish to.
It 's the most wonderful time of the year and it's perfect for some good ol' pregnancy news!
Oh, and these cards are perfect for a 2nd baby announcement this Christmas.
Order yours from Enchanting By Design on Etsy
Christmas Baby Announcement T-shirts
13. Couple Matching Christmas Baby Announcement Shirts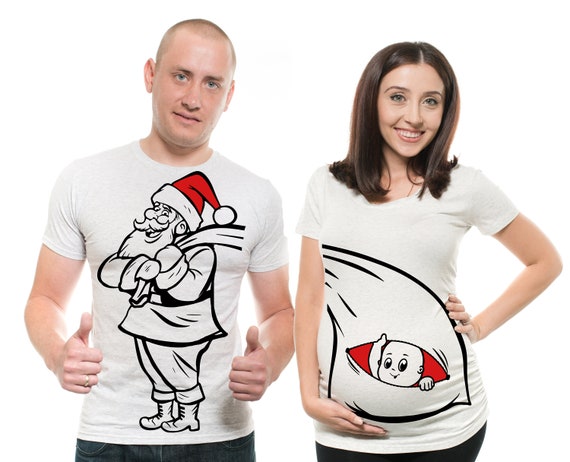 How cute are these Christmas baby announcement shirts for couples? They are well made and ship pretty fast.
Grab them from aerotees.
14. Couples Christmas Pregnancy Reveal Shirts – Jingle Bells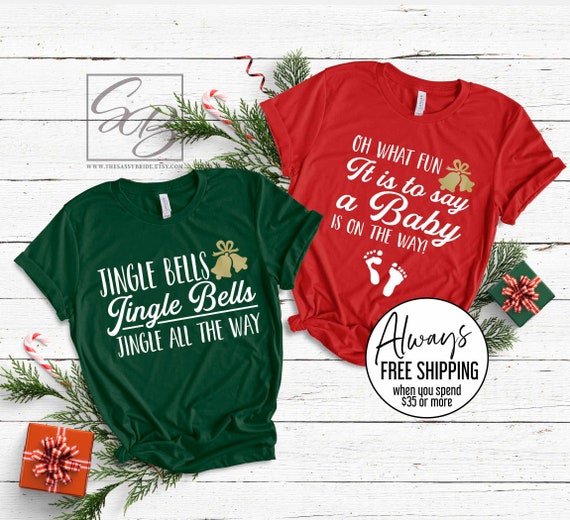 Couples Christmas Pregnancy Announcement Shirts UNISEX FIT
from: Etsy
Jingle bells, jingle bells, jingle all the way. Oh what fun is it to say a Baby is on the way!
I love these couples' t-shirts and the captions on them. I can't help but sing along and it is so Christmas-y, it's perfect.

See how cute they look? You can get your set too from The Sassy Bride on Etsy.
15. Cookies for Two Christmas Pregnancy announcement Shirt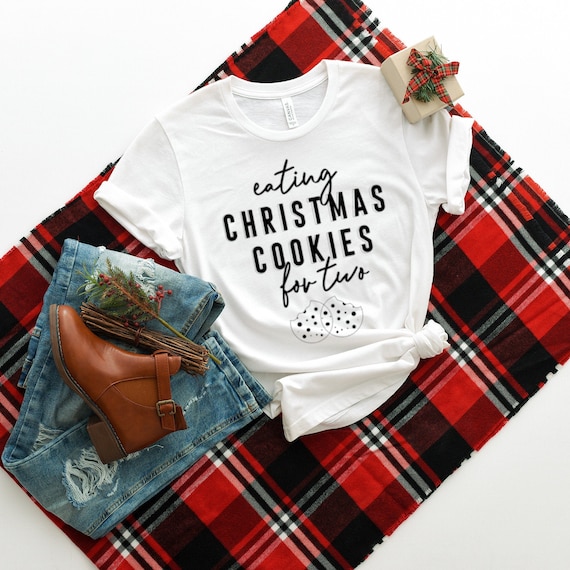 Christmas Pregnancy Announcement Shirt Cookies for Two
from: Etsy
I think pregnancy announcement shirts may be my favorite Christmas pregnancy announcement ideas. Maybe second after the little cute onesies or maybe not. I can't really pick between the two.
But how clean is this look and such fantastic lettering.
Also, the reviews confirm it is as soft as it looks so that's a plus.
If I was pregnant right now this is the kind of shirt I would literally be living in, Christmas or not.
Get it from Wolves n Willows
Printable Holiday Pregnancy Announcements
16. The Best Gifts Don't Come Under a Tree – Third Baby Reveal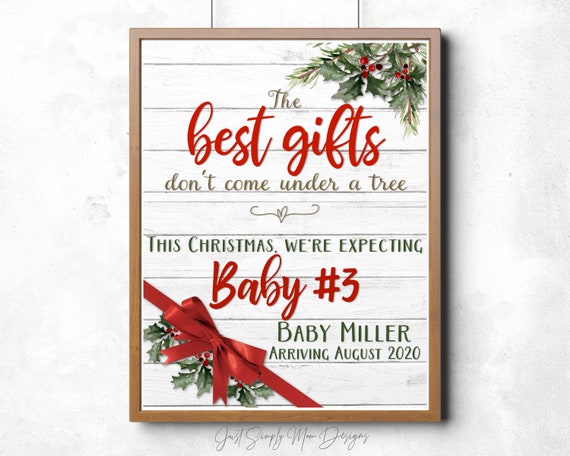 This rustic Christmas pregnancy announcement printable can be customized to your preference.
It comes as a high quality digital PDF file that you can print at home or at a local print shop. Put it in a frame and I bet everyone is gonna love the announcement as much as the good news of your pregnancy.
You can get it from Just Simply Mom Designs on Etsy
Sibling Christmas Pregnancy Announcement Ideas
17. Dear Santa Letter Christmas Pregnancy Announcement Sign for Big Brother/ Big sister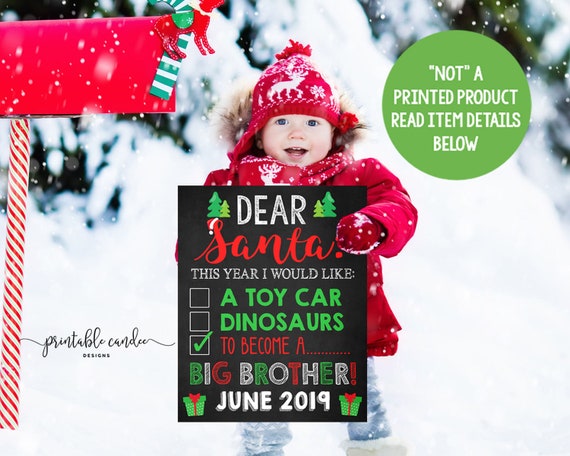 Christmas Pregnancy Announcement Holiday Dear Santa Letter Big
from: Etsy
Such an adorable pregnancy announcement sign for the big brother or sister.
This would be perfect for a baby announcement photoshoot and your little one will enjoy announcing their sibling's arrival
18. Santa Just told Me I am Getting a New Best Friend- Christmas Sibling Announcement for Baby Number 2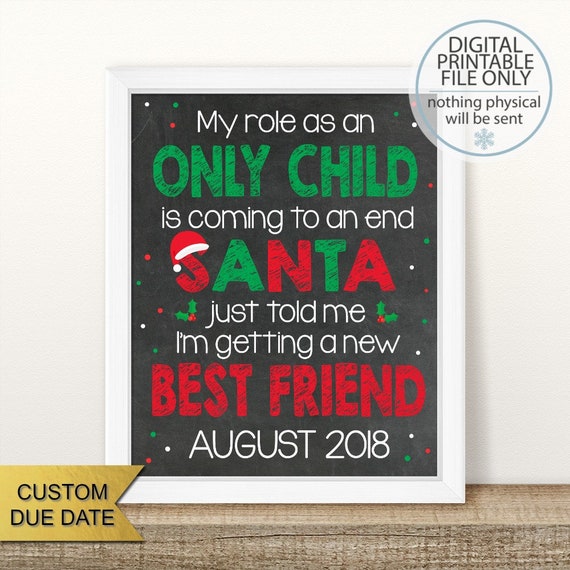 Here is another cute sibling pregnancy announcement that you can use.
Christmas Pregnancy Reveal Ideas for Social Media
Digital pregnancy announcement ideas for your Facebook, Instagram and other social media platforms
There are endless possibilities when it comes to Christmas pregnancy announcement ideas for social media.
What I really like about these ones is that they are so real, people will think you staged them and took the pictures yourself.
Here are some of my favorite editable Christmas baby announcements for social media from Etsy:
If you find one that you like, just click on the image and it will redirect you to Etsy where you can make your order. Thank you for using the affiliate links in my posts.
19. No More Silent Nights, Knitted Red onesie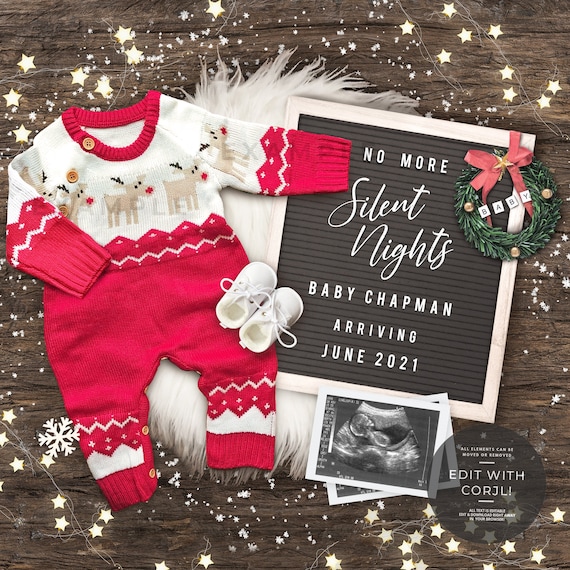 Editable Digital Christmas Pregnancy Announcement for Social
from: Etsy
20. Christmas Wreath/ Winter Themed Digital Baby Announcement for Christmas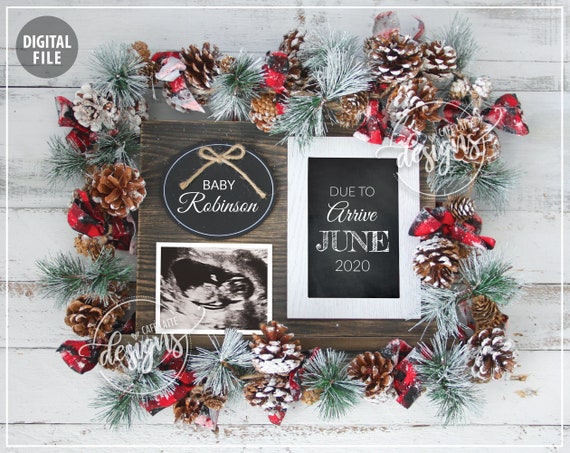 CHRISTMAS Pregnancy Announcement Digital Baby Announcement
from: Etsy
21. Our Family is Growing By Two Feet – Christmas Stocking Editable Digital Christmas Pregnancy Announcement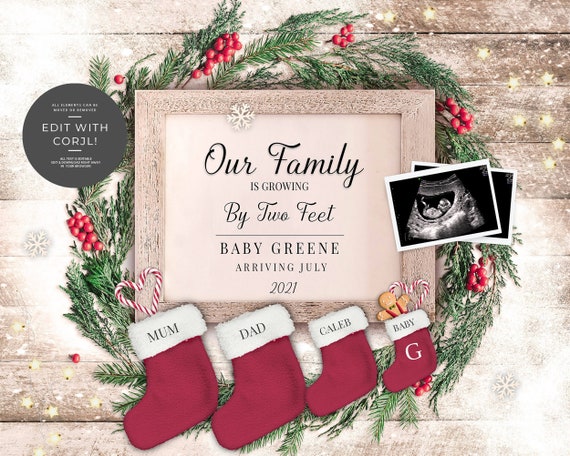 Editable Digital Family Christmas Pregnancy Announcement for
from: Etsy
22. One More Reason to be Merry – Red Onesie Christmas Pregnancy Announcement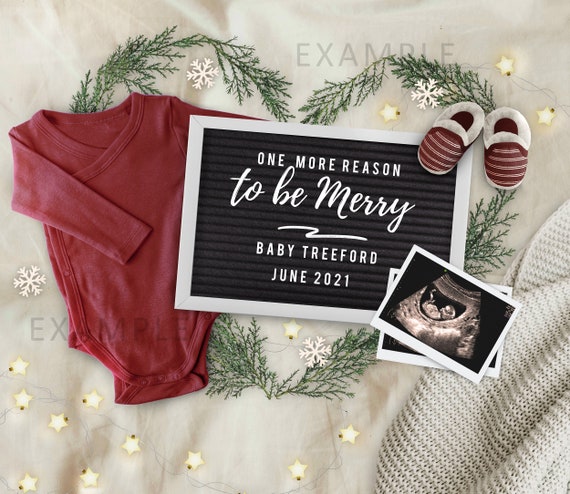 Editable Digital Christmas Pregnancy Announcement for Social
from: Etsy
Christmas Announcement Picture Ideas:
Now that you know how you are going to announce your pregnancy and surprise everyone on Christmas, you may want to start thinking about the pictures.
Christmas is so festive and your pregnancy announcement pictures should be.
Here are a few Christmas announcement picture ideas that you can steal for your photoshoot:
Second Baby Announcement
Christmas Tree Gifts
Did you announce your pregnancy on Christmas? How did you do it?
Pin this/ Share on your socials: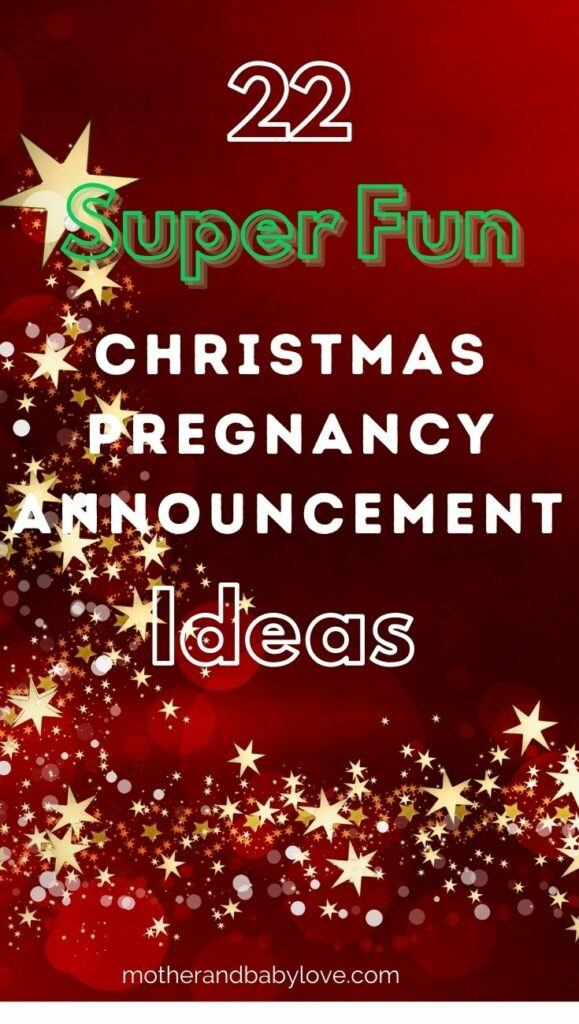 You May Also Like: